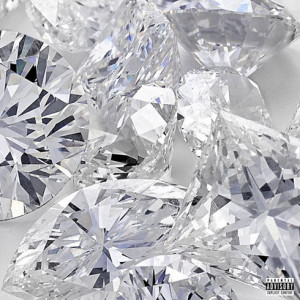 "What a Time to Be Alive" is such a celebratory, victorious statement to make. It's one of those old sayings that arise after tumultuous trials and tribulations are overcome. Two of hip-hop's brightest stars of the last few years have risen from the ashes (one more than the other) and brought up a flaming gem for the streets to listen to. The project is a victory lap for Future after going 4-4 from downtown with three mixtapes and an album within a year's time. For Drake, he overshadows the Meek Mill nonsense and celebrates his success from IYRTITL. Both of these men have had great years so far and there's still time to steal whatever shine may not be on them. Drake is rumored to be releasing Views From The Six this week and Future has been in talks of releasing another album before the year is out. FBG/OVO aren't letting up.
"Digital Dash" (prod. by Metro Boomin & Southside) – Future starts off the mixtape fresh off of his DS2 wave and it sounds like he hasn't left the studio. The FreeBandz general sounds focused and driven to get to the top of the rap game. He boasts, "I put in work, it was evident" on his segment of the track and with three hot mixtapes and a hot album in the span of less than a year, who can deny him? Well, Drake isn't coming up empty-handed on his end and we know he can hold his own. His standout line might just be a precursor to his highly anticipated Views From The Six album coming later this month. "I got my foot on their neck and my foot on the gas", Drake says. He show and proved that with "Charged Up" and "Back to Back" against Meek, will he solidify it against the game with this tape and the album?
"Big Rings" (prod. by Metro Boomin) – The hookmaster that Drake has come to be erupts on the track early. Canada's very own boasts about having a big team and not chasing behind anything or anyone. We don't hear #BraggingDrake but he's here and I'm sure he'll arrive more on this tape. Future follows the high-energy bravado with his own verse and a guest shot aimed at Meek Mill… or whomever it may have been for.
"Live From The Gutter" (prod. by Boi 1da & Metro Boomin) – This one sounds like one of those dark tracks from Future's Monster effort from a few months back. Imagine a newscast from the hood and this would be the theme song. Nothing too extravagant here, the production sells me more than anything.
"Diamonds Dancing" (prod. by Metro Boomin, Allen Ritter & Frank Dukes) – If you were looking to feel influenced, then here's your track. This is the perfect mix of dirty sprite and "draking" music. Future croons about drugs per usual and Drake's singing instantly makes you want to drink and call the ex. My advice is to listen to this in a good mood so you aren't driven to pour up, roll up or anything else.
"Scholarships" (prod. by Metro Boomin) – By the name of this, I thought I would be ready and willing to throw my minimum wage at my favorite stripper. By the end of the song, I wasn't ready to do that at all. But, I was ready to count my minimum wage and act like I was "balling out of control". The production is rather mellow and gives us a modest, luxury rap tune. Ironic.
"Plastic Bag" (prod. by Neenyo) – Ah, there's my ode to the dancers of the night. The sixth song of the collection finds me in the mind of Take Care. Ladies, after FBG/OVO leave the club you're going to need some help carrying all that cash. I feel like more could've been done with this but someone will love it.
"I'm The Plug" (prod. by Southside) – Of course, because Future is involved there's drug talk, stick talk and cash conversation all of this mixtape but I was wondering when the unapologetically trap song would show up. What's better than getting that song? Drake gave a solid verse to match. This won't be my favorite track but I'll listen again.
"Change Locations" (prod. Noel) – I kind of got lost on this one. Not because it's bad but it doesn't strike me placement wise. "Change Locations" is another donation to strippers and ladies of the night as things get a little over-capacity for the regular nightspot. Have a nice time tonight, ladies this one is on FBG/OVO.
"Jumpman" (prod. by Metro Boomin) – You have to admit that seeing the name puts it in your head that this will be a banger. Well, "them boys up to something" and they have a hit with this one if I must say so myself. There's a perfect blend of Future's eccentricity, Drake's hook control and flow versatility and Metro's production. We know that the DS2 rapper thrives with Metro but Drake has grown with his ability to tackle sounds and this effort may be one of his best products over a Metro beat.
 "Jersey" (prod. by Metro Boomin & Southside) – After you lace up the jumpman you gotta put on a jersey right? Name wise, this would go before the previous track, but similar to this mixtape, this track serves as a stamp that it doesn't always matter how you get there as long as you do. Future stands alone here on a more introspective approach to the money, drug and fame life that he leads. I hear potential with this one; I'll definitely listen again.
"30 for 30 Freestyle" (prod. by Noah "40" Shebib) – I think it is no mistake that 40 only shows up once on the production credits on conveniently enough he closes out this joint project. And looking at that means one thing and one thing only… Drake must be getting something off his chest. As soon as the transition is made from Future's solo to this track, that assumption is proven correct. You hear 40's mellow tones, a smooth piano and the introspection that Drake is known for. The Drake that many know and love is right here after all the trap and luxury rap flows. I won't spoil this one for you but you'll like it.
What a Time To Be Alive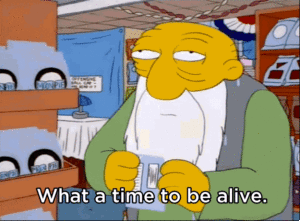 Sidenote: The project was executive produced by Metro. Metro Boomin and Southside have been working their a**es off this year, someone give them an all expenses paid vacation.