The Mizzou protest has sparked a lot of controversy all across the country even right here in our own backyard, this time in Statesboro, Georgia. If you've missed what's been happening at Missouri University here's a brief timeline:
September 12, 2015 – Student government complained about the bigotry and anti-gay sentiment which gained national attention.
October 4th, 2015 – Caucasian student removed from an event strictly for black students and uttered, "these niggers are getting aggressive with me" while being removed.
November 3rd, 2015 – Student Jonathan Butler vowed not to eat until the president of the school resigned.
November 7th, 2015 – Football players vowed to not participate until president resigned possibly costing $1,000,000 loss in school revenue.
November 9th, 2015 – Mizzou president resigns
You can read more into the Mizzou Protest here.
Shortly after, a Georgia Southern student named, Emily Faz responded to all of the controversy on Facebook. Her post caused a major backlash amongst the African-American community at Georgia Southern, so much that she has now become a social media hashtag, see #EmilyFaz.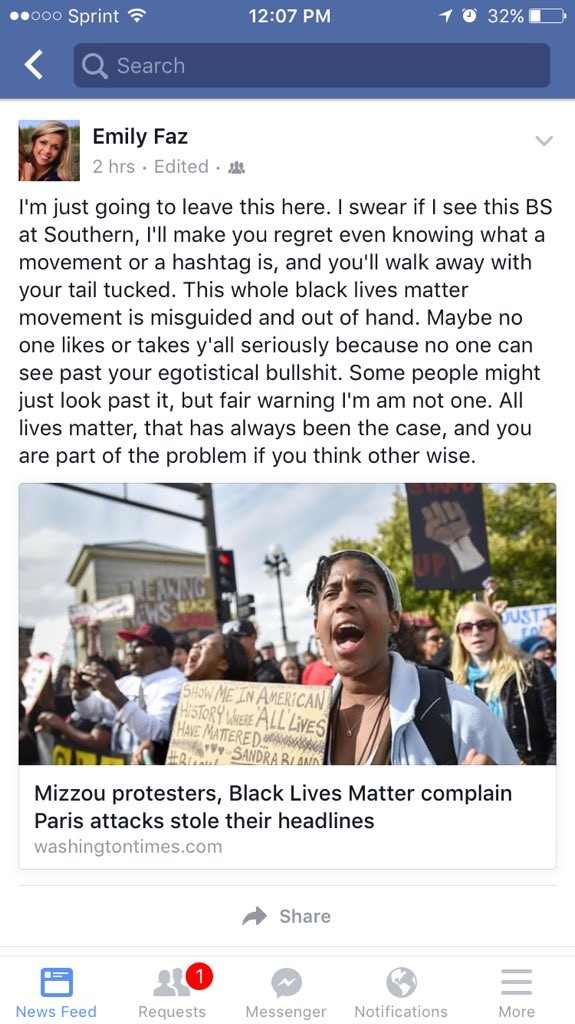 She also made a post saying all Muslims should walk off a pier.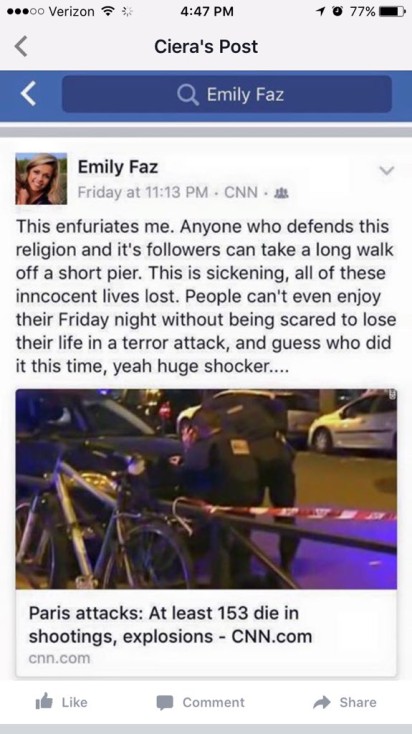 Following the controversial Facebook post, student members of the Georgia Southern University NAACP chapter staged a walkout on Tuesday.
During this walkout students gathered together dressed in black to discuss the racial tension on campus and more.
Yesterday, Georgia Southern's President Jean Bartles made a statement about the controversy of the post on the university's website.
As we struggle to grow and change in a positive direction, I call upon all of you to do the following things: listen to each other, respect each other, and treat each other with dignity and concern. – Jean Bartles
Many students have called for Emily Faz to be expelled from school for her remarks. Some say they have witnessed Emily Faz with a police escort on campus. Yesterday she was fired from her job at Wild Wings for her Facebook post.
Give that woman her job back. That's oppressive. @BWWings #EmilyFaz — Monogamous Moe (@LastTasmanian) November 18, 2015
#EmilyFaz is a dope, but she threatened absolutely no one with violence!

— Kyle Keown (@KyleKeown) November 18, 2015