A Georgia woman who was found dead on a deserted stretch of beach on a Caribbean island while on vacation with her husband is thought to have been attacked by a man armed with a cutlass.
The 39-year-old's body was found about 12 miles outside the capital of Grenada, St George's yesterday, less than half a mile from where other tourists had been sunbathing.
It is thought that she had been brutally raped and murdered on the first day of her vacation on the island after arriving at the world-famous La Sagesse resort on Saturday night.
It came after it was revealed the attacker targeted the woman and her husband with the sword as they walked along La Sagresse beach.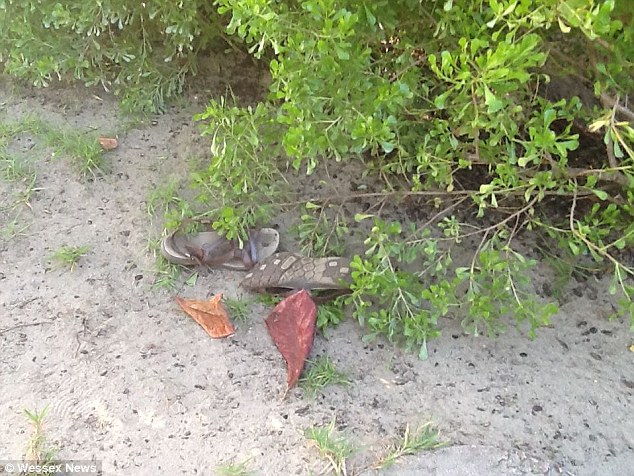 Police sealed off the murder scene and armed men – said by locals to be soldiers with assault rifles – started searching the undergrowth, which flanks the beach.
And news of the horror killing has quickly spread across Grenada – named the Spice Island because one of its main industries beside tourism is growing nutmegs and other spices.
British woman's magazine journalist Sue Hardy, 63, was one of many British tourists on the beach when the drama began around 11.30 local time Sunday morning.
Hardy, who is from Inkpen, Berkshire, is on vacation with her family. She said that they had just set up their sun chairs and were relaxing in the sunshine when 'there was a sudden commotion near the little pen-fronted restaurant, which faces out on to the beach.'
'Some guys were shouting and people were running,' Hardy said. 'At first we didn't know what was happening. But gradually rumors started spreading among the tourists.'
She said that there were about 30 people on the beach, including children, as people started to become nervous and edgy because it was obvious something serious happened.
 'The staff were very tight-lipped and it seemed they had been told not to say anything to alarm the tourists,' Hardy said.
'We saw the guy who owns the place running to his jeep and speeding off – he was probably going to talk to the police.
'Gradually we put the story together. It appears the American woman tourist – described as 'very beautiful' by one member of the staff I spoke to – had gone off for a stroll along the beach with her husband.'
Hardy said there is a main beach at the resort that is about a half a mile long that has a restaurant and apartments that are located in the main hotel building overlooking the beach.
She said that her husband ran half a mile back to the restaurant and hotel area to get help, leaving his wife.
'Whether she'd been dragged off and kidnapped, I don't know,' Hardy said.
'Some staff ran back to the deserted beach but by the time they got there she had been murdered.
'I was told she had been raped too. They said she was lying on the edge of the water. I don't know how she was killed – maybe the attacker, or attackers, held her down in the water and drowned her, I just don't know.'
Hardy said that police officers would not say anything other than that there had been an incident.
Calls placed to the police department and the resort on the island by Mail Online went unanswered.
'The woman and her husband had arrived last night so this must have been one of their first walks along the beach,' she explained.
'After walking for half a mile round the bay, where you are still in sight from the hotel and restaurant and the main area where tourists sit out in the sun, you can go up a path which leads through a sort of mangrove swamp, with steps so you don't walk into the mud.
'After about 100 yards through this somewhat dark swampy area, you come out on to another beach which is totally deserted.
'No-one can see you there – but of course nobody can see if anyone attacks you there.
'I've been there on previous visits to La Sagesse and I always felt a bit spooked on that deserted beach, as if someone was watching you from the undergrowth.'
Hardy, who is on her sixth trip to Grenada, said that the La Sagesse resort is her favorite on the island. But she said she won't venture out to that other hidden beach again after the American tourist's death.
'As I say, we have been coming here for years and we know lots of ex-pats who have lived here for decades and they all say you are totally safe,' Hardy noted.
'People were just in shock as word spread, and some of the local villagers came down to the beach.
'They were just standing around, aghast at what had happened.There was such a sad sight – she'd left her beach shoes lying on the sand near the restaurant.
'I assume she'd kicked them off to go for a romantic walk with her husband on their first full day in paradise.'
Very sad story coming from Grenada, our prayers and condolences go out to the family members, we will keep you updated as more information comes forth.
"Like" us on Facebook to stay updated with this story