The NFL Draft is only weeks away and athletes all over the country are ready to prove why they deserve to be on a team. We talk to UCLA's Dalton Hilliard as he talks about his road to the NFL Draft.
Joe Gaiter: Where are you from and how was your childhood?
Dalton Hilliard: My hometown is Mililani, Hi. But my father was in the marines for most of my life so we moved around a lot. Six different places to be exact; Chicago, California, Virginia, North Carolina, New York, Hawaii.
Joe Gaiter: When did you start playing football?
Dalton Hilliard: 4th grade.
Joe Gaiter: What are the keys to playing your position on the field?
Dalton Hilliard: Knowing what everyone else on the field is doing, and having the ability to be a factor in both the run game and pass game. Toughness and physicality is key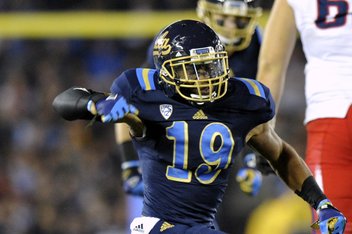 Joe Gaiter: What are some things that you learned from your college football experience at UCLA?
Dalton Hilliard: Mid-stream adjustments are key. Especially during the game, you have to be able to absorb new adjustments within the defense during a game. Also I had 3 defensive coordinators over my 4 year career, which means I had to learn 3 different playbooks.
Joe Gaiter: What are your thoughts about your teammates that are also entering into the draft?
Dalton Hilliard: We have a great group of UCLA draft prospects this year. These are the guys that endured the rollercoaster ride that was our career at UCLA, and together helped put UCLA back on the map. I have a lot of love for this group and wish the best for all of us.
Joe Gaiter: Do you have a backup plan if you don't get drafted?
Dalton Hilliard: Real-estate, training, or coaching probably. I love this game so I really want to stay involved.
Joe Gaiter: What is your motivation for playing football?
Dalton Hilliard: Chasing a dream I have had since 4th grade, my parents, doubters, and using the talents God has given me to affect people positively both on the field and off the field.
Joe Gaiter: Now you come from a family of athletes. Your dad was an All American athlete and mother played women's professional football league. What advice and support do they give you?
Dalton Hilliard: Work hard play hard is the motto for the Hilliard family . And I think that hard work and doing the right thing has been the one thing my parents have consistently preached since I was born.
Joe Gaiter: Who has been a major influence on your career?
Dalton Hilliard: My family because they have been my support system throughout my life and making them proud is enough motivation for me.
Joe Gaiter: What are your biggest strengths on the field?
Dalton Hilliard: My athleticism, quickness, strength, and ability to catch the ball. I am versatile and can play a multitude of positions and I am a very good special teams player.
Joe Gaiter: How do you plan on giving back to the community after you get drafted?
Dalton Hilliard: In whatever way I can, both in high school and at UCLA I was heavily involved in all available community service opportunities. I love working with kids and being able to provide them with a positive role model in their lives, I have younger siblings so I am use to working with kids.
Joe Gaiter: When is your pro-day and combine and how are you preparing?
Dalton Hilliard: My proday was on Tuesday, March 13 and I was training at Competitive Edge Sports with Chip Smith.
Joe Gaiter: What kind of things have you learned from training at CES Proformace?
Dalton Hilliard: Finish everything.
Joe Gaiter: You tweeted  on day "There is no such thing as a dream that's too big. Dreams are what drive us beyond what we think our potential is?" What is your dream? Is it just to play in the NFL or is it greater?
Dalton Hilliard: Ultimate dream is to play and succeed in the NFL, but within that dream there are other dreams I have. I want to use my social network within the NFL as a resource to help with other things I want to do. (Ex. Camps, training, coaching, counseling)
Joe Gaiter: What do you want your football legacy to be?
Dalton Hilliard: I want to prove this quote right, "One of the best opportunities you can be given in life is to be underestimated." –Steve Jobs
 Joe Gaiter: Final Words?
Dalton Hilliard: Thanks for the support and hope to be playing on Sundays this coming fall. Shout out to the UCLA coaching staff and the UCLA football team, they have a bright future.