Last year, I had the luxury of watching myself on TV for the first time of my life.  My name is Jeremy Jones a writer here at GAFollowers and the highlight of my year was appearing on Family Feud with my family in October (2015). I've always been a fan of Family Feud and Steve Harvey, so this ended up being an experience that I could never forget. I just prayed I wouldn't be that one person to go viral for saying something stupid! While preparing for Family Feud there wasn't too much information on the process and although this may be frowned upon, I'm here to discuss the steps it took for me to appear on the show.
Since the episode, friends and family members ask me non-stop, "How was it?", "Is Steve Harvey funny?", "Did y'all win?", I love answering these questions but I believe this article will be a better explanation for everything related to my Family Feud experience.
The Audition
It all started with an email to Family Feud, they asked me, my age, location and to attach 5-7 pictures of my family on April 2nd, 2015, a video audition could also be accepted. Exactly 6 days later, I received a response giving me the option to select an audition date. There were about five different days and after discussing with my family, we decided to choose April 26th. All family members must be at least 15 years of age, related either by, blood, legally recognized marriage, legal adoption and absolutely no fiancés, boyfriends or girlfriends. You must also, bring necessary documents to prove your relation between family members.
We arrived for our audition at the Atlanta Civic Center on the 26th with all the necessary documents and some of our best attire from our closets, Family Feud specifically stated, "there is no dress code, however, you are being interviewed we recommend business casual", we were easily the best dressed. There were many other families auditioning, we're all given clipboards to provide who we are and how were related, after checking-in each family was sent into one of two ballrooms holding the auditions. Each ballroom held around 40 different families, so there was easily 200 people in each ballroom.
Before auditions started we were briefed by the producers about the procedures of the auditions and what they expected to see. Basically, two families were called up to play "mock Family Feud" rounds against each other. The producers were begging for entergetic contestants, that was the only thing they asked of us, "be loud, be happy, it makes for great television", said one of the producers. We might've been one of the last families to be called, which was great because it gave us the opportunity to learn from the mistakes of previous families. We left feeling good about our audition, now it was just a waiting game for the call back.
The Email
Family Feud told us if our family was selected we would receive an email within 2 weeks of our audition date. We received that email on May 8th, providing our filming date, which was on May 29th, 2015.
During that 3 week period my family recorded every episode on GSN, TBS and any other network Family Feud aired on, to "practice". My brother Justin and I, implored that no practice was needed for Family Feud but when $100,000 is on the line, it's really hard to convince.
The Show
The morning of May 29th finally arrived, we were asked to appear at Atlanta Civic Center at 8:00am. Justin and I both took a shot of Fireball to shake off all the jitters before heading that way. Once we arrived our family was escorted to a room with food, drinks and four other families, we ate breakfast and prepared ourselves to film. The producers reiterated some of the same policies mentioned at the auditions, "be loud, be energetic", they also explained that just because we've made it to filming that our auditions weren't over, Family Feud still has the option cutting and keeping whatever was filmed.
Producers escorted the families out to the main set, where we played another fake round of Family Feud on the real stage to practice, all lead by warm-up guy Rubin Ervin, aka 'mini Steve Harvey'. Essentially, this practice round was to make sure we voiced ourselves correctly and we followed all the directions the producers asked, Rubin acted as Steve Harvey. Unfortunately we were called up first, we did pretty good though. During the introductions when Rubin walked towards me to explain 'who I am and what I do', I didn't mention working for GAFollowers, Family Feud producers stopped the practice round and asked me to mention GAFollowers during real-time filming, so I was a little ecstatic about that.
After practicing we sat in the crowd seats and watched audience members trickle in. Rubin warmed-up the audience similar to this and gave directions about what's expected from audience members, e.g. when to clap, not to yell out answers, etc. Right after that, Steve Harvey came out to speak to the audience and do what comedians call 'crowd work', he was incredibly funny. He answered a few questions and was making jokes left and right. During this banter our family was asked to come backstage for final preparations and make-up, that's when I knew it was real.
Steve Harvey went backstage and we came on-stage, producers prepped us for the big moment. ACTION! The crowd starts clapping and Steve walks out, he waves to the crowd and begins talk to the contestants.
#NowWatching Jeremy from @GAFollowers on the #FamilyFeud.

— S. Nichole Davis (@sndavis1) October 21, 2015
One thing that I must say, being a contestant on Family Feud is completely different from sitting at home yelling answers at your TV screen in your underwear. Our family did great though! For the first game we faced these country folk from Alabama who had a set of triplets on their team.
Steve Harvey would make fun of our silly answers and during commercial breaks he'd joke around some more as producers would put make sure our make-up was still intact. He mentioned that I look like Steph Curry a few times, I truly get tired of that. Anyways, we end up winning the game but lost the "fast money" round for a chance to win $20,000. Before the match as a family we agreed to let my mom and stepdad participate in the fast money round simply because they were "practicing" relentlessly leading up to the film date. They didn't reach the 200 points required but it's was ok, we had another shot, if you win the regular match on Family Feud you get to play again, they allow you to play up to 5 times before 'retiring' you from the show. So you really have a chance to win $100,000 total.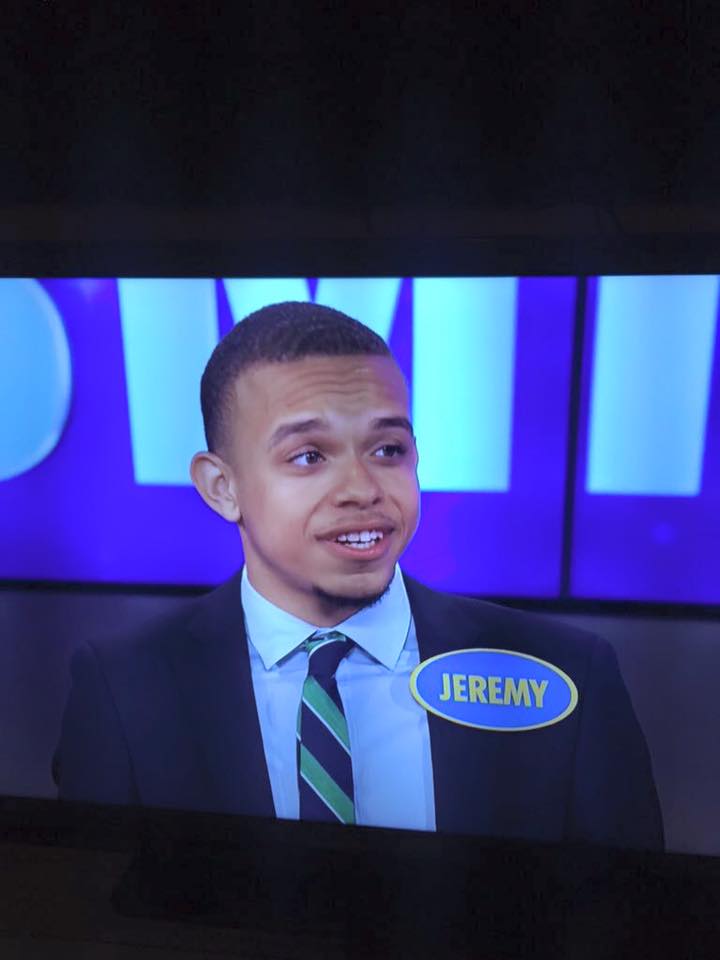 Steve Harvey puts on another suit (they want games to seem like different days) and we play again. This time we struggled and ended up losing the match. We went home a little disappointed but we enjoyed the experience, it was probably the most fun we've ever had together. You have to wait some time before the show airs, our show didn't air until 5 month later on October 21st, 2015. Family Feud producers edit a bunch of stuff out, so be prepared for sentences to be butchered to make you look silly, it's all apart of the game. Enjoy yourself and have fun!