We've all seen the gruesome injury that happened last year. We all thought that Chubb would be a sure 1st rounder back in 2014 after his phenomenal season.
5'9 220lbs.
Yet, after his injury, Georgia's poor O-Line play, and questionable play calling, Nick Chubb, on paper had a disappointing 2016 season. But don't let his slow start to the season fool you, in any other draft, I firmly believe that Chubb could be a late 1st, early second rounder .
Before we go into his strengths and weaknesses, we need to address that Nick Chubb's first games weren't an accurate representation of his game. For about the first 4 games of the season, Nick Chubb did not look like the player we saw in 2014. The reason was that he was still recovering from the injury he had. I'm by no means the caliber of athlete Nick Chubb is, but after tearing up my knee, it took well into the middle of the next season to even be able to run at full speed again. I think his mediocre first few games (except against UNC) were the crappy combination of Georgia's poor offensive line play, the OCs inability to play to Jacob Eason's strengths , and Chubb not being 100% and recovering from a major injury. However, towards the latter half of the season, Chubb looked great. He got that breakaway speed back, he looked stronger when he ran, and that special acceleration was finally back on display. So here we go. Nick Chubb ladies and gentlemen.
THE GOOD
If I had to describe Nick Chubb's running style in one word; it would be STRONG. Arm tackles simply cannot bring this guy down. With thighs the size of my entire body, Chubb churns and fights for yards through contact, running with a low center of gravity and lowering his shoulders to attack defenders. He uses his large 220 pound frame to carry defenders, and does a great job of keeping the ball protected while still powering forward. Tacklers need to lay a solid hit and wrap up if they want to bring Chubb down. Simply put, he's a tough, powerful runner that churns up yards like an Amish man churns butter.
Chubb has good speed, and is able to outrun people to the edge, but he's no Jaamal Charles or Dri Archer when it comes to his top speed. That's where arguably Chubb's most important trait comes in. He has fantastic acceleration. 2014, early 2015, and late 2016 were unfortunately the only times we truly saw his unhindered acceleration and it was truly awesome to watch. He's able to burst through quickly closing holes and explodes like he was shot out of a cannon through the line. It's crazy how guys like Chubb and Fournette can accelerate at fast as they can while also being so big and strong.
He makes quick, decisive cuts that aren't flashy, or anything super special, but are effective and look very smooth. His hips look decently flexible and he keeps his low center of gravity while changing direction. While watching tape you'll notice that Chubb often makes one smooth cut very near (almost touching) his line. His cutting really near the line helps him fool Linebackers and D-Linemen, which create creases that help out his offensive line. In open field, Chubb has a knack for making a cut and "splitting" tacklers.
His vision is kind of difficult to explain. Chubb has a great "feel" for blocks, and he makes cuts that always put him in beneficial positions. He rides blockers for quite a bit before committing to a running lane, and even then he does a great job of twisting his body away from tacklers in the open field. Georgia runs a mix of zone and gap schemes, and Chubb looks proficient in either one, showing fantastic instincts and awareness.




THE NOT SO GOOD
The biggest problem I have with Chubb is his pass blocking and his overall ability as a 3 down back. He doesn't have a problem identifying who he's supposed to block, but his feet are sloppy when he meets defenders, and he has a real bad habit of letting go of blockers way too soon, letting his QB get hit. When going for a cut block, he has a tendency to lower his head and sometimes completely miss the guy he's trying to block.
Obviously, Chubb has an injury of history. Unlike another former Georgia RB Todd Gurley, his injury was way more significant and may worry some NFL teams about his durability. Chubb also had a small ankle issue this year, but I don't think it's anything serious. I'm no doctor but his injury history is a little concerning, and the punishment is only going to get heavier in the NFL.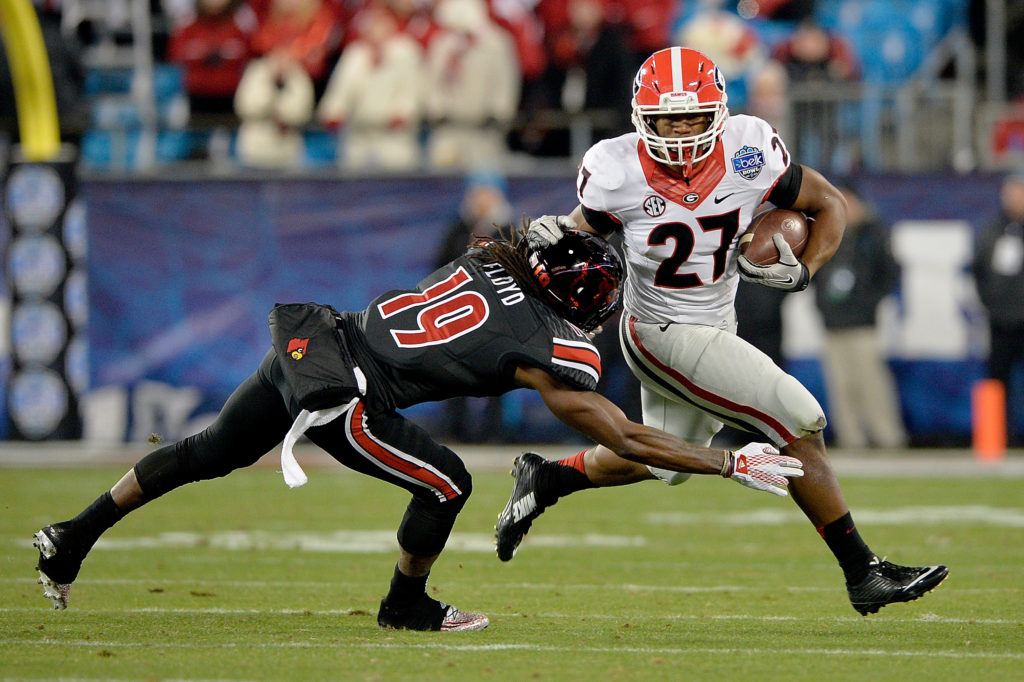 CONCLUSION
Nick Chubb is a powerful slasher-type back that uses a great blend of speed, vision, and acceleration to pick up hard earned yards. I get heavy vibes of Frank Gore watching Chubb, and I'd describe them very similarly. In a deep RB class and after an arguably disappointing season , I think Chubb can fall all the way to the 4th or 5th rounds. In my opinion, whoever picks him is going to get a very good tough runner that is going to close out games. He might need work to be able to stay on the field on all 3 downs, but he is definitely a great player that I think will have quite a career in the league.
via El_Macho_Nacho