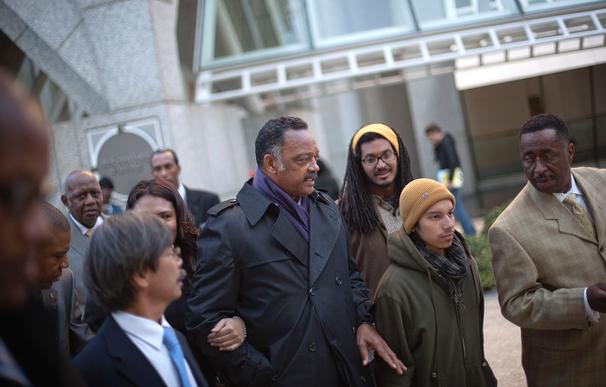 Occupy Atlanta took action on two fronts Friday, filing a lawsuit against the city of Atlanta and staging a protest in the lobby of a downtown office building.
David Goldman, AP The Rev. Jesse Jackson, center, exits the SunTrust Bank headquarters after taking over the lobby with Occupy Atlanta protestors Friday, Nov. 4, 2011 in Atlanta. Jackson joined about 30 protesters who entered the lobby near closing time on Friday to protest economic conditions and foreclosure rates across the country.
The lawsuit, filed in U.S. District Court, seeks to revive the movement's overnight occupation of Woodruff Park, saying it was arbitrary and unconstitutional for Mayor Kasim Reed to revoke his executive order allowing them to stay beyond the park's 11 p.m. closing time. Following Reed's decision to void the order, more than 50 Occupy Atlanta demonstrators were arrested Oct. 25.
In the suit, Occupy Atlanta stated that its goal is to voice political concerns and encourage political participation and awareness. The group, part of the Occupy Wall Street movement that started in September, intends to return to Woodruff Park on Saturday.
Joining as plaintiffs in the suit are state Sen. Vincent Fort and civil rights leader Joe Beasley, along with four individual members of Occupy Atlanta.
Representatives from the city could not be reached for comment about the suit.
Friday's protest — in the lobby of SunTrust Plaza — lasted about an hour and included the participation of the Rev. Jesse Jackson, a sign demonstrating a connection made between Occupy Atlanta and the old guard of the nation's civil rights movement.
Adrian Harden of Jackson's Rainbow/PUSH Coalition said the demonstration in the Atlanta-based bank's headquarters was to protest economic conditions and foreclosure rates across the country.
Jackson is only one of several leaders from the civil rights movement to advise the Occupy protesters about sustaining a grass-roots movement.
The young protesters over time have talked with Jackson; the Rev. Joseph E. Lowery, co-founder of the Southern Christian Leadership Conference; former Atlanta Mayor Andrew Young, a close confidant of the Rev. Martin Luther King Jr.; and Isaac Newton Farris Jr., president of the SCLC and King's nephew.
The Occupy Atlanta movement has gained national attention in part because it is happening in one of the cradles of the civil rights movement and the home of King.
"I think they needed to get to know us and our movement," Tim Franzen, who often acts as a spokesman for Occupy Atlanta, said of the older civil rights leaders.
Franzen said Jackson, Lowery, Young and Farris offered constructive criticism to the new movement.
Instead of "arguing over parks," Lowery advised them to focus more on home foreclosures, trying to put a stop to draconian immigration laws and assaults on voting rights. "You'll lose steam and public support," he said, "if you don't latch onto issues that people are concerned about."
But Lowery also had praise for the new movement.
"They've struck a chord of common concern in this country about the plight of the poor," he said
Initially, it didn't seem like there would be a smooth relationship between the movements or personalities.
U.S. Rep. John Lewis, D-Ga., a longtime civil rights figure, tried unsuccessfully to address Occupy Atlanta members shortly after they moved into Woodruff Park. He was denied a chance to speak, which some later admitted was a mistake.
Lewis has been invited to speak at Occupy movements across the nation, including those in Florida, New York and Texas, said Brenda Jones, his communications director.
Farris said that while the SCLC was sympathetic to the frustration of Occupy Atlanta members about the park situation, "we quite frankly were a little concerned with what appeared to be a lack of focus and organization" and the "black eye it was putting on the whole process."
"This was the first time we've seen a demonstration where, when demonstrators were asked what are their goals, they didn't have any," he said. "That sets a bad precedent for future demonstrations."
Beasley, the Southern regional director of Rainbow/PUSH Coalition, was an early supporter of Occupy Atlanta and was among those hauled off to jail after Reed revoked his executive order.
While he said he thinks the Occupy protesters can learn from the old guard, he warned there is a fine line that shouldn't be crossed.
"This is a new movement and its needs to be led by new leaders," he said. Civil rights veterans getting too involved "would be a grave mistake and dampen the spirit" of the Occupy movement.
Franzen, who said he has studied the civil rights movement, said there is an education process going on for the occupiers. But, he said, "I think it's really important that this is a new movement. This is 2011, not the '50s and '60s."