KENNESAW, GA – The Kennesaw State University Sports + Entertainment Park is thrilled to announce the return of its two-day hot air balloon festival, Owl-O-Ween. 2017 will mark five consecutive years for Atlanta's largest costume party and only hot air balloon festival. The event will run from 6 p.m. to 11 p.m. on Friday, October 27th and 4p.m.-11p.m. on Saturday, October 28th.
You can soar high above the park in one of six hot air balloons offering tethered balloon rides. The festival will also feature many other stationary glow balloons. Owl-O-Ween offers unique experiences, by not only allowing guests to get up close and personal with 20+ balloon pilots and crew, but guests are also invited to trick-or-treat from balloon to balloon. In addition to all of the magical balloons, FREE Kids Activities, and Craft Beer Garden, the festival will have Seven breathtaking stages located across the property, featuring live music, aerialists, sword swallowers, fire breathers, acrobats, and more. The KSU spirit still shines through with multiple owl art installations, located throughout the festival. Also returning this year will be the greatly anticipated Levitation Stage catwalk, featuring a costume showdown. Grand-prize winners will take home prize packages.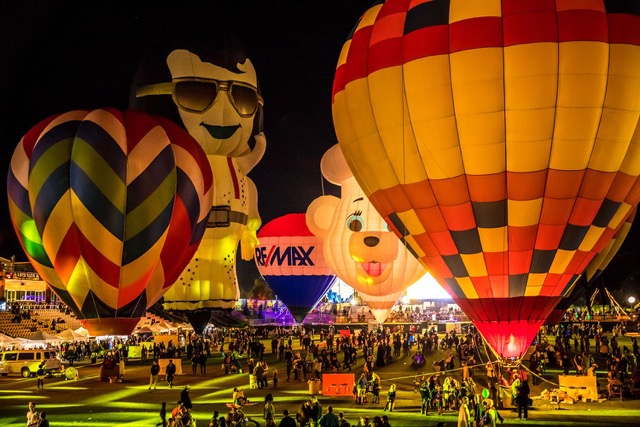 Festival Co-Producer/Promoter, Andrew Miller stated that, "Whether you come out with the entire family, or partake in a spectacular date night, you will have a great time at Atlanta's mega- event OWL-O-WEEN! Since its inception in 2013, The Owl-O-Ween Hot Air Balloon Festival has become an annual pilgrimage for tens of thousands of festival-goers from across the region. Festival attendees bring their adventurous spirits, and experience a full range of amazing sights, sounds, and culinary treats! This one-of-a-kind hot air balloon festival, is truly fun for all ages!"
Booking and events manager, Necie Brown, has done her very best to provide guests with a phenomenal experience. "Guests can expect something different each year, as we try to outdo ourselves, and mix things up. Mystical talent and high flying fun are only some of the things you can expect from this year's festival. Year five will be absolutely incredible," says Brown.
Owl-O-Ween has a $20 million economic impact on the community. Executive Director Zach Kerns says "Owl-O-Ween brings crowds of people from all over to our city. The economic impact of this festival is an incredible gain not only for us, but for the surrounding community as well."
Owl-O-Ween was named by Southeast Festivals and Events Kaleidoscope Awards, as the bronze winner for the Best Festival of 2016. SFEA's Kaleidoscope Awards recognize organizations in the Southeast who are creating hallmark festivals for their community.