University tuition has hit an all-time high and paying for college is speculated to continue to rise. According to attn, "The cost of college has gone up more than 1,000% in the last few decades."
However, things have gotten worse since 2011 for a selected group of Georgia students. Students without legal status are struggling after Georgia Board of Regents approved policies that prevent illegal immigrants from attending the top 5 Georgia universities. These policies prohibit students from applying at University of Georgia, Georgia Tech, Augusta University, Georgia State, and Georgia College & State universities.
In addition, these same students are now required, by law, to pay the staggeringly more expensive out-of-state tuition rate if they want to attend the other Georgia colleges. Even if they have lived in-state for most of their lives.
These policies were put in action after Jessica Colotl, a Kennesaw State University student, was arrested on campus for a traffic violation. Police immediately discovered her absence of legal documentations and she was set for deportation. However, the more substantial issue was that she was paying an in-state tuition rate, though by law KSU was required to charge her an out-of-state rate. Her arrest generated an immense public outcry – debating the controversies concerning illegal immigration and public education.
After the incident, the board approved the policy, stating that it addressed public concerns about illegal immigration.
Protestors and opposers of the policy argue that it is contemptible and inoperative to reject long-time state residents "who contribute immensely to the Georgia economy," according to Georgia Budget & Policy Institute.
"Turning away these bright, earnest, and eager young people would be a slap in the face to America. They have much to contribute to make Georgia, this country, and the world a better and more prosperous place. They are brave, determine, and clear about the fact that education is a human right." said protesting university professors.
Last Wednesday, student activists and others who are against these policies (4.1.6. And 4.3.4) encircled around The Board of Regents in protest.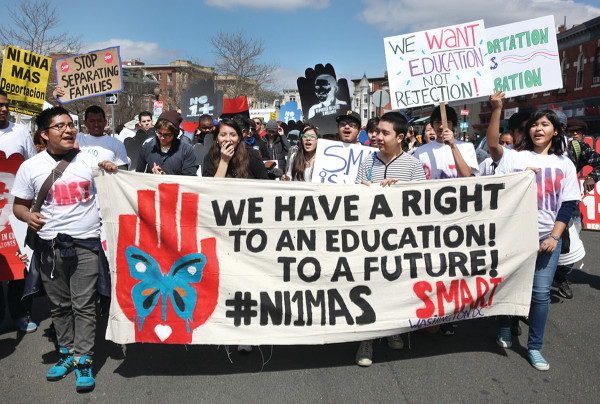 Among these students were people of all descent, race, and religion. They gathered to "…contribute more fully to [the] communities without the dehumanizing clouds of racism, hatred, and modern segregation over [their] heads," according to Angel Amora, 19, a Mexican-Native protester.
Immigrants, attorneys, and The Mexican American Legal Defense and Educational Fund are suing to repeal the policies, stated by AJC.
One of the plaintiffs, Maria Carrillo stated "Georgia's policies against DACA students is unjust and inhumane. I don't understand how individuals can deny higher education to students who have contributed to the state."
Since then, Kessel Stelling Jr., Board of Regents Chairman, has declined to comment on these policies.
However, the Board of Regents did issue a statement in regards to Wednesday's protest, stating: "We respect our students' right to protest in an appropriate manner."
The policy remains in effect and is planned to stay by the board.