ATLANTA (WXIA) — Texting behind the wheel is illegal across the nation as well as in Georgia for most people, but that rule does not apply to police and other first responders.
In mid-October, we began receiving copies of a Facebook photograph of an unidentified person behind the wheel of a Cobb County Police vehicle texting. An older photograph continues to be circulated of an unidentified DeKalb County Police officer texting while driving down the road has been sent to us repeatedly by 11Alive News viewers, via Twitter, Facebook and regular e-mail.
The question that has accompanied nearly every copy of either photograph is whether or not officers can legally do that. The short answer is that, yes, they can.
According to Georgia state law, law enforcement officers, along with other emergency personnel are exempt from the section of the state code that prohibits people from texting while driving.
More specifically, Title 40, Chapter 6, Article 11 of the Georgia State Code says that reading or sending texts while operating a motor vehicle is prohibited, with some very specific exceptions. Section C of the article lays out the exemptions to the law.
The code applies to any "wireless telecommunications device to write, send or read any text-based communication, including, but not limited to a text message, instant message, e-mail or Internet data."
The state law lists exceptions as follows:
(c) The provisions of this Code section shall not apply to:
(1) A person reporting a traffic accident, medical emergency, fire, serious road hazard, or a situation in which the person reasonably believes a person's health or safety is in immediate jeopardy;
(2) A person reporting the perpetration or potential perpetration of a crime;
(3) A public utility employee or contractor acting within the scope of his or her employment when responding to a public utility emergency;
(4) A law enforcement officer, firefighter, emergency medical services personnel, ambulance driver, or other similarly employed public safety first responder during the performance of his or her official duties; or
(5) A person engaging in wireless communication while in a motor vehicle which is lawfully parked.
As a result, police officers are exempt, and are not only able to text, but also to use their computers while driving.
11Alive News contacted Cobb County Police about the October photograph and found that while the vehicle is a Cobb County Police vehicle, the person behind the wheel at the time was not a police officer.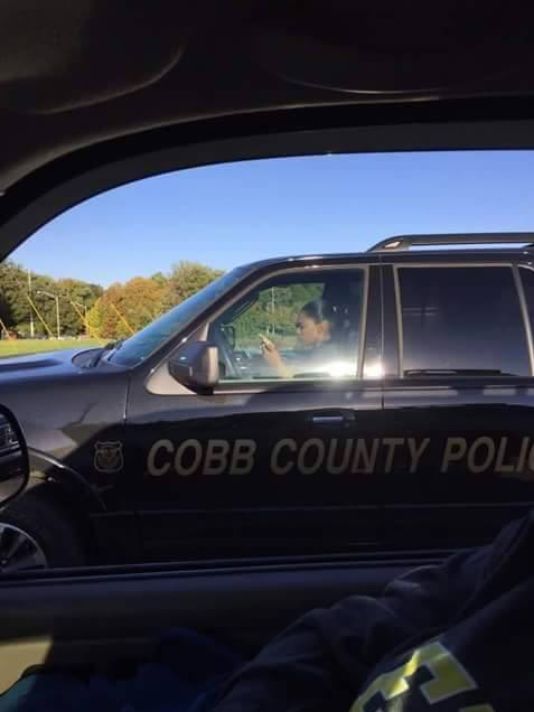 Sgt. Dana Pierce says the woman behind the wheel in that photo is a civilian evidence technician who drives a marked vehicle in the course of her activities. He pointed out that in the photograph, the vehicle is not moving — as evidenced by the lack of movement in the photo.
Pierce says she was not texting, but using the GPS function of her phone. But as a civilian technician, and not a first responder, she is subject to the same laws and rules of the road that everyone else is, which means the only way she should have been using her phone — even the GPS function — while behind the wheel, is if the vehicle was off the road and parked.
"She has been counseled, and hopefully won't do that again," Pierce said.
The issue is not unique to Georgia. An NBC station in Austin, Texas, says that a check of laws there, indicates a similar exemption for law enforcement personnel while they are on duty there.
When asked about the older photograph, DeKalb Police said that the photo is an old one, and that it was not clear enough to identify specifically what officer was pictured. They went on to point out that under state law, their officers were permitted to use their electronic devices while driving.