I love going out and having a good time, but my favorite thing about the summer is MUSIC FESTIVALS. I hope all of you are going to Counterpoint next weekend (I'm sad I can't go this year), but another huge festival that's coming to Georgia is TomorrowWorld. Last year, hundreds of thousands of people gathered from around the world, dancing and celebrating to the music of Bassnectar, Richie Hawtin, Martin Garrixx and many more! This year, they are slowly announcing the headliners, and then the rest of the lineup. I have my reactions to all of the headliners so far! Check them out.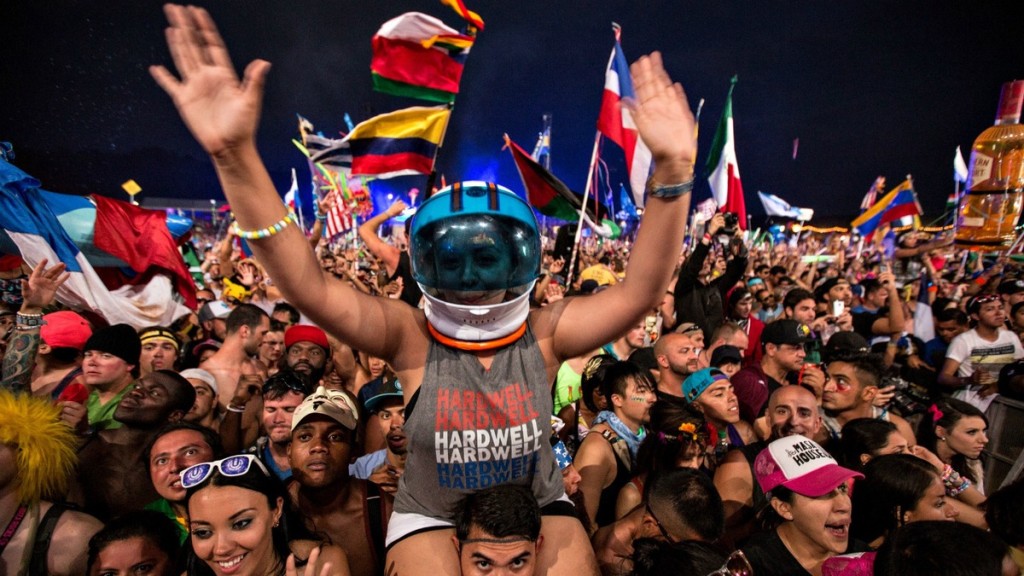 Hardwell
First off, Hardwell is the #1 DJ in the world. Number 1! Georgia is going to house the Number 1 DJ, so if that's any indication, we're going to have an amazing festival this year. Hardwell is known for his electro house beats, and has been hitting up clubs and parties all around the world. The 27 year old is definitely not done yet, and will put on a great show this year.
Armin Van Buuren
It's like Christmas getting the DJ born on Christmas day. Armin van Buuren will give the trance addict their fill of his catchy tracks. So far, this one is my favorite. I run to Armin all the time, and his music is always so pleasant to me. I wonder if he will bring new tracks to TomorrowWorld.
Ferry Corsten
I actually had never heard of Ferry until yesterday. But after listening to a few tracks, I really, really like him. He was actually a rising star in the EDM world in the 90s as a DJ in The Netherlands. So to me, this is the historic addition to the lineup. Corsten has had so many different pseudonyms during his career it's almost impossible to know what he has played. But all of his music is upbeat and fun.
Jamie Jones
Jamie Jones is very different from the previous headliners. He's very deep, almost alternative (for lack of a better word). His style is very minimalist in melody, in fact almost minimalist in general. The welsh sDJ has his own label and was part of the group Hot Natured. The Deep House DJ, I think, will help bring Deep House to the forefront, because I think it's the hidden gem of electronic music.
David Guetta 
I'm not into mainstream DJs that much. Mainly because you certainly cannot avoid a song that David Guetta has helped produced, or has remixed or anything. However, the French DJ has made a serious name for himself but it would take a lot for me to see him, especially because I'd rather hear "sexy bitch" in a club as opposed to a festival covered in dirt and grime.
Dmitri Vegas and Like Mike
This duo, at least according to the TW Facebook page, were the most in demand headliner thus far. I'm sure fans around the world are rejoicing about the DJs announcement. Personally I haven't really listened to much of the two guys, and I might keep it that way until I go this year. Might be surprised at what I hear.
Afrojack
Not only is Afrojack a beautiful, beautiful man; he is also one of the top dance DJs in the world. I'm very excited to see him perform as a DJ, because he has collaborated with the greats like Armin Van Buuren and up and comers like Martin Garrixx. All of his tracks have something different to bring, which will make his show very exciting.
Paul Van Dyk
GUYS STOP WHAT YOU ARE DOING AND LISTEN TO THIS LEGEND. Van Dyk has been spinning since 1988, he's been in the game since before TomorrowLand was even a thought. He's been spinning since before most people who go to TomorrowLand/TomorrowWorld were even BORN…or CONCEIVED..or even THOUGHT OF. And he's still relevant to this day, which means he's going to be probably one of, if not, the best performance during the entire festival. In his videos, he's very interactive with his audience, not at the extent of Steve Aoki, but still. So if you go to anyone, to to Paul Van Dyk.
Big Gigantic
I don't know how I missed this one. But it looks the LIVE stage is going to be completely stacked with Big G at the helm. With drummer Jeremy Salken and Saxaphonist/Producer Dominic Lalli, the jamtronica duo is going to make things so funky, people aren't gonna know what to do. Talk about a "saxual" assault! Also, in case you haven't listened, look up their newest track "Get On Up." You'll love it. You're welcome.
Get Real
Get Real is the Back to Back name for Green Velvet and Claude Von Stroke. The two house DJs have very distinctive approaches to house music, which set them far, far apart from what most people would normally listen to. With similarities to Jamie Jones, another headliner this year, and Richie Hawtin, legendary headliner last year, the minimal house duo will bring a huge crowd. Things are gonna GET REAL. Real fun, real weird, real TomorrowWorld.
Adam Beyer
Just when you thought that TomorrowWorld was getting a little too trance-happy, they add Swedish Techno DJ Adam Beyer. Techno is very big in Sweden with people like Swedish House Mafia and The Knife coming out of that country. Beyer will be headlining on the DrumCode stage, named after the label names after him. Now the question is, who will we see playing with him?
Flux Pavilion
Dubstep was an underground sensation out in the UK, and as a result of several artists, it became a global movement. Flux Pavilion was one of those artists to bring dubstep into the forefront. He has been sampled on different tracks, most known for his sample in Kanye West's "Who Gon Stop Me." His material, new and old, is great, original and full of bass. I'm excited and you should be too.
Showtek
The hybrid duo has been making music since 2001, and created their own sound taking themes from EDM, techno and hardstyle. The team has collaborated with Tiesto, Chris Brown, David Guetta and Carly Rae Jepsen just to name a few. This is definitely a group for those who appreciate all aspects of electronic music. The ones who got no "type" so to speak.
Adventure Club
Another hybrid group, Adventure Club combines smooth EDM with rumbling dubstep. The duo can make a crowd dance and immediate change to headbanging and raging a the drop of a hat. This would be a good act to start with if you have never really listened to EDM or Dubstep or anything electronic. It's a good fixer-upper, and it will make you a believer.
Martin Garrix
Yawn. EDM's pretty boy has been announced for another year at TomorrowWorld. How I see it is that he'll be playing at the main stage again, and he'll be playing "Animals" and "Helicopter" among others. Unless he plays amazing new music, I'll probably pass. He does a great show, but it's one that if you've seen it before, you don't have to see it again. Martin Garrix isn't my cup of tea anyway.
Excision
The first time I saw Excision was in Atlanta at the Tabernacle. It had Liquid Stranger and Datsik as openers, and it was lots, and lots of bass. Like…I could not breathe because the bass was so strong. The artist can definitely be considered the "heavy metal" of the electronic world, he's dark and strong and somewhat scary. But the show itself is fantastic. He takes a lot of rock influences and fuses into his dubstep. If you like dubstep, or want a real adventure, he's your guy.
Steve Angello
Do you remember that little group called Swedish House Mafia? Steve Angello is one of the trio of SHM. He recently founded Size Records, and has released several tracks on that label. Since Swedish House Mafia, he has collaborated with Laidback Luke, Sebastian Ingrosso (another member of SHM) and Axwell. If you loved SHM like I did, Angello's music is a step in the right direction. The Swedes know electronic music.
More to come? Who's Next!?