Georgia College Football Games You Should Watch
By: Geoff Bell
1. UGA vs CLEM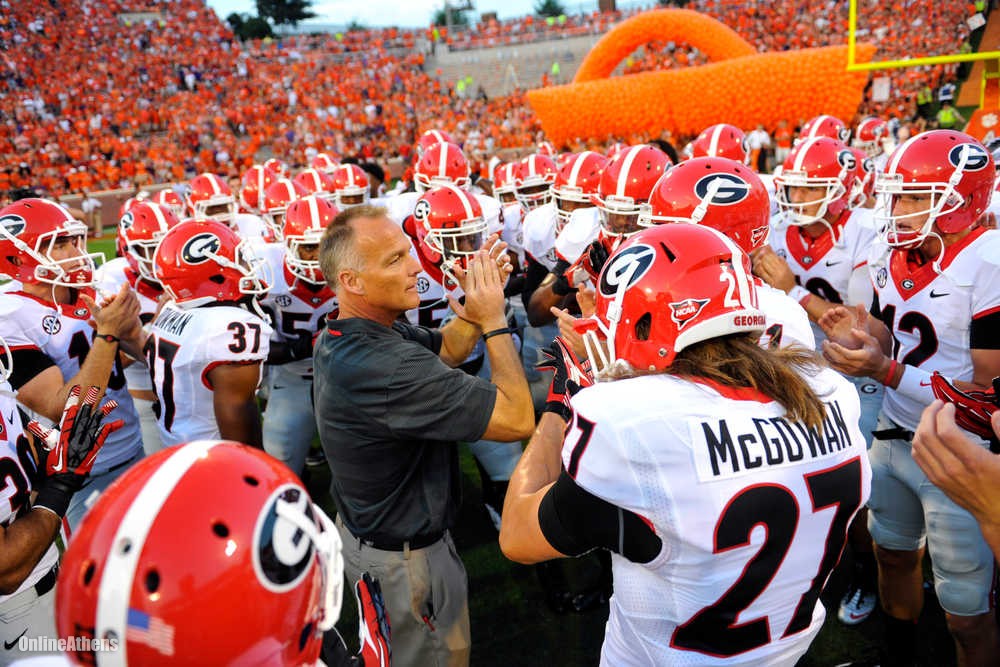 August 30th @ UGA (Athens, GA)
This isn't a shocker but the Dawg faithful have been licking their chops for redemption from their season-opening loss to Clemson a year ago.  This year, they're playing between the hedges and will rely heavily on their Heisman-potential RB, Todd Gurley.  Both coaches, Mark Richt and Dabo Swinney, are in great position to make a move in their respective conferences.  This game is going to be a high-scoring and hard-hitting contest that's sure to heal all your football related ailments.  I have many.  Both defenses have some kinks to work out early in the season, but I like Georgia to win at home.  I do think Clemson is capable of an early upset of Georgia, but Mark Richt and the Bulldawgs can't afford a mistake that early in a season where so much is on the line. Go Dawgs!
2. UGA vs SCAR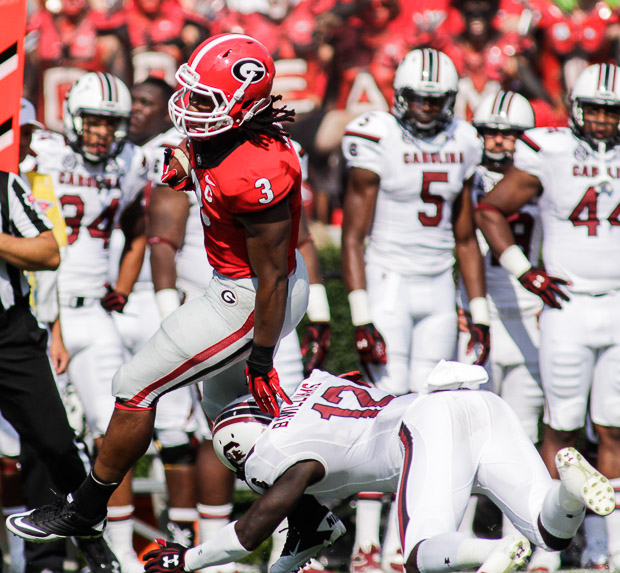 September 13th @ SCAR (Columbia, SC)
More often or not, when speaking about rivalry games, you get the popular UGA/FL, UGA/GATECH, and UGA/AUB games.  I'll elaborate on those a bit later.  In recent years, South Carolina has become a thorn in the side of Mark Richt and the Georgia Bulldawgs.  Having lost 3 out of the last 4 games played, UGA looks to redeem themselves in Columbia, SC.  Steve Spurrier isn't going to lay down and has a battle-tested history playing against Georgia, both as head coach at South Carolina and at Florida.  Both teams will be very emotional and physical.  Carolina will have to replace it's 1st round NFL Draft Pick DE Jadeveon Clowney with someone who can place fear in an offensive line.  Both teams face opening games against ranked opponents, so it'll be interesting to see where they each stand come game day.  I anticipate a low-scoring affair with Georgia coming out on top.
3. UGA vs AUB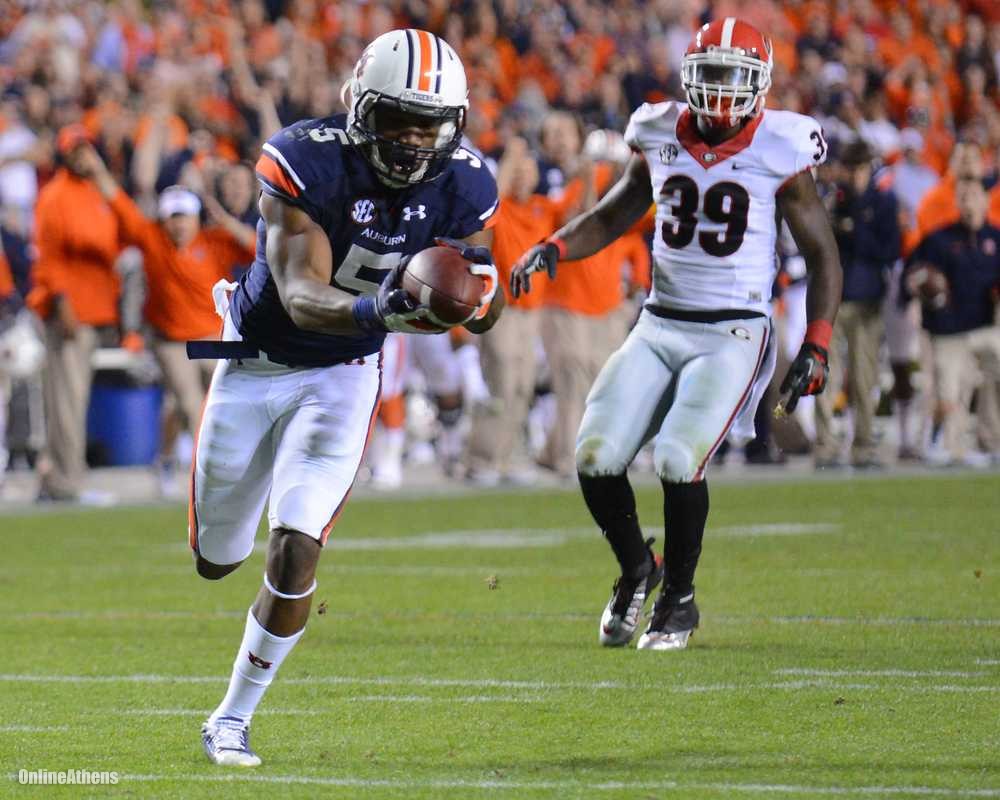 November 15th @ UGA (Athens, GA)
If the image of a football being popped into the air, rather than being batted down, and an Auburn receiver catching it with :34 seconds left in a 1 point game hasn't been in your head, check your pulse because you're probably dead.  Auburn's miracle play to win 44-38 has been causing countless nightmares for Georgia players, coaches, and fans since November 16th of last year.  I see this game as chippy, low-scoring, and outright physical.  Auburn has the preseason rank of 6th best in the country, while Georgia holds the 12 position.  Both teams will most certainly not hold their same ranking come the day of the game, but I'd be lying if I said I think  Georgia will win easily.  It'll be a great game and  the winner has bragging rights for an entire year.
4. GSU vs NCS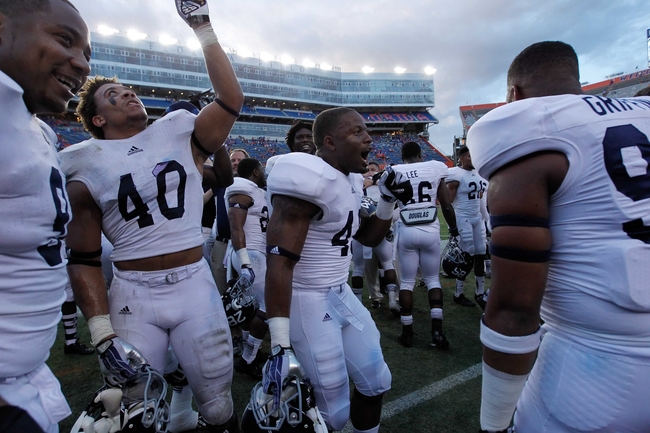 August 30th @ NCS (Raleigh, NC)
Last year The Eagles went 4-4 in the Southern Conference, and 7-4 overall.  They're also in a transition from the FCS to the FBS level where they'll play in the Sun Belt Conference.  New coach, Willie Fritz is has more than 30 years coaching experience, 21 of those years as a head coach.  The Eagles averaged more than 34 points a game last year.  Edwin Jackson lead the team with 92 total tackles last season and looks to be the leader on the defensive side of the ball.  Georgia Southern returns 5 of their top 6 offensive lineman as well.  It's tough to open the season on the road, but NC State should not take the Eagles lightly.  I like Southern in this game if they can effectively run their triple option and hush the Wolfpack crowd early.
5. GSU vs GT
September 13th @ GT (Atlanta, Ga)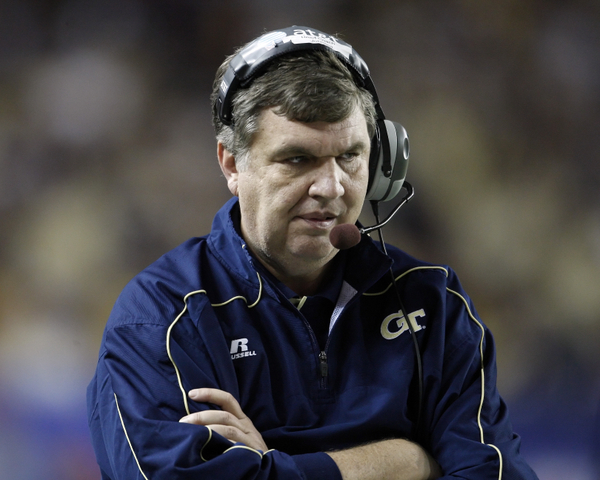 This game is an interesting one.  The Eagles will face their former head coach Paul Johnson for the first time since the Naval Academy recruited Paul as their head coach in 2002.  Coach Johnson has been credited with the invent of the triple option flex-bone, but new coach Willie Fritz is looking to implement his own triple option, but in more of pistol formation.  Basically, more spread out and executed from the shotgun position.  The game will be played In Bobby Dodd, but the Eagle Nation will show up in true form and attempt to take the home field advantage away from The Jackets.  Slight edge to Tech, but I wouldn't sleep on the Eagles.
6. GSU vs GST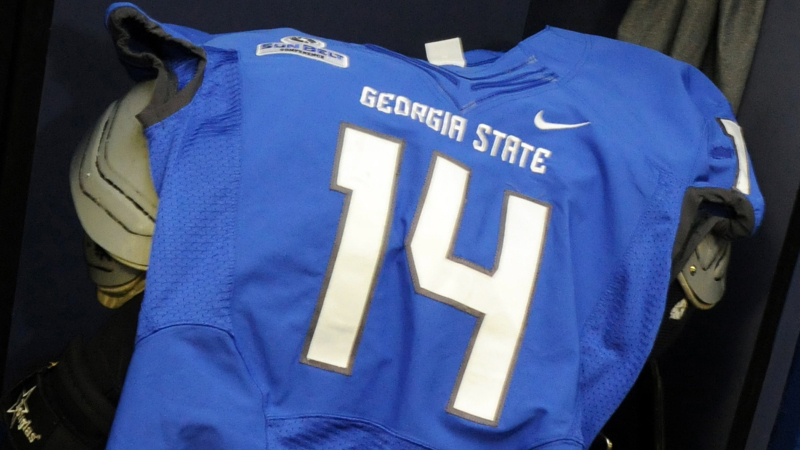 October 25th @ GState (Atlanta, Ga)
This has the makings of another great in-state rivalry.  These two teams have never met on the football field and I assume first impressions will be of the utmost importance for both clubs.  Southern's football history is considerably deeper and more experienced, but Georgia State has been gaining attention and recruiting leverage in the last few years.  I've heard of a mutual distaste for each other's team is rapidly evolving and gaining momentum within the student bodies.  Neither team is scheduled to play each other next year, but the outcome and physicality of this year's game may lead to more games scheduled in the future.  I like The Eagles this year, and would encourage the Georgia State faithful to come out to the game and attempt to drown out the well traveled Southern fans.
7. GT vs VT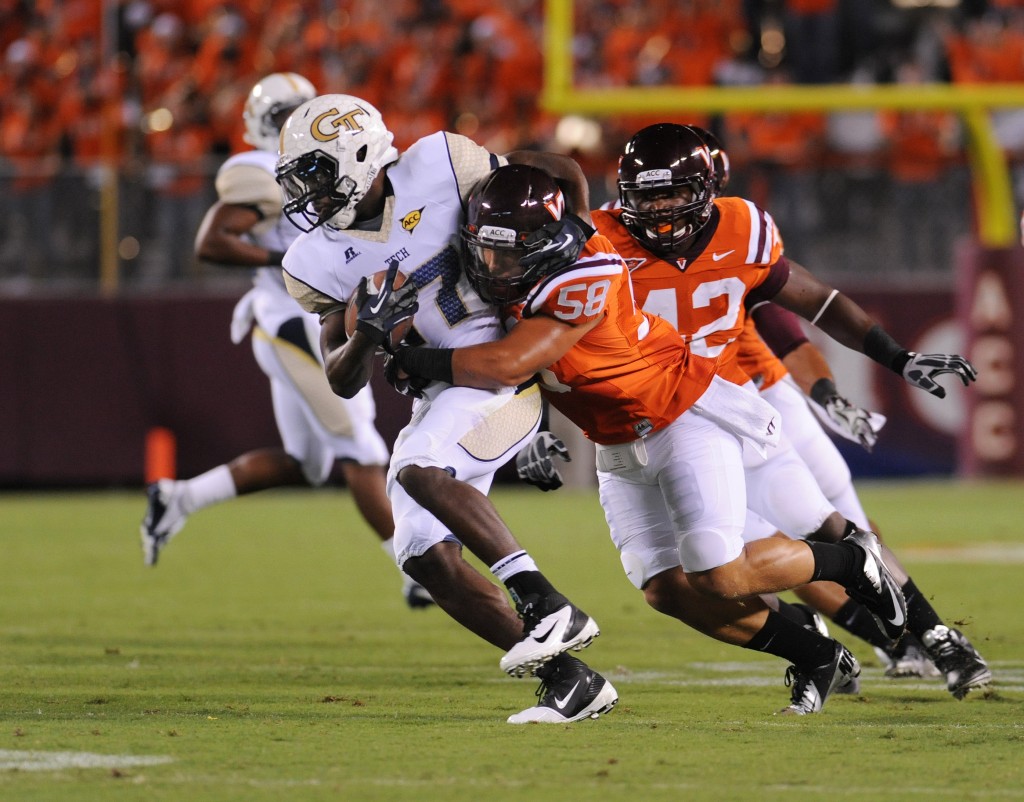 September 20 @ VT (Blacksburg, Va)
This game has not been kind to the Jackets in the past.  Since 2010, Tech is 0-4 in this series, but all have been closely contested games.  It's difficult to play in Blacksburg and Coach Beamer is as creative as they get in football.  Both clubs open ACC play with this game and I see it as a real indicator for who will contend for an ACC title.  Gametime hasn't been released yet, but I anticipate a late afternoon game that's going to be loud and Hokie fans will be out in full force.  Let's hope the offense is clicking for the Jackets because the VT defense has a number of key roles to fill on the defensive side of the ball- which is their achilles heal.  I like VT only because they're at home.  Go Jackets!
8. GT vs CLEM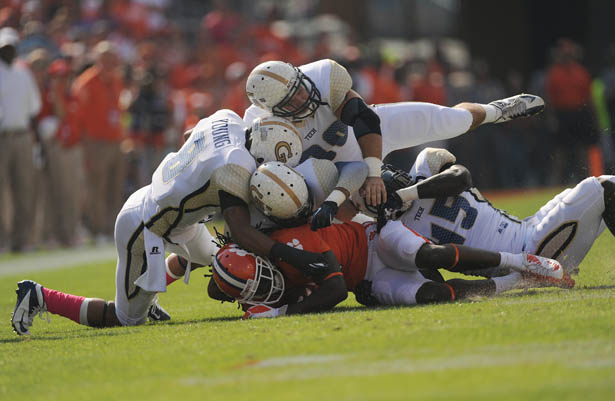 November 15th @ GT (Atlanta, Ga)
This game has become one of the best rivalry games in the ACC, maybe in the NCAA.  The Tigers will enter their 2014 season with a preseason ranking of 16th best in the country.  Do I anticipate them improving upon that ranking?  Yes.  Top 5 at the end of the year when they play Tech? No.  This is Tech's game to win.  Barring injury or chemistry issues, I see Tech returning the favor from a loss last year in Clemson with a win at Bobby Dodd this year.  Clemson has to replace dynamic WR Sammy Watkins, as well as former Heisman hopeful QB Tajh Boyd.  I'm giving the Rambling Wreck the edge in this game and hope they can pull off what looks like a potential upset and return order in the ACC.
9. GT vs UGA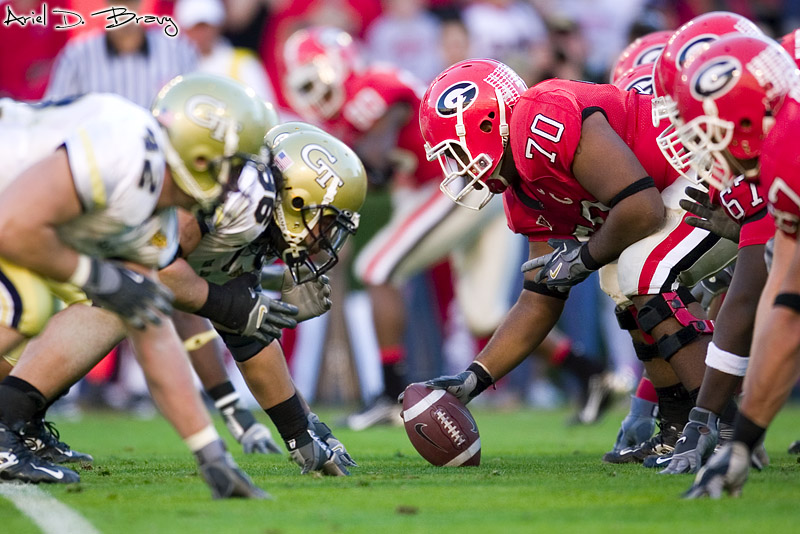 November 29th @ UGA (Athens, Ga)
Good ol' Fashion Hate is what they call this in-state rivalry.  UGA squeaked out a win last year in Bobby Dodd Stadium in an double overtime thriller.  The UGA win was capped by an out-of-body performance from Heisman hopeful Todd Gurley who ran for two consecutive TD's late in the game and overtime.  Replacing record setting QB Aaron Murray won't be easy.  In comes 4th year QB Hutson Mason who, ironically, played well against Tech last year in the epic OT game.  Murray came down with a leg injury early in last year's game and Hutson saw earlier than expected playing time.  He threw for 299 yards and 2 TD's in what I think is his best career game.  By the time of this game, Hutson Mason will have a full season of experience under his belt, which will prove to be too much for GT to overcome.  I like the Dawgs between the hedges.
10. GST vs CLEM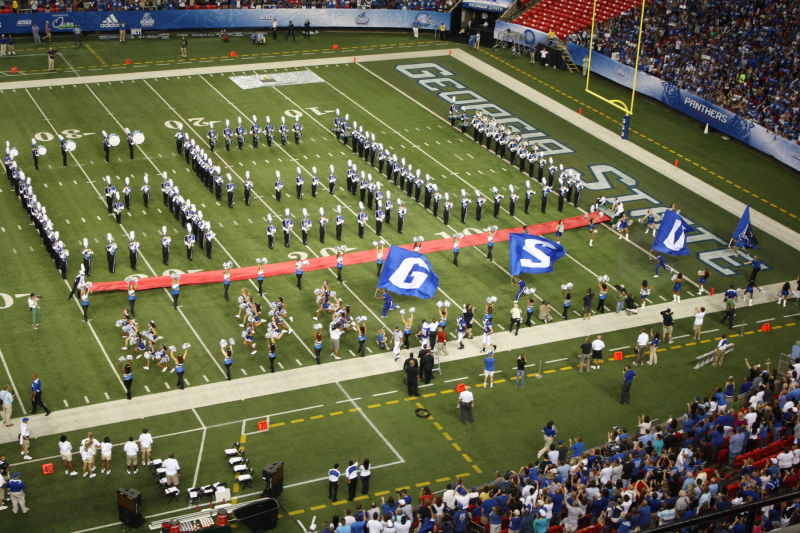 November 22nd @ CLEM (Clemson, SC)
What can I say here that will keep me in good standing with the Georgia State fans?  This will be the second biggest game for Georgia State since it's inception in 2013.  The first biggest game was a lost to the Alabama Crimson Tide, in which The Panthers were able to score a field goal against arguably the best defense in the country that year and a team that ended with an 11-2 record.  This year The Blue Panther football team looks to improve upon that and give The Tigers a run for their money.  Panthers vs. Tigers, a battle of the more superior cat-like predators.  I'm going with The Tigers just because they have home field advantage and a loud Death Valley Stadium as the backdrop for this game.  My heart is with Georgia State though.
"LIKE" us on Facebook!