As dark clouds started to hover over the city of Atlanta on Monday, it was clear that a powerful, thunderous storm was on the way – not one of lightening and rain, but one of passion and righteous anger.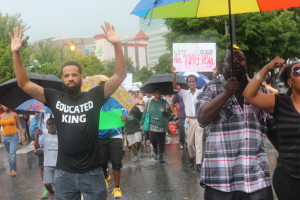 A massive crowd started to build in front of the CNN Center around 5 pm as protesters gathered together, ready to march in honor of Michael Brown and the countless amount of other African-Americans who have lost their lives at the hands of police officers and senseless gun violence.
Signs displaying powerful messages peered over the heads of the protesters.
"Hands Up, Don't Shoot," "Black Lives Matter," "No Justice, No Peace," "From Gaza to Ferguson Resistance to Occupation is Justified," "Liberty for ALL" and "WE ARE MIKE BROWN" were only a few of the messages that were proudly displayed on the protesters boards and posters.
Some posters told stories of people who grew up in the same neighborhood as Brown and served as a grim reminder that it could have been their own relative lying in a pool of their own blood.
Other protesters just wanted people to know that the march was about unity and bringing people of all backgrounds together to solve a national problem.
"I think it's important that people realize this isn't about one race anymore," said Katie Watson, who had makeup smeared under her eyes due to the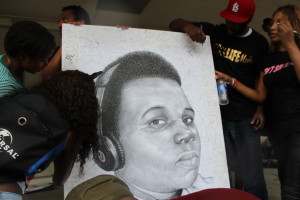 heavy rains. "It's like – yea it's a race issue, but it's not just that one race's problem. It's all our problem."
Watson went on to say, "I can't imagine being a target because of the way I look – you know, [because of] my skin color."
In the midst of the signs and protesters, surprising sounds could be heard. The types of sounds that you would never expect to hear during the massive demonstration based on the way the media has portrayed other protests all across the country.
In addition to chants, there were sounds of laughter, singing and joking. There were eruptions of cheers as the rain poured harder and harder.
As winds threatened to take signs out the hands of those marching, their grips grew tighter and their cheers grew louder – they refused to let go of their message or lower their sign. They refused to let a storm keep their voices down, especially since authorities had already been doing so for years. These protesters challenged the storm. They were louder than thunder, more powerful than the lightening and more persistent than the wind. After decades of watching Black citizens being persecuted for the color of their skin, the crowd of over 1,000 protesters had hearts that were much heavier than the rain.
They marched on.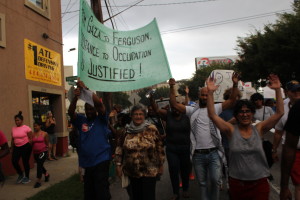 "When it started raining and lightning and the crowd didn't even disperse, my energy level shot up," Kwame Thompson, an attorney in Atlanta and St. Louis, told the AJC. "It was a peaceful demonstration that was against police brutality and in support of Mike Brown and his family."
By the time the massive crowd reached the CNN Center again, the rain had subsided.
There they stood, in soaking wet clothes, as a united front – daring the media to call them "rioters."
Aurielle Lucier, one of the organizers of the demonstration, reminded the crowd that there is a lot of work to be done.
"We've got some changes to make in America," she told the crowd.
She also took the time to dispel myths that the younger generation is complacent and unable to make major changes in their communities.
"People are asking, 'Where are the youth?' " she continued. "We are right here, and we are ready to do something. We are ready to act."