Atlanta has some fine Asian cuisine thanks to its diverse population. Here's a round-up of the city's best ramen spots.
1. E Ramen +
Super impressed with this place! All of the staff were exceptional in that they were friendly, helpful, and did a great job making us feel at home. Considering how busy and popular this place is I really appreciated the extra effort. – Key M (Atlanta)
1110 W Peachtree St NW Ste 300 Atlanta, GA 30309
A smaller place that was packed. We had a wait on a Friday night as to be expected. The food was worth it, we had 2 different Ramen bowls and we each loved our bowl. We also decided to opt for the Korean Fried Chicken that everyone talks about. Yes, get it. It was soo good. This will be on the rotation of places to visit when I am in the area. – Ketta M.
2421 Cobb Pkwy SE Smyrna, GA 30080
3. Jinya
We have been looking for a great ramen place in the area for a while since moving here from SoCal! Then we realized that JINYA was here and they were a favorite in LA as well! There's always a wait here as the place is small, but they handle the lot well and set strong expectations. – Mary H (Orange County, California)
3714 Roswell Rd Unit 35 Atlanta, GA 30342




4. Okiboru Tsukemen & Ramen
Okiboru is  it's def one of my top if not top pick for ramen around the Atlanta area.
Food: extremely delicious, everything I've tried from their menu has been a hit. I recommend the fries, it should be a staple if you're visiting. The ebi karaage shrimp is delicious too, the Brussels sprouts are seasoned and flavored well, and we can't forget the ramen. The dipping ramen was interesting and I really enjoyed it. I recommend it. – Huie N.  (Atlanta, GA)
6125 Roswell Rd Ste 800 Sandy Springs, GA 30328
5. Silver Lake Ramen
Their tonkotsu ramen was fantastic. The pork was front and center and was a generous portion compared to most other ramen places. The broth was rich but not overly so. The soft-boiled egg was fantastic. I appreciated the addition of spinach in the ramen too.
The service was friendly and attentive. The interior of the restaurant is nicely decorated too.
1080 Peachtree St NE Ste 9 Atlanta, GA 30309
6. Ginya Izakaya
My go to Ramen spot. Quick service, delicious ramen and pretty good prices. The broth is so creamy and flavorful.  I can't speak for other dishes, because I love their ramen and always end up getting the same thing. – Zoe S
1700 Northside Dr NW Ste A-5 Atlanta, GA 30318
7. LanZhou Ramen
Whenever I am on Buford Highway, I always like to try new places and have quite an extensive list. LanZhou Ramen has been high on my list, and now I see that they have a second location in Kennesaw! I ate lunch today at LanZhou Ramen, and boy, did I make the right choice. The lovely waitress recommended the number 1 beef noodle soup, and I added the chive pancake appetizer (which was so generous that I needed a few friends along to share these with!). The beef noodle soup, with handmade noodles, was delicious. – Nora M (Marietta, Georgia)
5231 Buford Hwy NE Doraville, GA 30340




8. Hiro Ramen & Tea Bar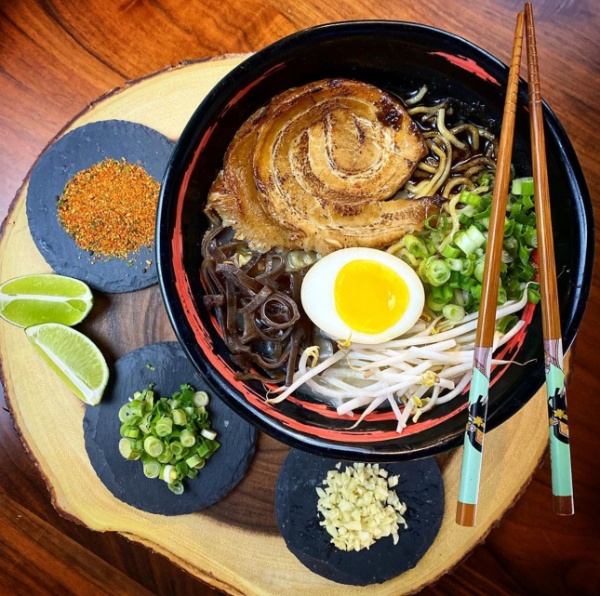 The Ramen is great. Perhaps not noteworthy in comparison to other top-end Ramen shops, but Hiro's ramen offerings can definitely go toe to toe with anyone else's, and they'll let you build your own! – Dan D (Atlanta, Georgia)
1363 Clairmont Rd Decatur, GA 30033
9. Eight Sushi Lounge
The ramen & sushi at Eight Lounge is so delicious and won't break the bank like other places. Beautiful atmosphere, great drinks and great food. Highly recommend. – Nicole B (Canada)
10. Shoya Izakaya
Very impressed with the customer service. We ordered sashimi, nigiri, yakitori, ramen, sushi rolls, chicken karaage, and more items. The food quality was great we really enjoyed everything that we ate there. – Marie D (Columbia, SC)
6035 Peachtree Rd Ste A101 Doraville, GA 30360
11. Wagaya
The food was amazing, with fresh ingredients and interesting menu items and combinations.
I really enjoy the atmosphere as well. – Dave L. (Wellington, FL)
339 14th St NW Atlanta, GA 30318
1579 N Decatur Rd NE Atlanta, GA 30307
Want us to review your restaurant? DM Ronndell on Instagram and he will stop by!