GWINNETT COUNTY, GA — Five marijuana grow houses were disabled, 15 search warrants were executed and arrested 16 people were arrested Thursday, according to the Gwinnett County Police Department.
For the past five months, the Gwinnett Police Narcotics Unit has been working on a long-term criminal investigation involving drug trafficking. During the investigation, the detectives uncovered two large drug trafficking organizations that embedded themselves into the community.




Though this case is still active, the detectives disabled five marijuana grow houses, executed 15 search warrants, and arrested 16 people. The search warrants were conducted in Gwinnett, Henry, and Clayton counties. To those passing by, no one would have suspected that these 5 marijuana grow houses were harboring criminal activity. There was an average of 340-1,500 plants at each home. The Drug Trafficking Organizations utilized sophisticated equipment to manufacture high grade marijuana. The largest grow house was an 8,500 square-foot home in Norcross. The detectives learned that the operation was tied to a larger international organization serving not only Gwinnett County and the metro-Atlanta area but also the southeast United States.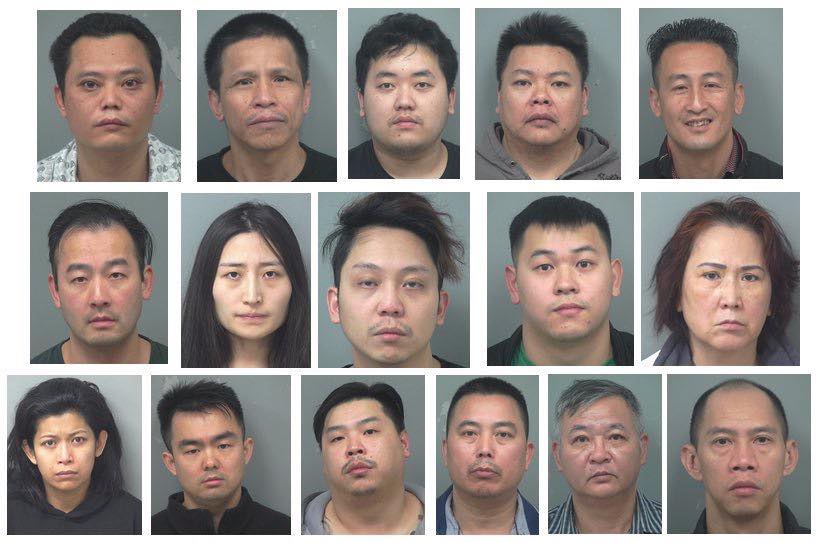 The detectives assigned to the Narcotics Unit located and seized marijuana grow houses at the following locations:
· 748 Bartow Drive, Dacula
· 6015 Williams Road, Norcross
· 456 Hastings Way, Jonesboro
· 2202 South Ola Road, Locust Grove
· 1536 Pine Circle, Lawrenceville
Suspects and/or evidence have been located at the following locations:
· 804 Austin Court, Lawrenceville
· 2757 Abilene Trail, Snellville
· 4672 Orange Jungle Way, Lilburn
· 3305 Paces Landing Drive, Lawrenceville
· 3118 Pittard Hill Point, Duluth
· 1949 Durwood Lane, Duluth
As of Wednesday, 3,174 marijuana plants have been recovered, police reported.
A significant amount of additional evidence has been recovered thus far to include THC candies, THC oil, cocaine, illegal mushrooms, 22 firearms, $676,517 cash, and 6 vehicles.
The estimated street value of the marijuana and other drugs is $35 million.
Major Cleo Atwater, commander of the Special Investigations Section, said that, "The detectives assigned to the Narcotics Unit truly committed themselves to this criminal investigation. Because of their hard work, a significant amount of drugs will be kept out of our neighborhoods and schools."
Chief Butch Ayers said, "The work of the detectives in this case is a shining example of the dedication our officers have to serving the community."
The Gwinnett County Police Department worked with several local and federal agencies including the Gwinnett County District Attorney's Office, Gwinnett Metro Drug Task Force, FBI, and the DEA.