Atlanta: the hip-hop capital of the world, the hopeful "film capital" thanks to The Hunger Games trilogy, and home of your Falcons, Hawks and Braves. It's already been given that 2013 was not that great of a year for sports, but it has been a fantastic year for music. Here are 5 reasons why Atlanta, and Georgia in general, won in music this year.
4) Country Music was on point.
Florida Georgia Line skyrocketed their way to stardom with their summer anthem, "Cruise." Not only that, we have seen Luke Bryan shake it for us while dropping his latest album, "Crash My Party." And Zac Brown Band represented Georgia at the BCS National Championship singing the National Anthem. Georgia really fought for the country spotlight and gave Nashville some good competition.
3) Europe graced Georgia with TomorrowWorld
Tomorrowland is the Mecca of EDM in Belgium, and the people of Tomorrowland chose Chattahoochee Hills, GA to be the resting place of TomorrowWorld, the USA counterpart. This past September was the first TomorrowWorld festival, and with the HUGE turnout representing 100 countries made the pilgrimage to Georgia to rage with Hardwell and Steve Aoki, just to name a few. Don't cry, Counterpoint is coming in April and it will be JUST as rowdy.
2) Hip-Hop is Reclaiming its Rightful, Southern Home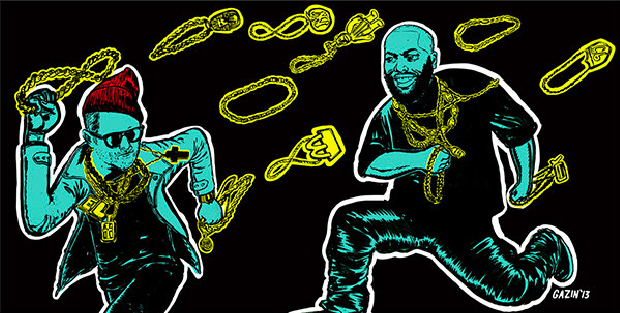 Young Thug-Stoner and "Run the Jewels" are only a few of the rising hip hop artists that are coming from Georgia. Although "Run the Jewels" has a half from New York, Killer Mike comes from Atlanta and is no stranger to ATL's Hip Hop style. "Run the Jewels" was released this past summer, and it's getting national notoriety.
1) Year of the Musical Reunions
Several Georgia bands and groups had either tried to reunite, or actually did from their long supposed hiatuses. These included:
– REM (TRIED) : Where 3 out of the 4 band members played a set in Athens, GA.
– Judi Chicago: The Atlanta based electro-pop troup got back together to play at The Drunken Unicorn a few weeks ago. Their zany, experimental style is coming back to the airwaves.
– Wowser Bowser: A lineup change lead to a new song, lead to a new show, lead to the rebirth of Wowser Bowser.
– Outkast: Self Explanatory.
Our goddess of music had Georgia on her mind.