What do the capital of Georgia and the largest city in Québec have in common?
More than you'd think. Both make a perfect vacation getaway, but if you've already done (or live in) Atlanta, it might be time to put Montreal on your bucket list. It's exotic — after all, they speak French and eat poutine — but in some ways, just like home.
1) It has a serious food scene.
Montreal is a foodie city with soul. Take poutine as an example. What Georgian could say no to fried potatoes layered with cheese and meat? If you want to get your poutine fix, go to La Banquise, a hip local eatery that just celebrated 50 years in May. They offer more than 30 kinds of poutine, including the traditional with cheese curds and gravy and creative twists like La T-Rex (ground beef, pepperoni, bacon and hot dog) or the Southern-sounding Boogalou (pulled pork, coleslaw and sour cream). It's called the best poutine in Quebec, and from what I can tell, they're not wrong.
Of course, Montreal does Quebec classics well, but what about something the South is famous for? What about pie? They're up to the challenge. The Montreal-based Rustique makes their pies in-house with seasonal, fresh ingredients, and you can taste it. Try the maple nut. It has almonds, but the consistency and undertones will remind you of pecan pie.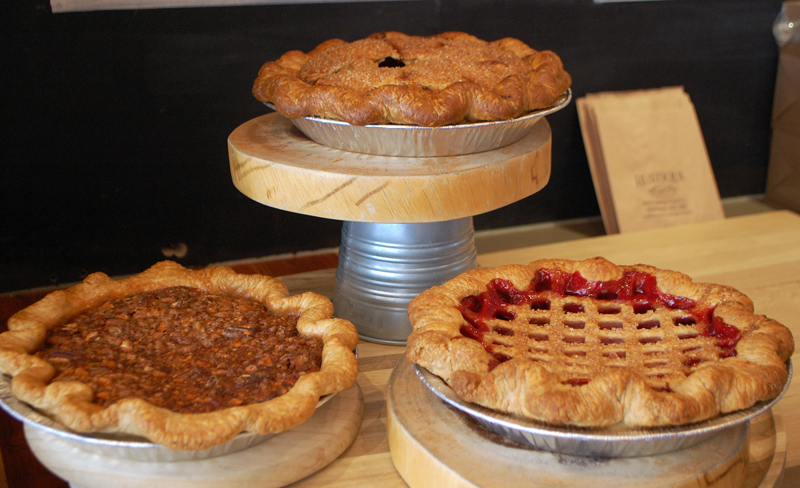 2) We have a garden connection.
Did you know the 25-foot Earth Goddess in the Atlanta Botanical Garden was created by Mosaïcultures Internationales de Montréal? It looks strikingly similar to the Mother Earth sculpture that was a temporary installation at the Montreal Botanical Garden back in 2013.
In fact, the Montreal-based mosaiculture team has worked closely with the Atlanta Botanical Garden to bring their art to the U.S. The living sculptures currently on display through Oct. 28 for Imaginary Worlds: Once Upon a Time were created with frames designed and built in Montreal.
The collaboration looks good.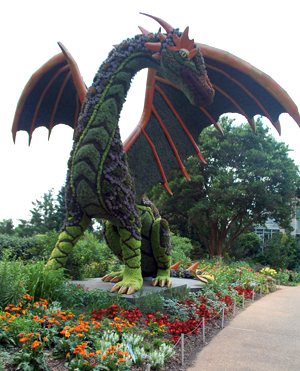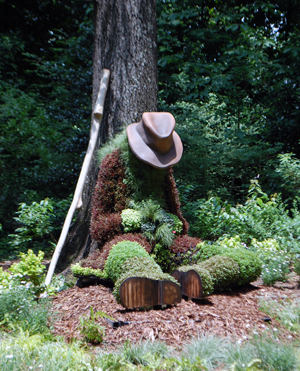 The garden where it all started is no less impressive. Today at the Montreal Botanical Garden, you'll still see art of epic proportions with the Dougherty land sculptures which you can walk under and into.
You can also snap pictures of the Chinese pavilion, bonsai collection, rainforest greenhouse, arboretum and more spread across 185 acres.
3) You can ride a really big Ferris wheel in both cities.
And both wheels are fairly new, too. SkyView Atlanta predates La Grande Roue, which first opened to visitors last fall. They're the same height, too, if you can believe the meters to feet conversion.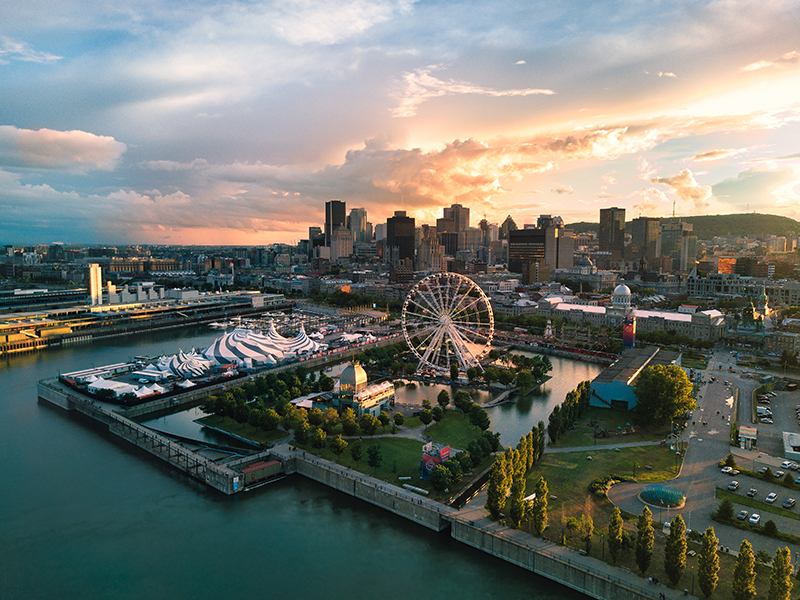 From inside a climate-controlled gondola in La Grande Roue, you have sweeping views of the city, even better lit up at night. The new attraction is right by the river on Bonsecours Island in Old Montreal, so it's a nice way to finish an evening stroll around the town. Don't miss the nearby Place Jacques Cartier, the most famous plaza in Vieux-Montréal. You'll feel like you're in Europe.
4) They love street art, too.
It's everywhere: on buildings, bridges, roads. They even hold a mural festival every summer with over a million attendees. I noticed several murals on my walks around the city, but one caught my attention for its similarity to a piece in Old Fourth Ward.
The photo on the left is Montreal's "Looking Back" mural by street artist D*Face. The one on the right is located off Edgewood Avenue, created by the talented Chris Veal.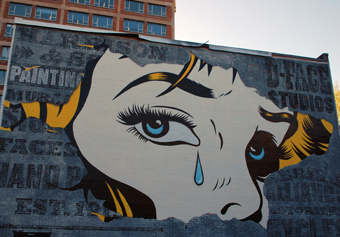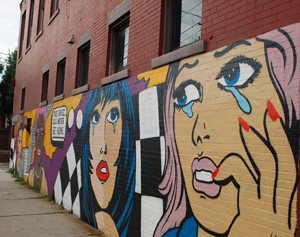 Type Mural Festival Montreal into Google Maps, and the Looking Back mural, plus others right on the same block off St. Laurent Boulevard, is easy to find.
Speaking of street art, they also have a new multimedia display called Cité Mémoire projected on the walls of Old Montreal after dark. In the true spirit of community art, it's completely free.
5) We both hosted the Olympics.
It's an elite, if expensive, club. Montreal hosted the Olympics in 1976 while Atlanta had the honor 20 years later. And we both have tourist attractions left from the affair.
In Montreal, it's Parc Olympique, now popular with tourists for the Montréal Tower, a 541-foot concrete and steel structure that leans at a 45-degree angle. Because it's north of downtown, you get impressive panoramic views of the city plus the mountains and valley in the distance.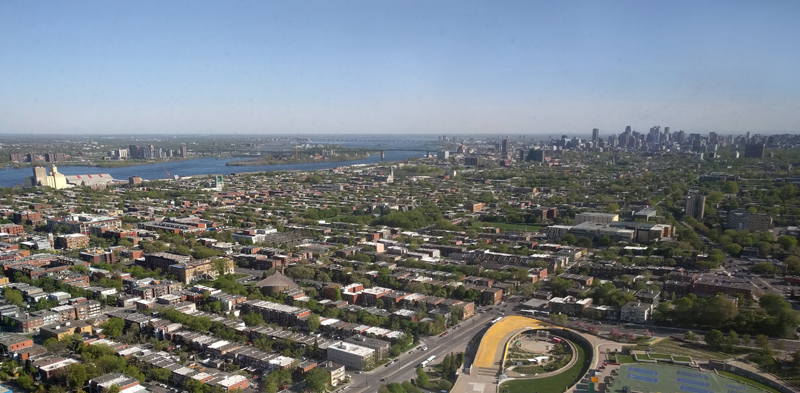 The funicular faces outward making the ride up scenic, too. If you go, visit the botanic garden first then leave your car there and walk over to save on parking.
Ready to see Montreal?
It's surprisingly doable as a road trip. Overnight in Cincinnati and Toronto, and you can make it there in less than three days.
Summer is peak season in Montreal, so be sure to book a hotel in advance. Auberge Le Pomerol is a great option for its affordability, cleanliness and location. They have stylish rooms with hardwood floors and breakfast delivered to your door every day in a basket hung outside. The hotel reminds me of European lodgings, personal and full of character, but it also has all the amenities of an American chain like Wi-Fi and flat-screen TVs.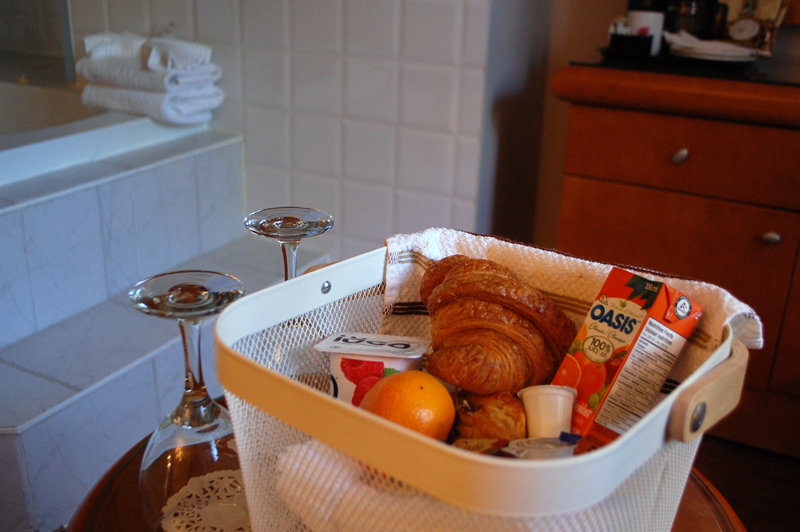 The Auberge is on the edge of Gay Village (which has the coolest pedestrian-only street hung rainbow decorations overhead) and just north of Vieux-Montréal so you can walk to many attractions. Wherever you stay, remember that Montreal is an island, so a cheap hotel in the suburbs is not the way to go. It'll just take too long to get into the city to do anything.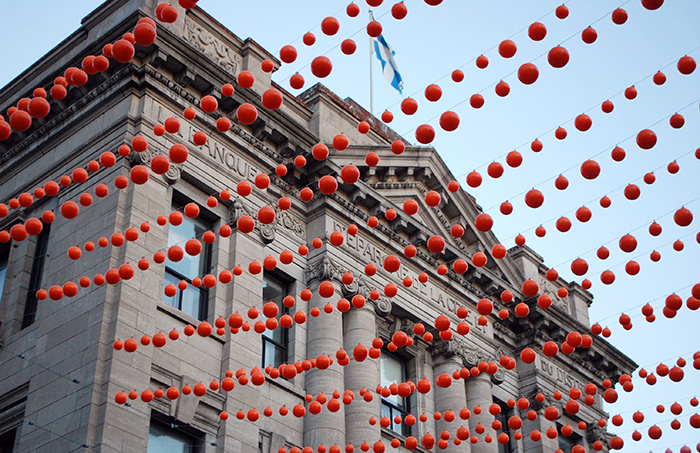 Don't worry too much the language barrier. Everyone speaks French, but they speak English, too. Throw in a friendly bonjour and merci — it's a nice gesture — but don't expect to find yourself lost reading a French-only menu or map.
Speaking of maps, transportation is one way Montreal is not at all like Atlanta. Here, you pretty much need a car to survive, but there, the car is a liability. Parking is confusing, roads are busy, and the public transportation is sophisticated enough that it's just easier to take the metro.
However you travel, Montreal, like Atlanta, is a city to explore and savor. Take your time. Wander the different neighborhoods. Meet the locals. And don't be surprised if you find yourself feeling just a touch of déjà vu.