Come out to the Atlanta Track Club's running event Saturday April 9th at Phillips Arena to celebrate another successful regular season for the Atlanta Hawks and properly send them into their 9th, consecutive NBA playoffs. If staying #TRUETOATLANTA isn't enough to get you out, here are 8 more reasons why you should help us race to the playoffs in the 2nd Annual Atlanta Hawks Fast Break 5k.
1. Receive a ticket to the Hawk's last regular season home game
The first 1,500 registrants receive a ticket to the last Hawks home game on April 9th vs the Boston Celtics. No, the Celtics havne't been good since losing basically all the greats that played for them in 2008. But watching Al Horford, Kyle Korver and the rest of the Hawk's team making it rain is always exciting. Register here.


//
2. Run with former Hawks player and Georgia Tech alumni Mario West
You probably have to be more than a sports fan but a fanatic to know about Mario West. Regardless, West contributed his talents to both the Georgia Tech Yellow Jackets and the Atlanta Hawks basketball team. Try keeping up with any professional athlete and their success might rub off on ya.
3. Join Harry the Hawk, the Flight Crew and the Cheerleaders
We get it. Not everyone goes to sporting events to actually watch the game being played. For some, the entertainment and atmosphere are the best part. Harry the Hawk brings a ton of fun and laughter at every event. Leaping over chairs, dabbing, and all sorts of antics comparable to Machine Gun Kelly or Steve-O. By that, we mean he's a wild boy! With Harry the Hawk, plus the Flight Crew, and Cheerleaders you're sure to be entertained and have great photo ops!
4. More Free Stuff!
On top of receiving a ticket, granted you're one of the first 1,500 registrants, you also get a shirt, Hawks sweatband and may even come up on a few other souvenirs. Don't act like you don't want one. Register here.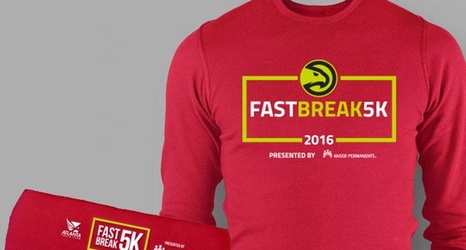 5. Meet a Running Buddy
Think you need a running partner? Someone to help motivate you to workout, run farther or make plans to go running with but end up catching brunch instead. With over 1,5000, you're sure to "run" into someone (pun intended).
6. Test Your Skills and Mark Your Progression
With so many marathons and running events coming up, the Atlanta Hawks Fast Break 5K is a perfect opportunity for you to gage where you're at.
7. Test your Hooping Skills During the Pop-a-Shot Challenge
It's not as glamorous as the NBA 3 Point Shoot out contest during All Star Weekend but it's the next best thing for us regular folk not on a professional team.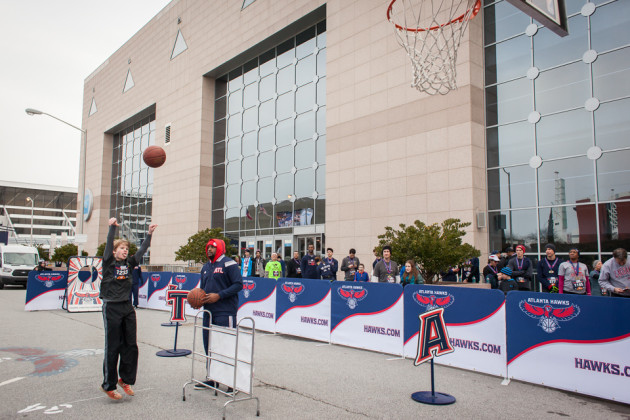 8. GAFollowers Will be In the Building
Well, outside technically because we'll be running around Phillips Arena. And not to put us on a pedal stool but we're cool. Most people say they like meeting us and we want to meet you, better connect with our city, and be a part of the event just as much. Register here.
The 2nd Annual Atlanta Hawks Fast Break 5K presented by Kaiser Permanente takes place Saturday April 9th. Find out more here. Become a member of the Atlanta Track club and receive a discount on all events (except AJC Peachtree RoadRace) Become a member today.