Sure, you've dreamed of endless pie. We all have. But it's a reality at the Hyatt Regency Atlanta's chic downtown restaurant, Sway. Specializing in local ingredients, Southern favorites and an upscale vibe, Sway delivers for a memorable evening of dinner and drinks. But whatever you do, don't leave before dessert.
The restaurant offers a nightly pie bar of rotating confections made in house with fresh ingredients and culinary inspiration. You pay one price — $9 — to savor or sample as much as you'd like. Think of it as admission to your own personal culinary adventure.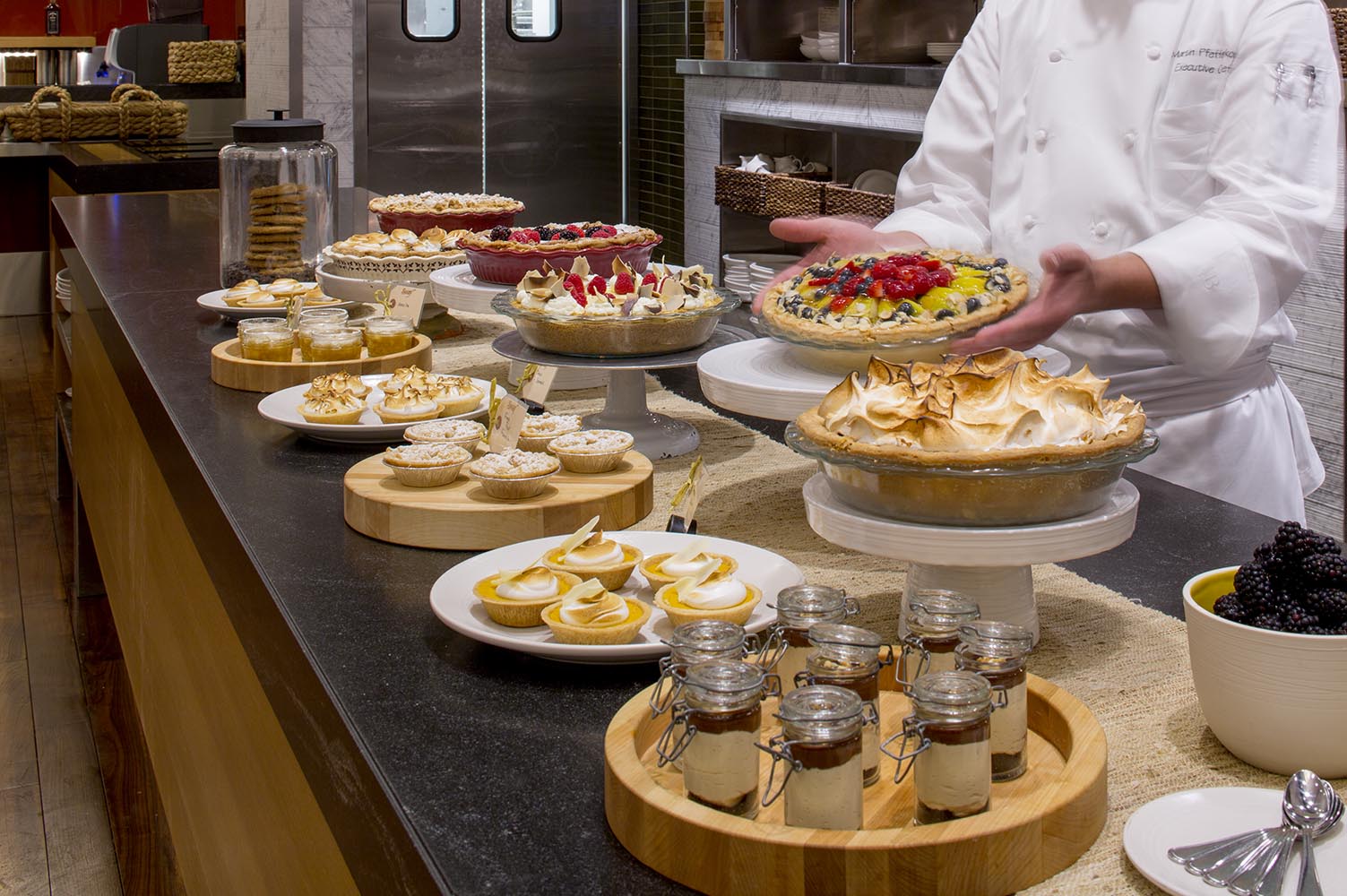 James Gallo, Sway's on-site pastry chef, who has more than 20 years in the field, says visiting the pie bar is an experience in itself and unique in metro Atlanta.
"There's nowhere else you can go and try 12 different types of pie," he said. "It's all seasonal. Summer is the peaches and the strawberries. Winter is citrus and spices."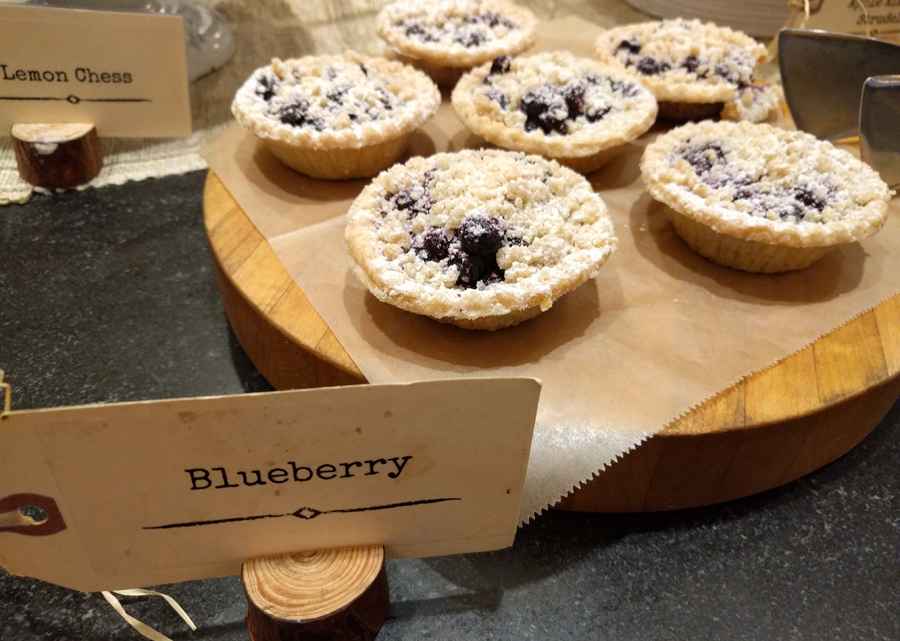 The pecan pie is a staple on the pie bar menu because of its popularity — and not just locally — it's shipped all over the country.
Plus, it's Georgia, and pecan pie is always in season.
In fact, if you only try one slice, Gallo recommends the pecan. It isn't over-the-top sweet and has an unexpected, deliciously foamy meringue on top.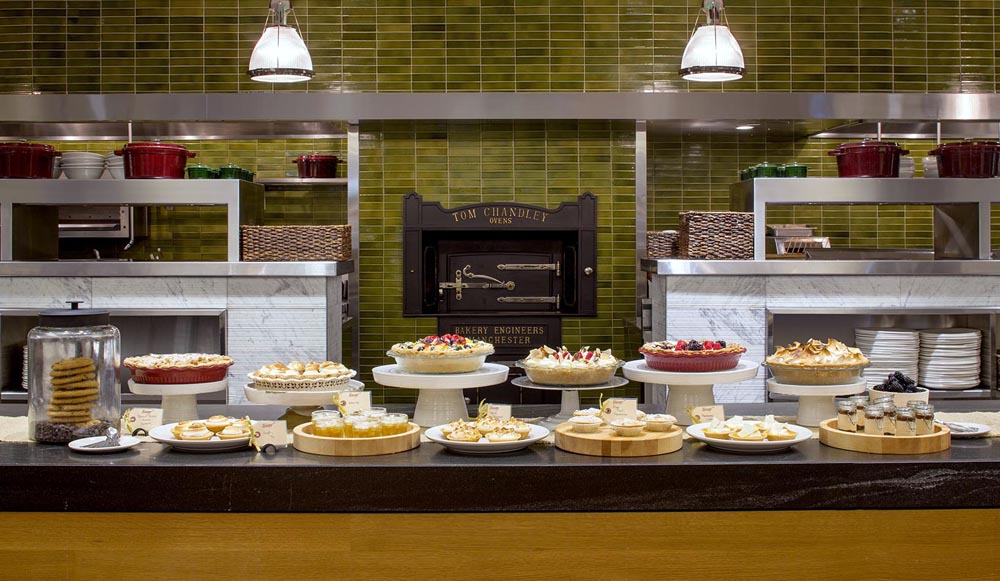 If you're eating gluten-free, you're in luck. The glasses are filled with crust-less pudding and cream pies. The pie bar also comes with a scoop of buttermilk ice cream, unlike anything I've ever tasted, nicely cutting the sweetness of the other desserts.
As pie season sets in (hello, Thanksgiving), you can look for favorites like pumpkin, sweet potato, apple strudel and gingerbread mousse with milk chocolate. Maybe the best part is that you can keep coming back. They change up the desserts at least twice per season.
If you're not up to the challenge of pie bar glory, you can also order a slice a la carte, but really, why would you want to?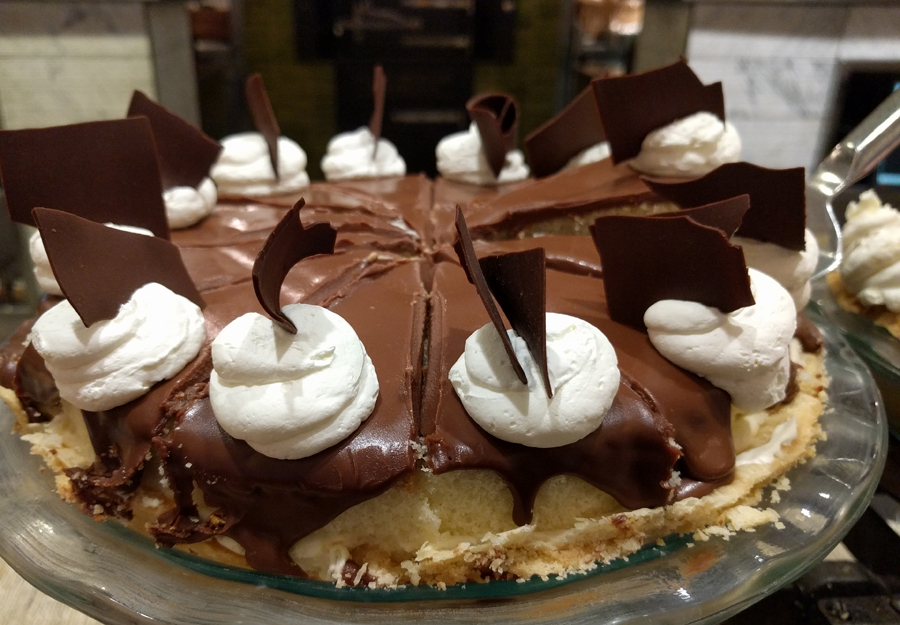 Or if you're a whiz in the kitchen, you can make your own Sway signature recipe featuring another Georgia favorite: peaches.
Flamed Buttermilk Peach Pie
Peach Filling
1 cup water
1 tablespoon lemon juice
1 cup granulated sugar
1/4 cup cornstarch
1/4 teaspoon vanilla extract
4 cups peaches, peeled, pitted, and chopped (roughly 4-5 large peaches)
In a large saucepan, stir together water, lemon juice, sugar, and cornstarch. Cook over medium heat until thickened and bubbly, roughly 5 minutes. Once it bubbles, cook for another 2-3 minutes, constantly stirring.
Remove from heat and stir in vanilla then the peaches. Cool to room temperature then use right away or store in the refrigerator.
Pie Dough
2 1/2 cups flour
½ cup unsalted butter, very cold cut into small cubes
½ cup shortening
½  tsp. salt
1 tablespoon vinegar
½ cup ice water
Combine flour, salt in a food processor. Pulse to mix.
Add butter and shortening. Pulse into small crumbs.
Add water, one or two tablespoons at a time. The dough is ready it stays together when pinched. Remove the dough from the machine and place on the table.
Press it to for thinner layers of the butter and shortening. Shape into round disks and wrap with plastic wrap.
Refrigerate for at least three hours and up to two days. Remove and let sit for 10 minutes to soften for rolling.
Line pie pans with the dough.
Buttermilk Filling
1⁄2 cup butter or 1⁄2 cup margarine, melted
1 1⁄2 cups sugar
3 tablespoons flour
3 eggs, beaten
1 pinch salt
1 teaspoon vanilla
1 cup buttermilk
Preheat oven to 400°F.
Beat the butter and sugar together until light. Add the eggs and beat; then beat in vanilla.
Sift the dry ingredients together and add to the batter alternatively with the buttermilk; beat until smooth.  Pour into a deep dish pie shell and bake at 400°F for 10 minutes, reduce heat to 350°F and bake for 50-60 additional minutes.
Pie should turn a nice golden brown and a knife inserted should come out clean.