Statesboro, a small city near the middle of Georgia where being bored is never a problem and having fun is always the solution. At least that's what it seems like, thanks to the several bars around campus of the one and only Georgia Southern University. This tiny town of over 20,000 students (and a few locals) has seen a vast change in how the alcohol-scene is handled in the past couple years.
I've been able to get a grasp of how most of the bars in Statesboro work. There is a ton of pros and definitely a ton of cons from each, but in general they all support one thing: to have a good time by receiving your finances for that Survey to Calculus textbook you decided you really didn't need.
In this article I'll be choosing the best bars in Statesboro, ranking the top 7 of my personal choices. I'll also be giving out each bar's Twitter handle, just in case you wanted to follow. Let's get at it:
The only reason this bar is at the lowest possible rank of the best bars in Statesboro is simply because it just began. Rising to a new status from the formerly deceased Club 125 (which wasn't that great anyways), the owner of Moonshiners is obviously trying a new approach from what was 125. With the name of Moonshiners, one might think a nice, easy-going country scene would be the move. However, a new fresh club type of groove definitely seems to be the answer when opening the doors, and I hope to see bigger and better things from this building with this new approach.

6 – GATA's Sports Bar & Grille (@Gatasbar_grille)

This bar really isn't known for it's big basis of drinks. Clearly with the word 'grille' in it's name, obviously some good Gata's wings or nachos will be consumed before you leave the parking lot. Primarily used as a happy hour location before going to other bars or having some type of event, Gata's has proven to be a fan favorite for several years. There is one item on the menu that one might want to try when you go to Gata's. All I'm going to leave you with is that it is in a bucket and you're going to sleep.
With a vastly spacious interior and a four-way bar set up, South City Tavern is a primary spot for having a good hangout with a few friends. The drinks are usually never too pricy, and the back area includes a ton of space for a booked venues andGreek life socials. After visiting South City on one of its biggest nights (New Year's Eve), it's safe to say that the people at South City know how to get down when they want to.
4 – Gnat's Landing (@gnatsboro)
You'll hear this just about every Wednesday: "karaoke?" Clearly, there's a reason your friends might have a strange obsession with karaoke every Wednesday night. As Gnat's landing continues to service a majority of students and locals alike, this bar comes out at #5 simply because of their enjoyable karaoke performances Wednesday nights. One can easily put down their name for a terrible (or strangely incredible) rendition of "Mud on the Tires" by Brad Paisley. Or if you and your buddy want to make a little bit of a collaboration, one might want to give "Don't Go Breaking My Heart" by Elton John a spin. With fair drink prices and some good food and tunes, I don't see the infamous Gnat's Landing dying out any time soon.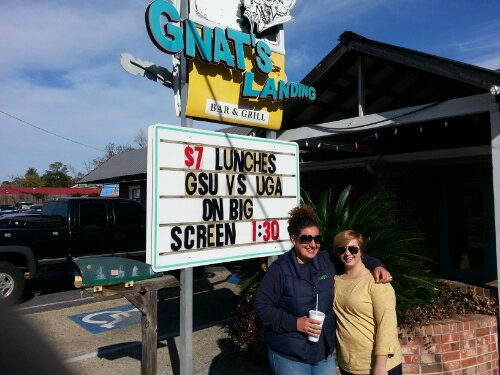 Formerly known as Retriever's, Shenanigans, located in the grand ol' University Plaza, took a complete 180 by going from a former sit-down, eat, and drink type of bar, to a more energetic "drinks on me" type of place, and we're glad they did. Ever since Shenanigan's was brought up into the bar scene of Statesboro this past spring, usually freshmen have been able to at least get a feel of what a bar can be in Statesboro. With it's neurotic dance floor, lights, and strategically placed cage on the side of the dance floor, Shenanigan's has already been on the come up for quite a while now, and we can't wait to see what else is in store.
If you and a few friends decide to head over to Dingus Magees for lunch, happy hour, or just any time during a busy night, don't expect to be disappointed. With it's laid-back atmosphere of classic rock and good times, Dingus Magees has been in Statesboro for what seems like forever. With great food items, nunerous booked music performances, and drinks galore, Dingus has never been a failed attempt at what will forever be a timeless classic of the Statesboro bar scene.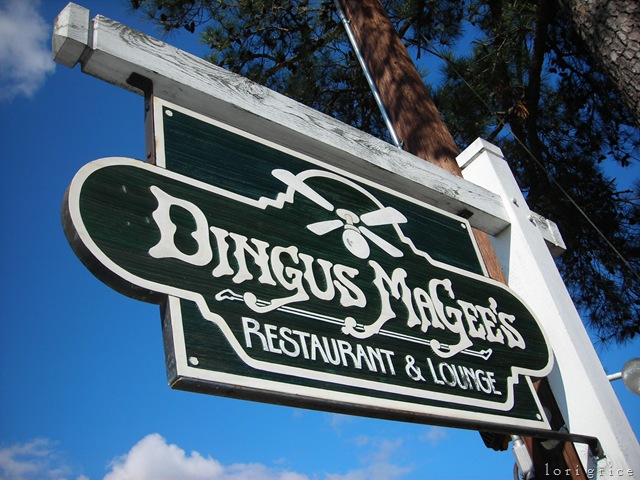 You already guessed it. Commonly referred to as simply "Tav," The only bar in Statesboro that is fully danced oriented, this place has been a hit for around five years now, and definitely isn't stopping any time soon. Out of all the memories of college socializing that I have had thus far, The Rusty Tavern is still the top-notch attraction for most Georgia Southern students (and possible jealous visitors). With it's light shows, numerous strobes, and great drink deals.