Last week, Burger King proposed a "McWhopper Truce" with rival McDonald's. Needless to say, the proposal was rejected by the golden arches for a "more meaningful global effort." However, Burger King's effort for peace did not go unnoticed. Several fast food chains reached out to BK to take up the offer that McDonald's seemingly left on the table.
Today, Burger King released a new open letter to Denny's, Wayback Burgers, Krystal, Giraffa's (all of whom reached out to BK) and McDonald's. The letter acknowledged that their offer is still on the table to make the McWhopper and that it would give McDonald's their sweet time to decide. It also proposed they join forces with all the other chains to make a mega-burger the called "Peace Day Burger."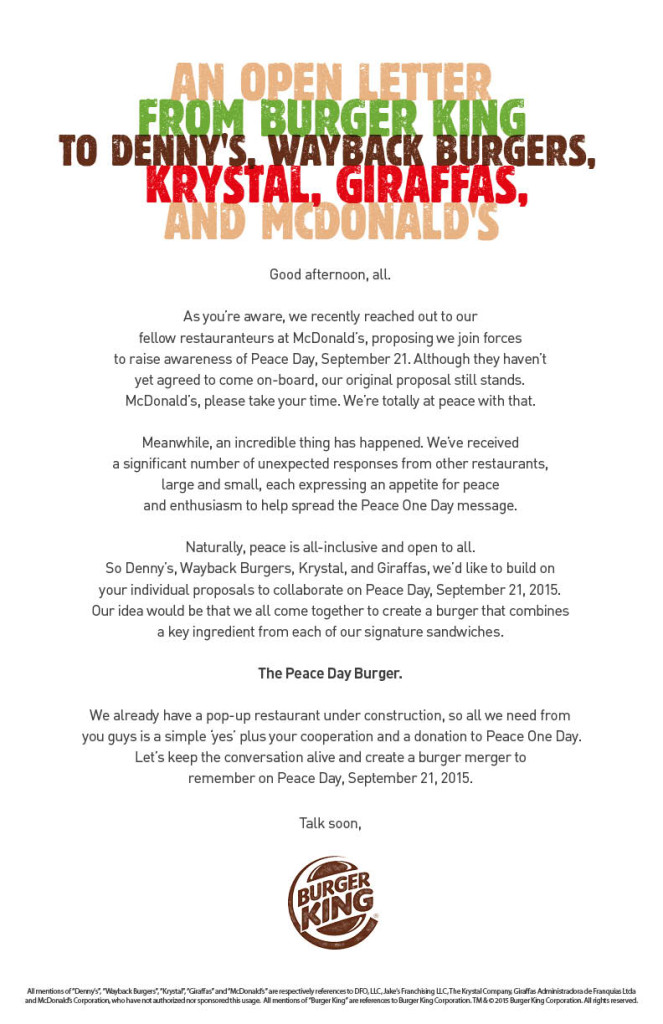 Atlanta will still be the ONLY  location to receive the end product of this peace treaty and it will still be for one day only. Burger King is also adamant participants donate to the Peace One Day anti-conflict nonprofit. The International Peace Day is September 21st FYI.
So, what do you think of this new proposal? Would you rather have the McWhopper instead? Is this new mixture better or worse than the original offer? Tweet us @GAFollowers or let us know in the comments below!