Boutique gyms are popping up everywhere in the city of Atlanta and beyond. With the success of studios like Soul Cycle and Pure Barre throughout the nation, people in Georgia are following suit with opening up boutique fitness studios catering to certain workouts that are not only challenging, but fun. I woke up before the sun to ride into the morning with Torq Cycle, one of my favorite studios in the city.
Before I go into talking about this class, I'm a very grumpy person in the morning. I cannot interact with anyone until I have coffee, and have mentally prepared myself for the day. And waking up at 5:00am to get to a 6:00am class sounds like a fast track to a very bad mood. But after a few times, I'm able to wake up naturally knowing that I'm going to something exciting like Torq.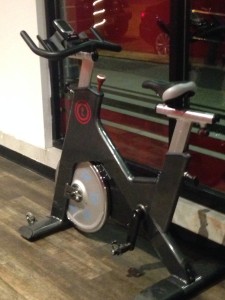 The studio itself is bright and modern. The idea of Torq gives off and industrial feel, and with the location in West Midtown, it fits in perfectly along with the train tracks across the way and the industrial parks further down the road. The bright red walls immediately get you excited for the workout ahead.
When you check in, you get your bike assignment (I was bike 17 today). They will also give you a pair of cycling shoes, which feel like soccer cleats. These shoes click into the bike so when your cycling at 120 rpm, you don't fall off. Which for someone as non-graceful as I, it's an incredible perk for both my enjoyment and safety. Walking into the studio, you'll have someone helping you get settled into your bike, they'll help you adjust your seat and handlebars so that you feel comfortable and can get the best out of your workout.
The workout itself is all about strength and speed. You'll go through hills, time trials, sprints, arm weights and jumps. It can and will kick your butt. I have been to many a cycling class, and every time (especially at Torq) you will be out of breath and sweating from every pore. There's a good reason why they give you a towel during class. What's nice about Torq is that no two classes are the same, each instructor gives their personal spin, and most people get a favorite instructor. My personal favorite is Annika (@annika_freiwald on Instagram), she's very real during the ride. She'll tell you the hills are nasty, and then encourage you to go past your comfort zone.
After the class (and a nice cool shower), I spoke to one of the owners, Katie Martinez. She and her husband, Alex, are transplants from New York, that came up with the idea of Torq after falling in love with SoulCycle. "We noticed that boutique gyms are popping up everywhere, but there wasn't one in this area of Atlanta. So when we moved down here, we felt that Torq belonged here in West Midtown," she commented. Another part of Torq that sets them apart from most boutique gyms is that they are 100% Georgian, meaning they are locally owned, locally operated and they don't have to answer to a corporate office. "We also, especially Alex, want to get to know our riders on a personal level. Alex goes out of his way to know everyone's name, and have some sort of conversation with them while they're here."
So long story short, Torq Cycle is an Atlanta-born, Atlanta-bred cycling studio here to give people a great workout, and a good neighborhood vibe. If you live in 935M (the apartment complex Torq lives below) or in one of the apartment complexes around the area, you can get a discount, which is a neat perk. This studio is up there in my favorite places to work out at.
Will I see you there bright and early?