Truth is stranger than fiction. It just happens to be the month of Halloween as I write about BODIES the Exhibition, an assembly of human specimens, preserved and dissected, on display at Atlantic Station.
Something about knowing these aren't recreations — that they're the real thing — makes it fascinating. We all have a loose idea of the human skeleton. You know you're put together with organs, skin, muscle, blood vessels and bones. Maybe you paid attention in biology and know a little more.
But seeing is believing, and there's nothing quite like seeing BODIES.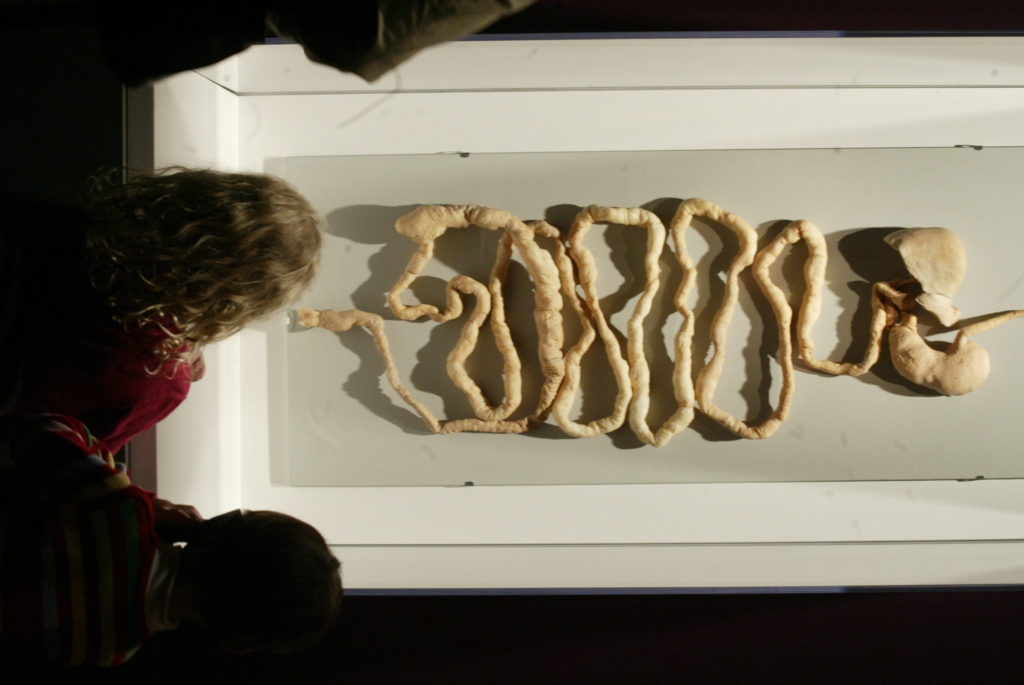 Your visit
The exhibit is set up in a series of galleries. You can opt for a free audio guide if you want. There's no photography allowed inside.
Like most museums, it's look but don't touch. But you can look really close. Many of the specimens are out in the open air, so you can look from all angles.
Each room has a different theme, from the musculoskeletal system to reproduction. In one display case, a limb is stripped down of everything except blood vessels, suspended in space in the same shape, looking almost like lace. In another, a human brain, pulled apart into different sections, shows the winding folding curves of the body's command center.
And here's what an MRI "sees" when it images the body.
Just like real bodies, these aren't all perfect models.
You can see the effects of disease, of a bone being set wrong, of organs enlarged from overeating. And sure, we've all seen diagrams of blackened lungs, but when a specimen is standing in front of you with a full, lifesize — and formerly alive — lung that's sooty and ash-gray, it's compelling.
But even more intriguing are the full body specimens. Some are in athletic poses. Others have had a section removed to show exactly what's inside down to the very core.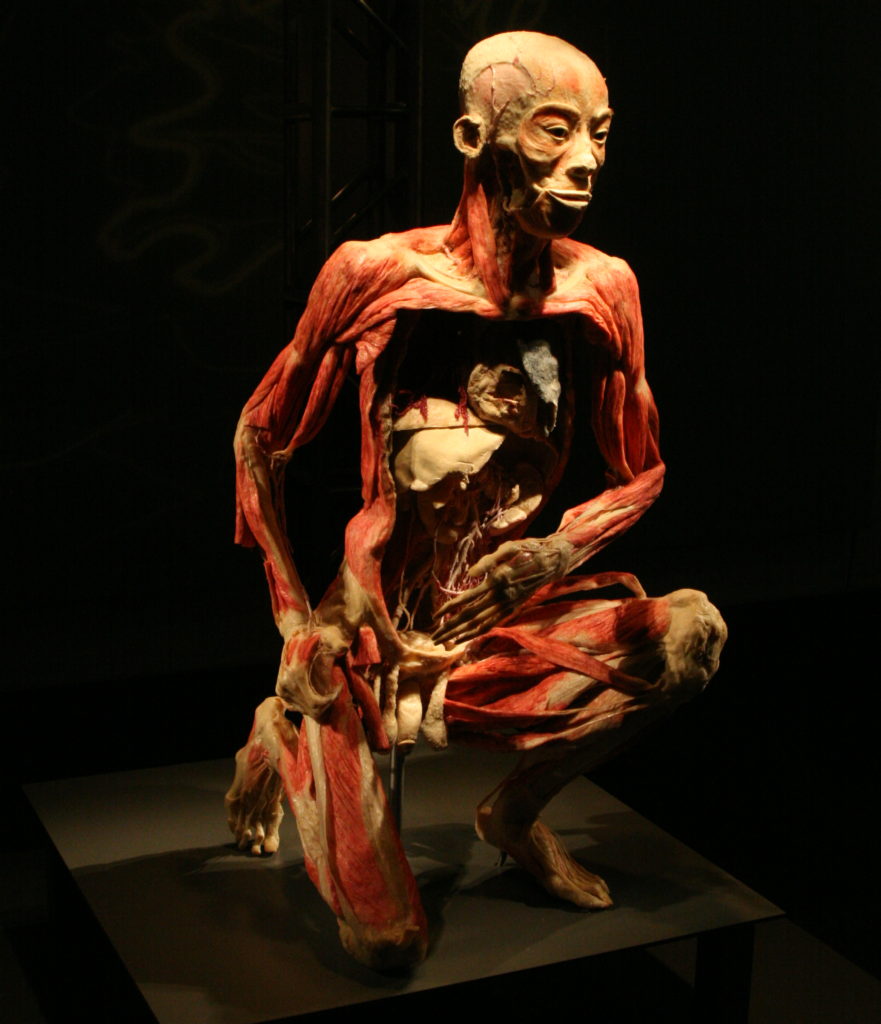 The Science
As you walk through the galleries, bits of trivia are posted on the walls. Some if it will surprise you:
Your nerves transmit messages faster than 200 miles per hour.

If you stretched out the blood vessels in your body, they would wrap around the earth twice.

You produce 12,000 gallons of urine over the course of your life.

A liver weighs almost 3.5 pounds, making it the heaviest organ in the body.

You'll shed about 40 pounds of microscopic skin cells in your lifetime.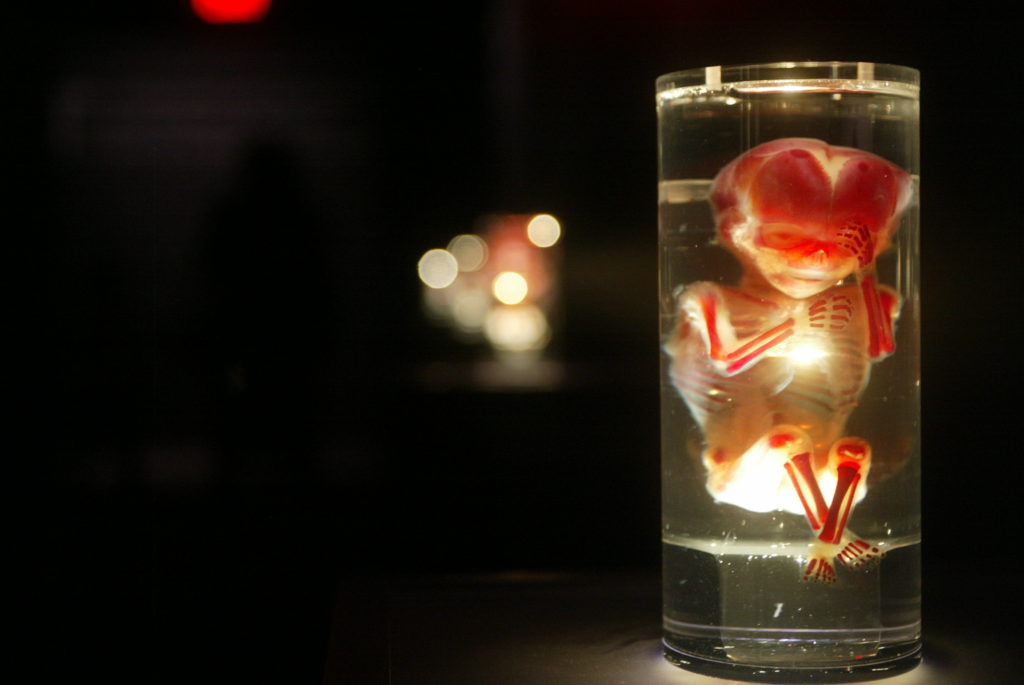 The goal of the exhibit is to bring this kind of practical knowledge, which used to be reserved for anatomy labs and med school, to the masses.
To date, over 20 million people have seen the exhibition. Atlanta residents and visitors are in luck; BODIES has a permanent home at Atlantic Station. The only other place to claim that honor is the Luxor casino in Las Vegas.
The Specimens
The bodies have been donated to science by Chinese men and women who died from natural causes. They're preserved through a process called polymer preservation, which can last, quite literally, forever. It also keeps everything the same size and shape, down to the cell, as it was originally.
Apparently, it's a pretty meticulous process, taking around a year to do a full body.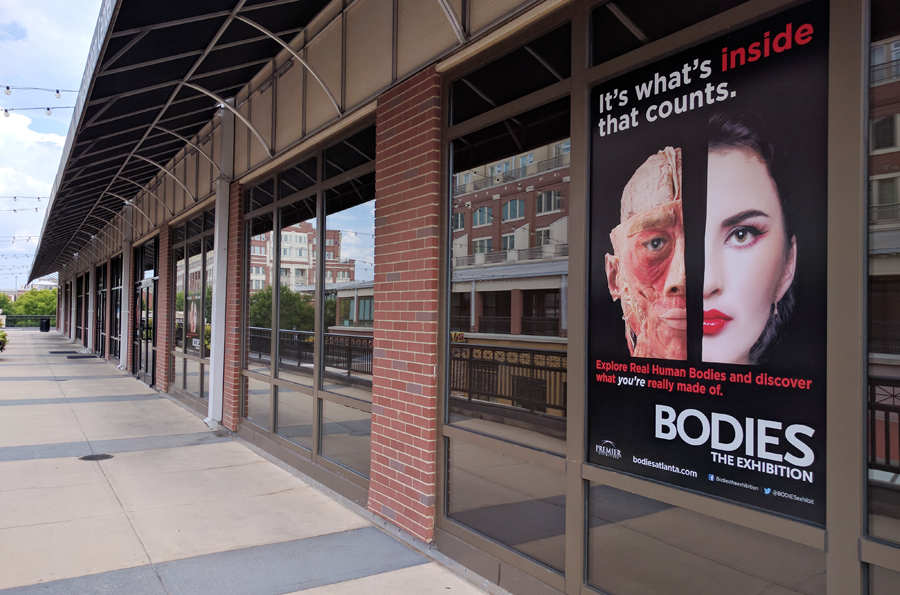 Details
The exhibit is open daily with extended hours Friday and Saturday. Tickets are $16-$24, but they're cheaper if you buy them online, and sometimes you can find a Groupon for extra savings.
It takes about two hours to walk through all the galleries. There's no photography allowed. At the end, there's a small shop with some fairly unique gift ideas, like kissing disease.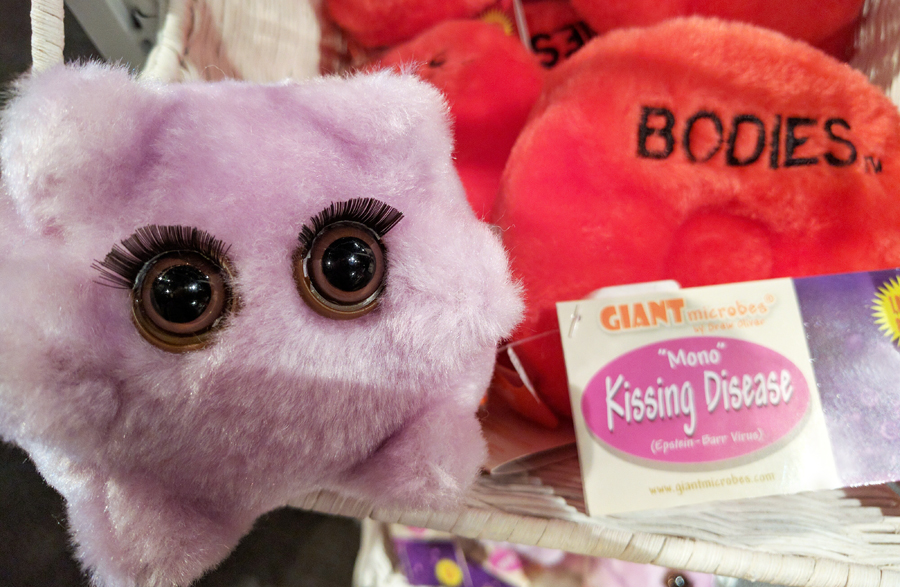 Make a day of it and grab dinner from one of the 20 restaurants in Atlantic Station. After seeing this unconventional exhibition, you'll have plenty of food for conversation, too.