Last week, JB gave us a heads up that Project Pabst was coming; an all-day, hipster-iffic, cheap-beer-chuggin', riotous music festival in East Atlanta Village happening this past Saturday.
My first thought? That's not my scene at all.
Which is precisely why I went. You see, I'm a yes-man to a fault. I've found that taking ballet leaps outside of my comfort zone is the fastest way to find the things and people in life that make me the happiest.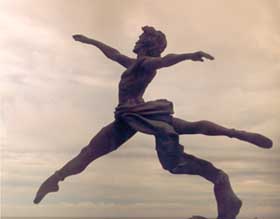 Or, if things go South, at least get a good story out of it.
So which did Project Pabst provide: happiness, or just ringing ears and the smell of stale PBR on my leather jacket?
The answer is both!
Project Pabst, like Dragoncon, is one of those events that your friends will resist going to for tangible reasons: "I don't like the lineup", or "I hate PBR", or "my doctor says I have to stay away from vape smoke." But also like Dragoncon, the enjoyment to be found at Project Pabst is in its intangible appeal. The atmosphere, eclectic people, the quirky shopfronts, the shark girl bouncing around asking people to dance; these things not listed on the website create an experience. Project Pabst isn't just a concert; it's a concentrated dose of East Atlanta culture.
On the music front, as a metalhead I was happiest watching hometown heroes Mastodon headbang through another fantastic live set. But as a hip hop philistine, I had no expectations going into Run the Jewels, and man, what an act. Atlanta native Killer Mike made a strong emotional appeal to the crowd, unflinchingly addressing modern politics and strongly encouraging his young audience to vote for city council. El-P was similarly endearing onstage, cutting down his own upper-middle-class upbringing and poking fun at Killer Mike whenever possible.
Project Pabst also featured a dedicated stage for live comedy, the Pabst Vandalism graffiti art display, and Pabst Wax, an on-the-spot pressing of vinyl recordings for festival-goers to create instant custom records. If the name PROJECT PABST didn't sell the hipster angle enough, they also had a bike valet. Suck it, San Francisco.
In short, to anyone looking to better appreciate the burgeoning and vibrant culture of East Atlanta village, mark your calendars for next year's Project Pabst.