There are rare moments in a seasoned foodie's life when you taste something so delicious, you stop chewing and give your dining partner a look of shock.
Such a moment happened this past Sunday morning when I tried Hampton + Hudson's Hot Chicken Biscuit Sliders. They don't outright say it in the name, but those are Nashville hot chicken sliders. And while I have a supremely biased penchant for my college-town's fiery fowl, even the objective restaurant critic in me, and my friend Shawn across the table, found these sliders to be an act of God.
Shawn's own gravy-slathered ham biscuits were winners as well, melting in your mouth with a balance of texture and taste, without any overpowering ingredients.
For our brunch entrees, Shawn went with bacon, eggs, and breakfast potatoes; a Southern staple as reliable as your dad's '97 Ford F-150, but equally as un-thrilling. I, feeling more adventurous, ordered the "B for D" burger, assuming it stood for "Breakfast for Dinner" and not "Brace for Death."
The first thing I noticed was just how organized the bacon was on my burger. Some chefs just slap bacon on burgers like pool noodles in the form of a giant X; I can't conceive of a worse way to distribute bacon on a burger. Hampton + Hudson understand the delicate ratio of bacon/egg/cheese/burger/bun per bite, and their burgers rock because of it.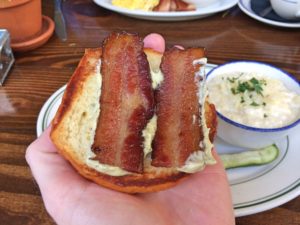 With friends in the restaurant business, I know how brutal and challenging it can be to keep a new restaurant's doors open for more than a year. With their reasonably-priced, varied menu, great service (shout-out to our awesome server Griffin), and extremely impressive food, Hampton + Hudson is one that I sincerely hope makes it and becomes a long-term staple of the burgeoning Inman Park culinary scene.
You can help them, and experience a new benchmark in slider quality, by grabbing some friends or a date and heading there this week. Hampton + Hudson is located at 299 N. Highland Avenue, in the courtyard of the Inman Quarter building. Give them a call at 404-948-2123 or visit their website at www.hamptonandhudson.com.