Today on The Players' Tribune, Atlanta Braves legend Chipper Jones pens a note to his eighteen-year-old self on the eve of being selected first overall in the MLB Draft in 1990. Jones recalls struggling financially, resisting steroids in the 90s, suffering marriage troubles, and his decision to leave the game instead of playing for more accolades.




On resisting steroids:
"You will be successful, Chipper. I promise you that.
It won't always come easy, though, and sometimes your drive to be the best is going to push you right up to the edge of complete disaster.
In 1996, for instance, you're going to find yourself at a crossroads.
You will see guys putting up huge numbers and know that lots of them are juicing — based on everything you're hearing, and just by seeing guys bodies change so rapidly. And you'll seriously consider joining the crowd.
It's mainly going to be because you'll be fed up with guys beating you out for Silver Slugger awards and MVPs and All-Star games. But, beyond that, just the idea of getting a little extra boost that might propel you into that upper echelon of players is something that's going to appeal to you.
So you're going to be open to using steroids in 1996. Like, really open to it.
And you should be forever grateful that your wife was around to discuss it with you. When you raise the topic with her, and tell her what you're considering, she's going to ask you this:
'Would you be able to look your parents in the eye if you earned a bunch of accolades and honors while taking steroids? Would you be O.K. with that?'
It's going to be all you'll need to hear.
You'll never touch the stuff.
And you're still going to develop into an MVP-caliber player."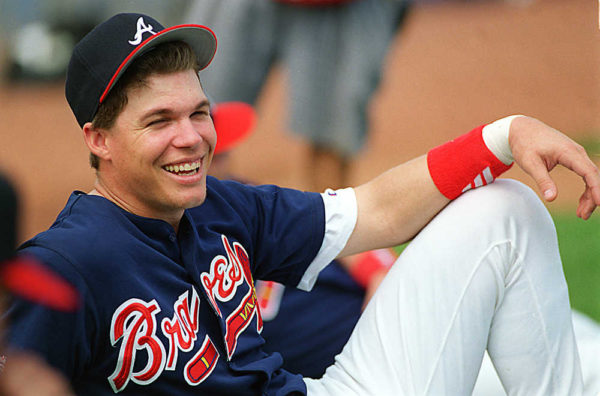 On financial and marital woes:
"Like I said, you are going to get married way too early.
That's oversimplifying it, though. There's more to it than that.
Things will start getting really bad for you and your wife when you begin having financial problems.
Most people will think it's impossible for a successful major league baseball player to run out of money. You'll think so, too.
Until it happens to you.
And when it does, it won't be pretty.
Minor league salaries are a joke. Meal money will be $11 a day. So you'll be living off your $275,000 signing bonus for four years. It's gonna go fast. (I told you the Corvette was a bad idea….) And supporting a wife is going to make the money disappear even faster.
When you get called up, the major league minimum will be $109,000, and having that cash come in will be a huge relief … until the players go on strike in 1994.
With no paycheck, you're going to have trouble making mortgage payments. The fridge is going to be pretty bare there for a while. It will be dry cereal straight out of the box for breakfast. Ham sandwiches a couple of times a day. The whole nine.
So here's a quick tip to help you get through that period: Call up your mother-in-law a few hours before dinner time, and see if she happens to invite you guys over. When she does, it will be clutch. You'll save $20 or $30 each time.
Free meals won't solve the bigger problems, though.
The financial struggles will definitely put a strain on your marriage … but not as much as the fact that you're going to be a terrible husband.
Terrible!
I'm sure that is not an easy thing to hear, but it needs to be said.
You're not going to be able to keep the temptations at arm's length — everything that comes along with fame, fortune, notoriety and attention. You won't be a big enough person — a good enough man — to do that. You're going to be unfaithful to your wife on multiple occasions, and lie about it, and hurt so many people who deserve better.
You'll be extremely selfish, and you're going to get sucked into the lifestyle of a big-shot athlete.
Living that life will be fun for a while, but trust me when I tell you that it's not going to be worth it.
By the time you feel like you're finally ready to get married, and to be the type of husband that a spouse deserves, you'll have already ruined one marriage, helped to ruin a second, have four kids, and be two divorces in.
You're going to regret so much about those times for the rest of your life — hurting the people you love, losing friends because you were thinking only of yourself. And to see the disappointment in the eyes of the people who you love the most is going to be rough.
When you talk to Mom and Dad about the infidelities and the mistakes and the lies stacked on top of lies and just … all of it, that will be the toughest conversation that you'll ever have."




On retirement:
"Then, in 2012, you'll wrangle with the decision that every ballplayer has to make at one point or another: whether it's time to call it quits and end your baseball career.
By that time you will have undergone seven knee operations. It's gonna be Percocet and Red Bull every day in order to make it out onto the field. Running isn't going to be easy. Your vision is also not going to be what it is now as you're reading this letter.
It will be a struggle.
But at the same time … you will have another year on your contract. And in the back of your mind, you're going to know that if you stick around you might have the chance to do some history-making-type things.
You're not going to be all that far away from 3,000 hits. And the same goes for 500 homers.
There may never be another guy who plays his entire career in the National League and hits those markers. So there will be some 'what ifs' pulling you in the direction of history. You will be able to envision those accolades beside your name in the record books. You'll be able to imagine people saying them when they introduce you at fancy dinners after you retire. You'll be excited about the possibility of reaching those milestones.
And then … you'll step away from the game.
You'll do the right thing. For the right reasons.
It will be time to devote yourself to being the husband and father and man that your family has always deserved.
Chipper, I know that at this point baseball is all you think about. It's what excites you, and motivates you to be your best, and it's what has you racing out the door of the beach house to hit the road for Daytona. But there is going to come a time, a few decades down the line, when baseball will cease being the center of your universe.
And, as crazy as this might sound, it's actually going to feel really good.
You'll be married to a wonderful and inspiring woman named Taylor. And the two of you will love nothing more than spending time together and enjoying the company of family and good friends.
For the first time in more than 20 years, you'll be able to take a step back, and breathe easy, and focus first and foremost on being the very best person you can be.
You will finally slow down."
Read the rest here: https://www.theplayerstribune.com/chipper-jones-braves-letter-to-my-younger-self/