Cirque du Soleil is back in Atlanta! But this isn't just any Cirque show. KURIOS – Cabinet of Curiosities is a mesmerizing, mind-bending experience with a steampunk twist. You can discover it all under the big top at Atlantic Station through May 8.
New to Cirque?
It's not your typical circus — no elephants or human cannonballs here. But it has the familiar mix of heart-pounding excitement and humor, paired with the lavish artistry of a Broadway production. With an edgy, upbeat vibe, KURIOS is the perfect show for Cirque first-timers. Bring a friend, and make sure to get there early. There's food, activities and more for nearly an hour before each show begins.
If you snap any photos, tag them #KURIOS to share on social. You're welcome to take photos before the show, and you can capture some pretty cool shots of the elaborate stage.
The Show
KURIOS is all about bending reality and making you disbelieve what you see. The jugglers defy gravity; the contortionists defy anatomy. Each act seems more improbable than the last.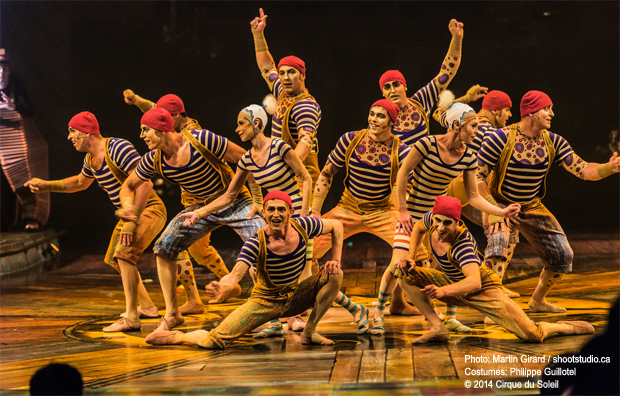 In full aviator attire, the rola bola artist performs his balancing feat — in motion — in the air — on a giant metal swing. It will turn your world upside down, quite literally in fact, as it does during one scene where you least expect it.
Reality is all relative — that theme sets the tone for KURIOS. The main character, a mad-scientist everyman, is your guide on this industrialized, imaginative journey that rolls in on a locomotive. Victorian-era technology touches are everywhere, from the costumes to the choreography, and the performance features jazzy tunes, street-style dance and multimedia.
Cirque Life
The best advice for entering this alternate reality under the Grand Chapiteau?
"Just leave everything behind," says Karl L'Ecuyer, who plays the role of Mr. Microcosmos, the man with the unforgettable bronze belly who leads the troupe of zany characters.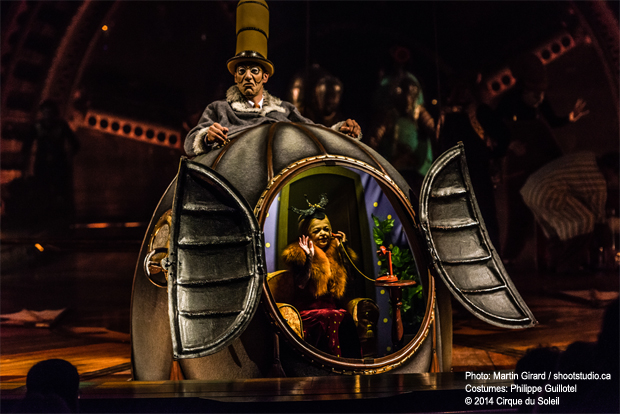 "When you enter the tent, you enter another world. You can leave your reality, your stress, your work behind. What people are doing on stage is the live stuff. We put our sweat into every show."
Karl is no stranger to letting things go. You can't be too keyed up when you're free-flying-falling 45 feet in the air. The Montreal native started out in trampoline club as a kid. A few years and championships later, Karl is a world-class master of the acro-net (think, acrobat-net: a giant net covering the stage that could make all your childhood trampoline dreams come true).  He joins six other acro-net artists in one of the final acts that is impressive, sure, but also downright fun.
So what does it feel like to fly through the air, trapeze and harness free?
"You know when you're 2 years old and you finally get the chance to jump on a big bed? That's exactly how we feel because the net is so wide you can fall sideways, on your stomach, on your back," Karl said. "I still get that adrenaline rush every day. We jump so high, sometimes there's no light where we are."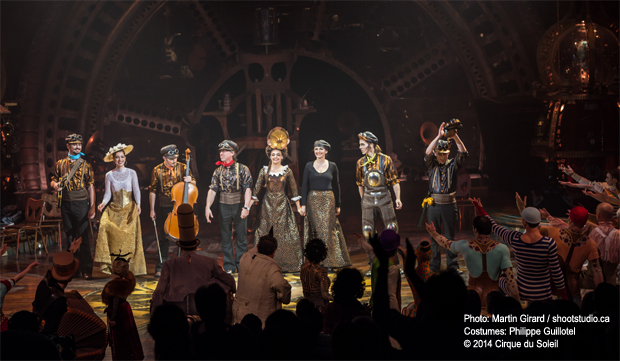 The Best Part
All Cirque shows are great, but this has been my favorite to come to Atlanta in a long time. There's so much going on on stage, so much detail and breakneck energy.
Karl agrees.
"What I really like about this show is it goes back to the roots of Cirque du Soleil," he said. "There's many different layers. You can watch the show four times and every time you're going to see something new."