OutKast is back after a 6 year hiatus to celebrate the 20 year anniversary of Southernplayalisticadillacmuzik, their debut album which was released April 26th, 1994. That date so happens to fall directly in the middle of Counterpoint Music Festival's return to Kingston Downs, Georgia, just a few miles outside of Atlanta.
As festival season unfolds, Outkast is stabbing every city (40 stops to be exact) but Counterpoint seems that it will be the most special. Every Outkast fan knows that nothing is more important to them than representing their hood and showing love to their fellow ATLiens. That being said, when it comes to the date and location of this performance, it appears the stars have aligned.
A couple of years ago we had the chance to go on stage with Big Boi at Counterpoint and the atmosphere was electric! Can you imagine the special guests that may appear and what the crowd will be like when the duo hits the stage once again? LEGENDARY!
Even though Outkast is headlining, Counterpoint definitely did not drop the ball on the other acts during this 3 day festival such as: Foster The People, Janelle Monae, Phantogram, Run The Jewels, etc. (see below).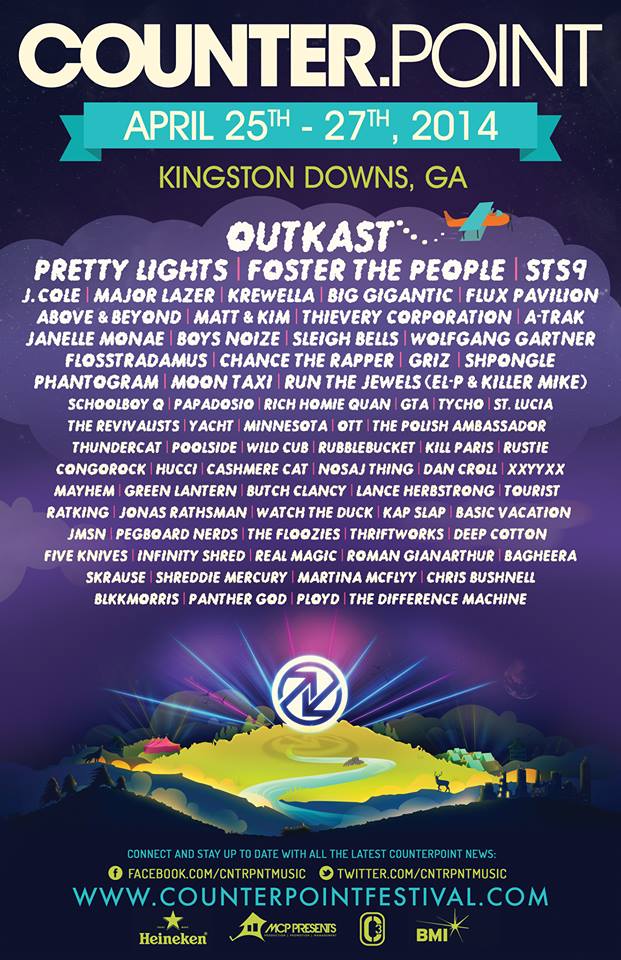 Camping, great music and good vibes are to be expected and are encouraged. They have different 3 day packages and single day tickets available currently so Get your tickets today! History is surely to be made, and you don't want to be left out! Make sure you stay connected with Counterpoint ( Facebook, Instagram, Twitter) for all updates and info!