Dominique Wilkins goes hard in the paint even after retirement. No, you wont see a recent vine upload of Wilkins dunking on an opponent but, "Dominique Wilkins NBA Hall of Famer" is fixed-in to the hardwood floor at the Suwanee Sports Academy (SSA).
SportyVids invited us out to SSA for the induction of Wilkins first installment of the "CBA Sports and Dominique Wilkins 21 courts" on Friday, January 8th. What makes this standout? To begin, these aren't your standard floors you remember from PE class. "CBA sports specializes in performance athletic surfacing and is one of the most proficient sports construction firms." CBA Sports clients range from UGA, Georgia Tech, GSU and the Atlanta Hawks. In addition, some of today's finest NBA stars from Dwight Howard, Mario Chalmers, and even Steph Curry trained at SSA. Wilkins believes SSA offers "a safe haven where kids can learn basketball." Thanks to his generosity, kids can also play on a surface built for the pros.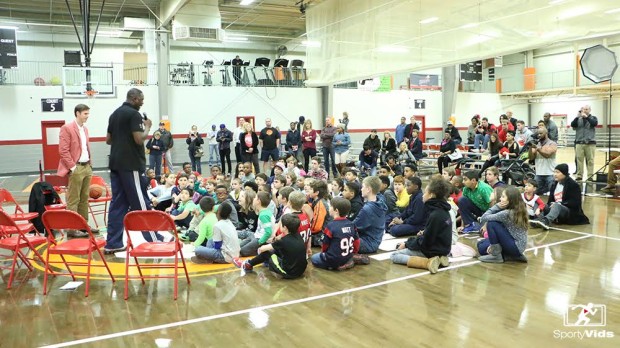 Roughly two-hundred people came out to the Suwanee Sports Academy for the ceremony. It was here that Wilkins once coached his own son for a season. Though he stepped away from the coaching position, Wilkins will host his first basket ball camp this summer for players ages 8-14. "When we partnered with CBA Sports, it's about community. It's about family. Playing together again. Cheering each other. Supporting each other. Worshiping each other." – Mrs. Wilkins
After entertaining an enthusiastic Q & A session, which consisted mostly of trivial inquiries from children about Wilkins career, Wilkins hosted a shoot off. He awarded one winner an autographed pair of his signature Reebok shoes and a second winner an autographed poster. The "Hall of Famer" kept spirits high by sticking around to sign a personal item for everyone in attendance.
"It's a great honor to have the court dedicated" – Dominque Wilkins.
Wilkins isn't one to smile much on the outside but you could tell he was extremely happy on inside. In addition to his 26,000 career points, a new addition to his signature courts is a major accomplishment and great way to give back.
Special thanks to SportVids, LLC, a creative sports media company that supplements the lives of everyday people by providing visual media vitamins. Twitter: @sportvids IG: @sportyvidsatl