Business is booming at costume and prop shops. The nerd community is building up their immune system. Nearly every hotel in the downtown Atlanta area is booked to capacity. Even men are filing into makeup stores. Superhero lovers are marathoning their favorite cartoons, rewatching their favorite movies and gently thumbing through their entire collection of comics.
It can all only mean one thing.
Dragon Con is HERE ! Or at least it will be on September 2.
Please hold all screams and applause until the end of the story… just kidding. Scream. This is Dragon Con we're talking about, people.
It's easily the biggest convention in Georgia (and possibly the entire south) for gamers, anime-lovers, cosplayers, the fantasy and SciFi-obsessed and anyone else who proudly stands up and waves the nerdom flag.
Excitement and anticipation always surrounds this massive event, but there is something special about this year's convention that will make the crowds and hype like no other before—this marks Dragon Con's 30th anniversary.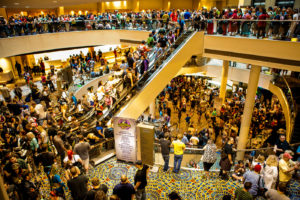 For the special occasion more than 400 guests, including Jack Gleeson, Gillian Anderson, Charlie Cox, and Alex Kingston, are all expected to make their way to Atlanta to take photos, sign autographs, meet fans, discuss new projects and deliver as many fandom heart attacks as possible.
Having 400 people flocking to one spot at the same time can be problematic alone, but keep in mind that that count is only for the actual actors, artists, creators and celebrities. The Dragon Con fans? They are expected to come in a flock of more than 75,000 people.
Combined with the Labor Day holiday traffic, it's safe to say that Atlanta will be in gridlock during the time of the convention so plan your travels wisely.
But all the commotion and chaos will be worth it especially since there are some special new things to expect for this year's convention.
Perhaps one of the most exciting changes is the fact that for the first time ever, the annual Dragon Con Parade will take place in living rooms across the entire state.
Atlanta's CW69 will broadcast the parade live on TV on Sept. 5 with a second airing of the event during primetime.
Another exciting change is that Dragon Con has taken notice of the rapidly expanding market for gamers and, as a result, they are drastically expanding the amount of space dedicated to gamers. The space has received a 30 percent expansion for the 30th Anniversary convention, according to an official press release.
"This year, Dragon Con's gaming programming will move to the Westin Peachtree Plaza and the adjacent AmericasMart Building One, where it will take up a combined 140,000 square feet," the press release states. "Panels, contests and parties will be held in the Westin while free gaming, paid tournaments, and similar events will be held in AmericasMart. As always, gaming will be open to all Dragon Con members 24×7 for the convention."
Convention co-chair Dave Cody sees this as a welcomed change considering the impact that the gaming community has always had on Dragon Con.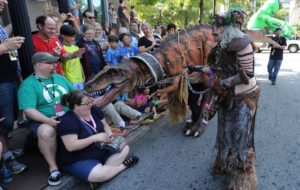 "The strength of gaming has been a pillar at Dragon Con since our first convention in 1987," Cody said. "Just as the convention continues to grow, our ability to offer programming and gameplay does too. We are able to offer our fans more games, more gameplay, and more and better opportunities to talk with voice actors, game designers, and other guests from the worlds of table top and video gaming."
Other staples of Dragon Con will also be returning. Cosplayers from across the country are flying in and the Dragon Con Masquerade will crown another cosplay champion this year. For those who want to show off their cosplay skills but aren't looking to compete, The Chosen is making its second annual appearance. While prancing around Atlanta in full character is fun, there is something about taking that cosplay under the sea at the Georgia Aquarium that makes the evening feel particularly special.
The Chosen premiered to a sold out crowd last year and is on track to be completely sold out yet again for the second year.
Quite frankly, there is so much to be excited for when it comes to Dragon Con and we could easily write a novel about all the convention is expected to bring—and even then we would still be met with tons of surprises during the actual convention.
So fasten your capes and adjust those wigs because Dragon Con is here and it's promised to be bigger than ever.