Since being honored with a statue at Phillips Arena, the Atlanta Hawks franchise legend Dominique Wilkins progressively reaches new career heights and uses his platform to give back to our beloved city and state. Wilkins new journey involves positive change, influence and staying #TRUETOATLANA.
Earlier this year, we reported on Wilkins one of a kind partnership with sports construction specialist firm, CBA Sports to produce the Dominique Wilkins Signature Sport Court Series. Wilkins is the first NBA player to own his own line of basketball courts and his focal point is to bring his courts to homeowner's backyards. This past weekend, Dominique and the CBA Sports crew had a most special ribbon cutting ceremony honoring Evan Connelly. Evan was recently diagnosed with lymphoma cancer and as recent as last week underwent another round of treatment.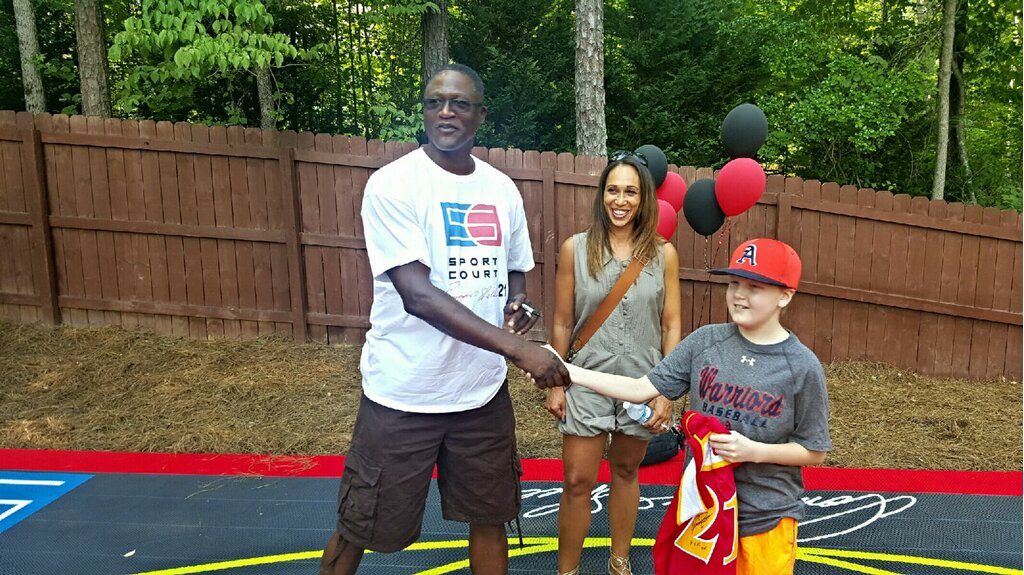 Charlie Siegel is close friends with Evan. Charlie and his parents, Adam and Jessica Siegel, were seeking ways to uplift Evans spirits. Adam and Jessica Siegel are huge fans of Dominique Wilkins and the Atlanta Hawks. The two reached out to CBA Sports to inquire about a backyard basketball court. Once they heard the NBA Legend himself would personally show up in their backyard to shoot some hoops, the plan quickly went into effect!
"The entire experience working with CBA Sports has been wonderful from start to finish. Jay Lilley and his team have shown the utmost kindness, professionalism, and really worked within our means to make this project a reality. We were in constant communication and always kept involved throughout the process. My wife and I cannot wait to watch our son and his buddies shoot some hoops on our new Nique court. Jay and team have also gone above and beyond in recognizing my son's best friend who is battling cancer and the kindness, thoughts, and prayers amongst all the other wonderful surprises he set up for him are truly a blessing" says Adam and Jessica Siegel, owners of Dominique's Signature Sport Court.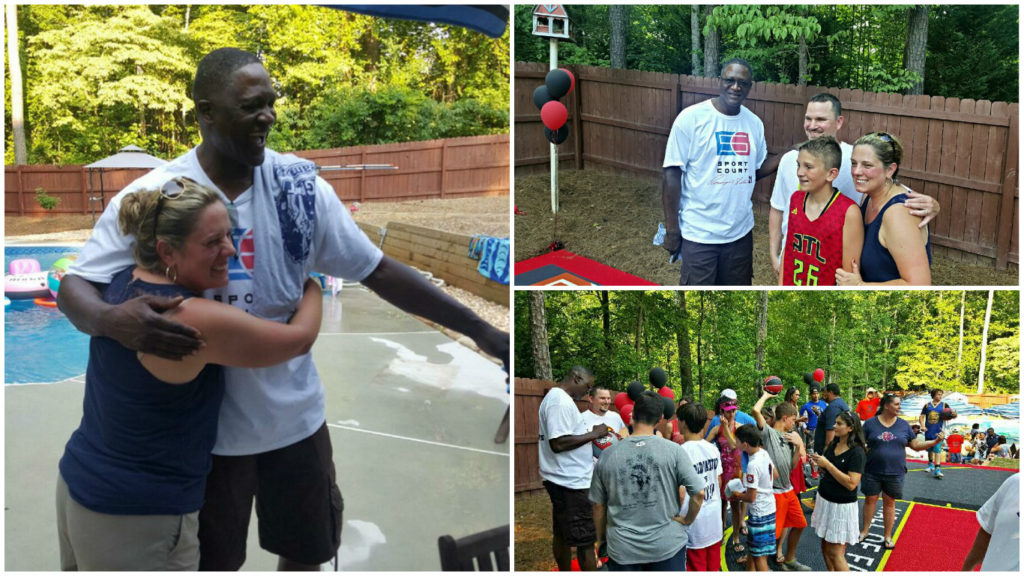 The Signature Series boasts the likeness and branding of the iconic basketball legend with his signature, Highlight Man Logo™ in the lane, the #21 placed at two corners of the court, the words Hall Of Fame at the free throw line along with CBA Sports and Sport Court logo strategically all strategic placed on Sport Court PowerGame™ athletic surfacing. This innovative surface provides patented enhanced components that will aid in the overall protection and longevity of the athlete by reducing stress on commonly used joints and lessening the likelihood of serious head injury, should a fall occur. Sport Court PowerGame™ surface has also been utilized on various community courts associated with the Atlanta Hawks Foundation community courts, Nike and FIBA 3×3 basketball tournaments and numerous other notable sporting affiliations.
"All I can say is wow! We've seen an overwhelming amount of interest from homeowners from all over Georgia and surrounding states inquiring about Dominique's signature court," says Jay Lilley, Sr. VP of Marketing & Business Development at CBA Sports. "It's very refreshing to have Nique involved and be hands on with every aspect of his signature line from design concept to actually speaking with customers."
NBA Hall of Famer, Dominque Wilkins states, "I am positive that consumers will enjoy this product in their backyards as much as my family and friends enjoy the one that we share at my home. It's truly gratifying and humbling to know that my fans love me enough to purchase one of my signature courts".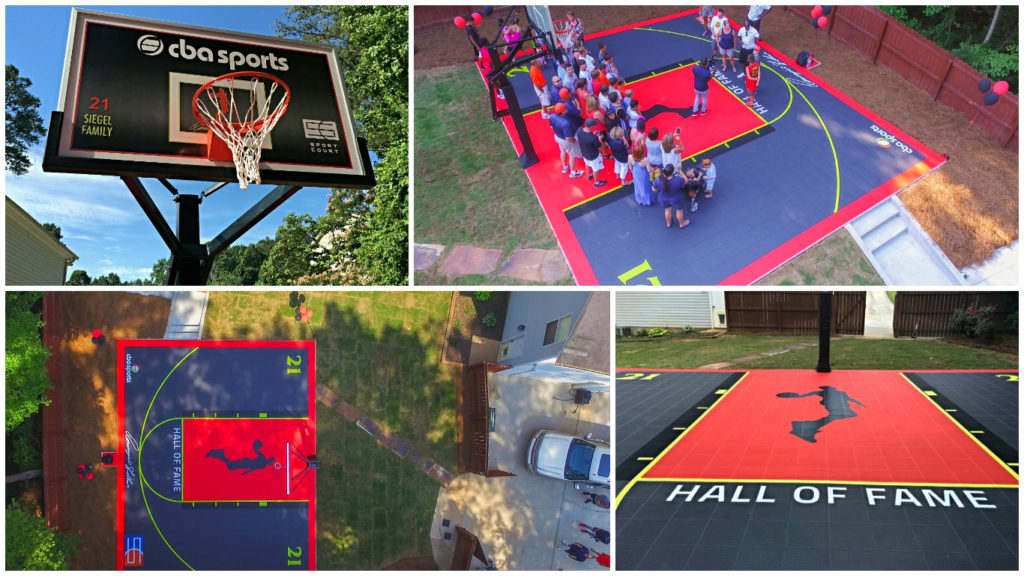 Not only is Wilkins busy being the first NBA player to have a signature line of basketball courts, the iconic basketball figure is also scheduled to have his first ever basketball camps in the state of Georgia with the first being held July 18-21st at Suwanee Sports Academy in Gwinnett.
Campers have the opportunity to learn fundamentals, be assessed by the Human Highlight Film himself and "in a reversal of roles, those campers will get to put on a show and entertain the names and personalities of those they grow up watching and loving."
SSA summer basketball camps reach the beginner, intermediate and advanced team player through drills that range from basic to advanced techniques needed to perfect their game. Camp will strengthen skills, improve understanding of the game, feature fundamentals, team and individual competitions.
CBA Sports President Jamie Sartin stated, "Dominque is not only one of the greatest basketball players ever but he's an extraordinary businessman with a keen sense for his fan base and what it takes to resonate with consumers".