Did you know that you're less than 30 miles away from a world-class racetrack?
Road Atlanta has been featured in the AAA racing game Forza Motorsport and is the site of the annual Petit Le Mans, a brutal, 10-hour endurance race. Teams and car manufacturers from all over the world meet here to pit their most exquisite engines and daring drivers against each other in the crucible of high-speed motorsport.
Needless to say, Road Atlanta is a place of electrifying excitement: a treasured attraction standing alongside Philips Arena or the new Braves Stadium.
So why have most Atlantans never been?
Well, simply put, Road Atlanta is like the most exclusive, most expensive country club in Georgia. To even touch the tarmac, you need to be a part of a professional racing team. Alternatively, you can apply for open track days; just be sure to bring an approved, track-ready sports car, gas, spare tires, licenses, safety equipment, hundreds of dollars for course fees, and hours of patience.
Sure, you can always watch the cars go by, but that's like going to the Chocolate Factory to watch other kids eat the candy. 
To summarize, your options for experiencing Road Atlanta are:
1. Plunk down tens of thousands for a racecar, tires, etc.
2. Join a racing team
3. Enter the stands and daydream
However, Chris and Silvana Grigalunas now offer you a fourth option: a Golden Ticket to enjoy all the chocolate you want.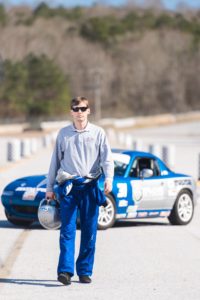 To share Chris' passion for race cars, the couple started Azul Motorsports, which allows you to join their pit crew and hop in Chris' cars for ride-alongs. If you give him the weekend, he'll even help you get qualified to drive on the track yourself, giving you the keys his race-ready Spec Miata or monstrously fast Z51 Corvette.
Having indulged the full Azul Motorsports experience myself, I'd categorize it alongside bungee jumping or skydiving; same ballpark cost of entry, with the associated surge of adrenaline and the satisfaction of a check off the bucket list.
Chris himself is delightfully two-sided. In the pits, he'll calmly answer every giddy question you and your friends have about the track, his racing history, and how he turned an adorable Miata into a snarling, track-ready wildebeest. On track, he'll plant his foot like an angry I-285 commuter… on speed. You'll climb out of the Miata or Corvette dazed and delighted.
Road Atlanta is unequivocally Atlanta's best-kept secret, and the best (and in many ways, only) way to experience it is with Azul Motorsports.
If you're planning a birthday party, bachelor party, corporate retreat, or simply your next memorable experience, consider eschewing the obvious and head to the track instead.