The Atlanta Falcons and head coach Dan Quinn have focused mostly on defense in the first four rounds of the NFL Draft, which is good for the team as the defense needed to be improved after last season.
According to Pro Football Reference, The Falcons were tied for first with San Francisco for rushing touchdowns allowed last season, and they gave up the eighth most points to opposing teams.
To try and combat some of the defensive mishaps, Atlanta drafted Keanu Neal, a safety out of the University of Florida, in the first round. While a lot of people expected the Falcons to get the band back together with Shaq Lawson, a defensive end who played with Atlanta's 2015 first-round pick Vic Beasley, ESPN's Vaughn McClure said that Neal will help fill a void in the secondary left by former safety William Moore.
"Neal is a strong safety who can run but can also hit like a linebacker," McClure said. "The Falcons needed to address their defensive holes before anything else, and adding Neal helps at least one glaring need in the secondary."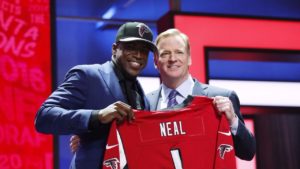 In the second round, the Falcons went defense again by drafting Deion Jones, a linebacker out of LSU who has great speed, but lacks a little in size and tackling ability but will help in coverage. LSU head coach Les Miles spoke highly of Jones at LSU's pro day.
"Not a lot of linebackers in history will run like that," Miles said. "That guy may be the fastest linebacker that I personally have been around that had any size to him at all."
In the third round, Atlanta shifted to offense by picking Austin Hooper, a tight end out of Stanford. The Falcons haven't had much success with their tight ends since Tony Gonzalez became an analyst, but Levine Toilolo, who also went to Stanford, has made some progress.
In round four, the Falcons selected De'Vondre Campbell, an athletic linebacker out of Minnesota. Quinn said that he hopes Campbell can play special teams as well as on the defense.
So far, it looks as if the Falcons have some good pieces to help the defense get back to the top of the NFC South.