A spectacular blaze that brought a response from dozens of firefighters was quickly brought under control Tuesday night at Tyler Perry Studios in southwest Atlanta, and investigators were at the scene late into the evening seeking the cause of the fire.
"The fire's out, but the cause remains under investigation," Capt. Jolyon Bundrige with the Atlanta Fire Department told the AJC just before 11 p.m.
Firefighters were able to contain the blaze to one building in the center of the 30-acre complex owned by Atlanta filmmaker Perry, Bundrige said.
The first report of a fire came in at 8:41 p.m., and before it was over, more than 100 firefighters had responded to a blaze that quickly escalated to four alarms.
The fascia of the affected building collapsed, but its structural integrity was not compromised, Bundrige said. No injuries were reported.
Though the flames were extinguished within an hour, many firefighters remained for several hours putting out hot spots. Several units were still there around midnight conducting a damage assessment, including salvage and overhaul.
Perry was at his Continental Colony Parkway complex Tuesday night and spoke with Fire Chief Kelvin Cochran, but did not talk to reporters gathered nearby, Bundrige said. Employees leaving the studio grounds after the fire told reporters they were instructed not to speak to the media.
Efforts were being made to reach a spokesman for the studio.
Dorothy Ware, a resident of the Asbury Harris Epworth Towers senior housing apartments next door, said she first learned of the fire from a guard who came around to alert residents.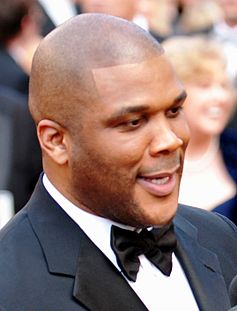 The guard told anyone who had cars parked along the fence next to the studios to move their vehicles so fire engines could get in, Ware said. She went outside and described the scene.
"It was all in flames," she said. "The building started popping. Whatever the fire was hitting, was blowing up. There were plenty of sparks coming over here where we are."
The flames shot as high as the nearby trees, roughly six stories in height, she said.
The 200,000-square foot studio, which opened in 2008, is home to sets, sound stages and a 400-seat theater. In March, Perry hosted a fundraiser for President Barack Obama at the studio.
Perry has worked as director, writer, producer, actor and playwright. His film credits include "Diary of a Mad Black Woman," "Meet the Browns" and "I Can Do Bad All By Myself." His latest movie, "Madea's Witness Protection," is scheduled to open June 29.