This is going to be tough to write. Many of you won't even be ready to read it, because the pain and heartbreak is still lingering, and most likely will be for a long time.
The Atlanta Falcons had done everything right for three quarters. In fact, they had been dominating the Patriots' dynasty and were making the greatest quarterback of all-time look like an amateur. The score was 28-3 for most of the third quarter, before a James White TD reception. However, Stephen Gostkowski missed the extra point, and Atlanta held a comfortable 19 point lead heading into the fourth quarter. All signs and statistics pointed to black and red confetti raining down in NRG Stadium in 15 more electrifying minutes. Every arrow was pointing up.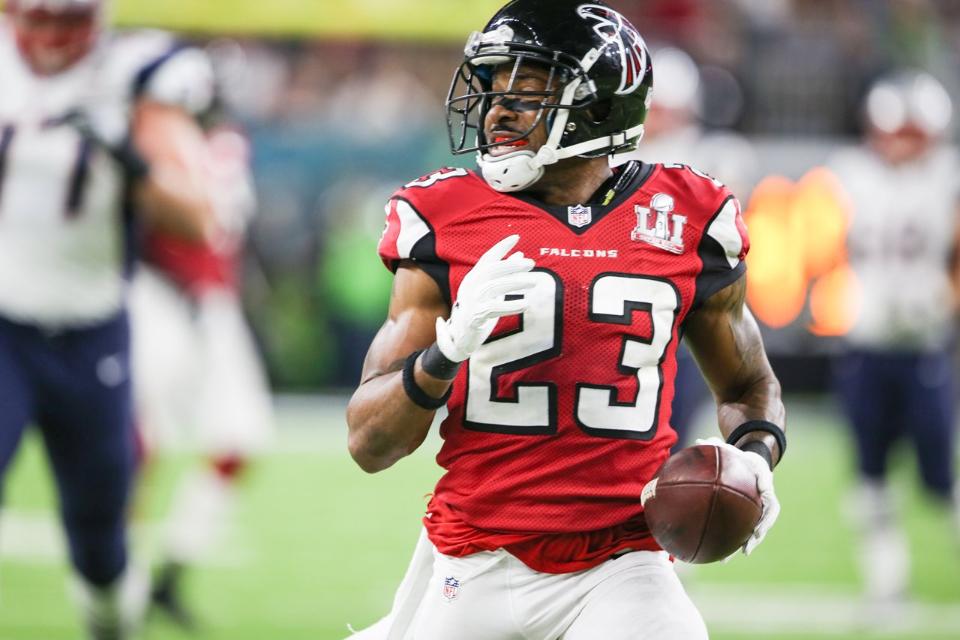 Teams leading by 19+ points through three quarters were 94-0 all-time in playoff history.
The Falcons were given a 99.5% or higher winning probability by ESPN on multiple occasions throughout the second-half.
Teams that led by at least 25 points at any point in a game in NFL history (including playoffs) were an overwhelmingly assuring 1057-4, which meant it would literally be next to impossible for the Patriots to come back.
Then the fourth quarter happened. Then Tom Brady happened.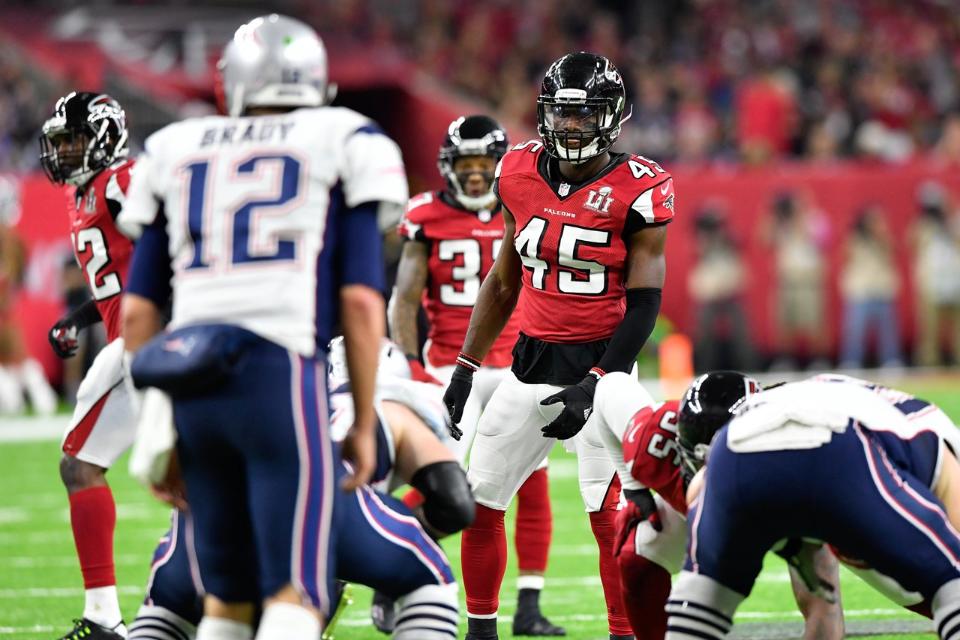 The Atlanta Falcons pulled off one of the greatest collapses in sports history, and in a blur, they went from inevitable first-time world champions to a disaster for the world to see. The Falcons, both offensively and defensively, missed opportunity after opportunity to seal the game, but it seemed like every second of the fourth quarter and overtime went in New England's favor. Some of it was luck, and some of it was the doings of the machine they call Tom Brady. If Atlanta had just capitalized on one of those many, many chances, it's almost certain that a victory parade would have taken place Tuesday morning in downtown.
So how did it happen? Let's go over a few of the countless reasons why Atlanta's historic season came crashing down in just a little over a quarter of football.
1. Awful clock management
After going through many clock-related growing pains as a rookie head coach, Dan Quinn made it a personal priority to work on time management over the offseason. For the most part, it was paying dividends this season, until the worst possible game that mistakes could've been made.
Holding one, two, three, and even four possession leads in the second half of the Super Bowl, the Falcons were still snapping the ball with upwards of 10 seconds on the play clock, paying no regard to the fact that simply wasting time would've practically guaranteed them a championship. Sure, it is Kyle Shanahan who runs the offense, and he takes a ton of blame as well. However, as head coach, it is Quinn's job to step in and command the offense to slow the pace down and control the lead.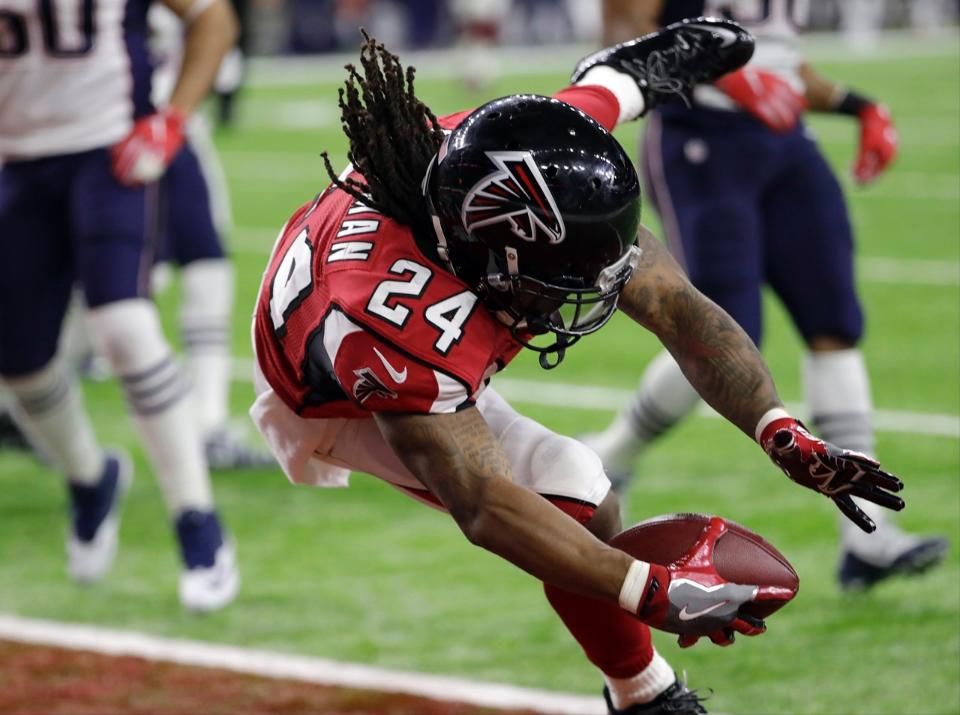 Failing to use up the clock not only put the ball in Brady's hands, it put it into Brady's hands as he was throwing against a dead tired defense. Every second on the play clock that passed while the Falcons had the ball was not only a second less on the game clock, but also a valuable second of rest for an exhausted Atlanta defense that had performed amazingly until they were gassed out. New England had a whopping 93 offensive plays and 63 passes, and Atlanta's coaching staff did practically nothing to help their exhausted defense stay fresh.
2. Failure to run the ball
This goes hand-in-hand with wasting time on the clock, but the fact that Atlanta's running backs had been stellar so far in the game should've made sticking to the ground a complete no-brainer. We all remember the situation: Up 8 points, on the Patriots 22-yard line (a chip shot for Matt Bryant), with only 4:47 left in the game. All we had to do was kick the field goal and the game was ours. However, despite being a genius coach that led a historic offense, coordinator Kyle Shanahan made the bone-headed decision to call two pass plays that eventually led to no points on the board, and the ball back in Brady's hands.
This inept play calling was not just on that drive, though. We sure wish it was, but the fact is, Kyle Shanahan only called a measly five runs after dominantly securing a 28-3 lead, which is absolutely unfathomable considering that he was 15 minutes away from a ring. While his spectacular regular season and near-flawless first three quarters shouldn't be discredited, he deserves to take most of the blame for this unimaginable choke. While being aggressive has its benefits, when you are guaranteed a Super Bowl title by just handing it off to Devonta Freeman or Tevin Coleman, there are no excuses to do anything but. Even when Shanahan did call passes, he made sparse usage of his most reliable playmakers, as Julio Jones was only targeted four times the entire game, despite having made some incredible plays.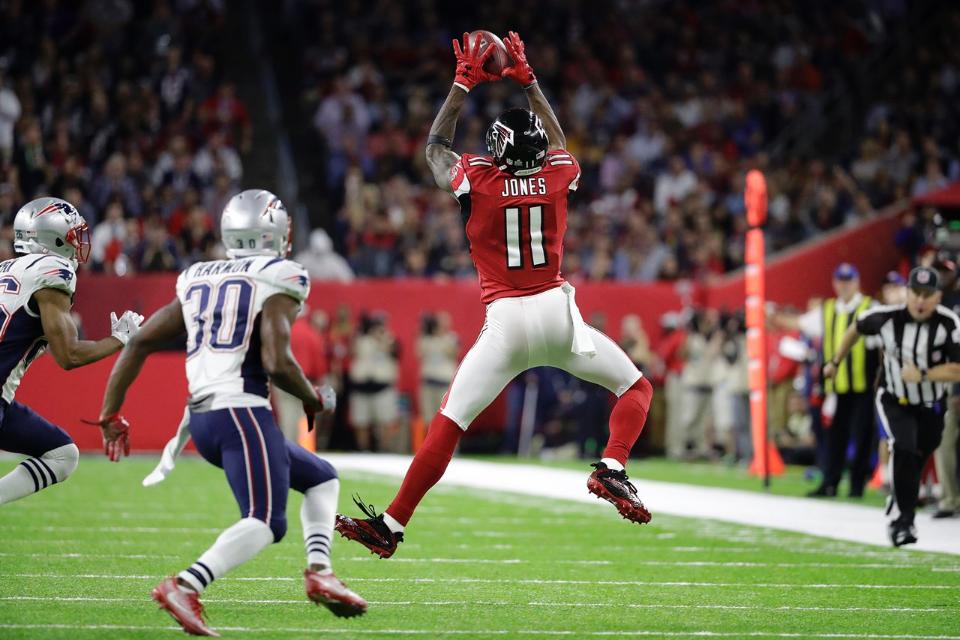 3. Ineffective defensive play calling
One of the worst parts about this loss is that Dan Quinn and this defense were having easily their best game of the season for the first 45 minutes. They put up 5 sacks on Brady, picked him off for a touchdown, and forced a fumble. Yet after the Falcons defense became completely worn out from being on the field for so long, Tom Brady had all the time he wanted to let his receivers get open.
Quinn should have realized this and sent extra pressure more often, however, he only dialed up blitzes on 5 out of Brady's 70 drop backs. As a result, the Falcons saw their pressure percentage go way down each quarter as the game went on and the players began to tire. For comparison, Brady was pressured on 60% of drop backs in the first quarter, as opposed to a minuscule 12.9% in the final quarter plus overtime. With a bit more pressure, it would have been much harder for him to catch fire the way he unforgettably did in Houston.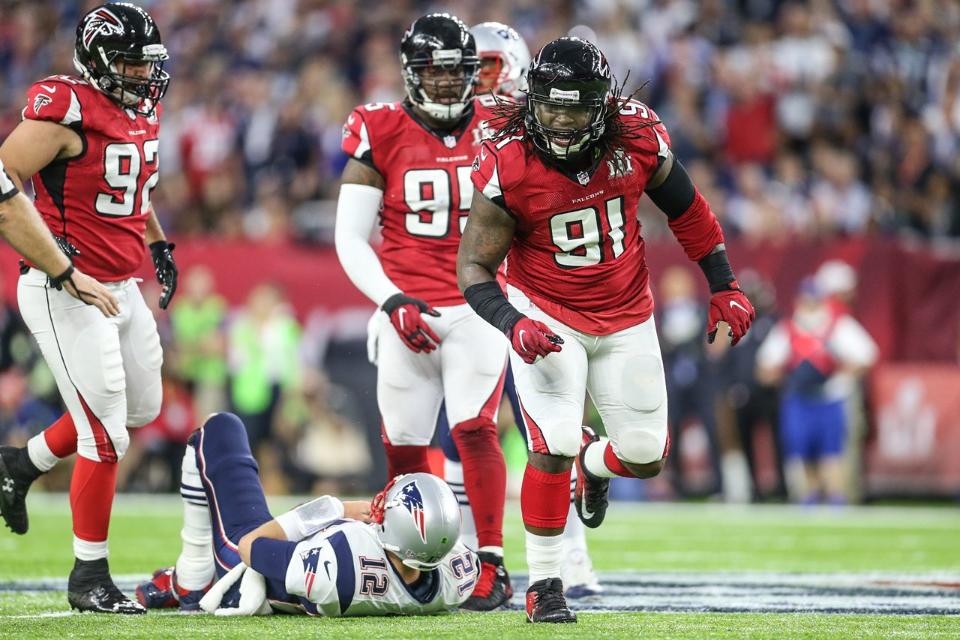 4. A whole bunch of other plays that led to the worst day in Atlanta sports history
There was a countless number of plays that didn't go our way in the second half, but it's still way too emotional draining to elaborate on all of them, so I'll just hit a quick list of things that led to New England's incredible comeback (in no specific order).
Tom Brady's third down scramble. His fourth down conversion to Danny Amendola when down 28-3. Edelman's mostly luck, tiny bit of skill catch. Matt Ryan getting stripped of the ball, setting up a quick touchdown drive for the Patriots. Both of New England's 2 point conversions. Atlanta's multiple holding calls, and a pass interference penalty against Martellus Bennett. Matt Ryan getting sacked out of field goal range with a few minutes remaining. The list goes on and on.
One "play" that wasn't made by either team was the overtime coin toss, which led to Atlanta's inevitable defeat as the unconscious Tom Brady marched down the field with ease. Rather then Atlanta's offense getting a fair chance to do the same, the game ended right then and there, and millions of fans and players were crushed. Overtime rules in the NFL are absolutely ridiculous, and after that game, most of the country agrees that they should be changed, and hopefully they will be for the future.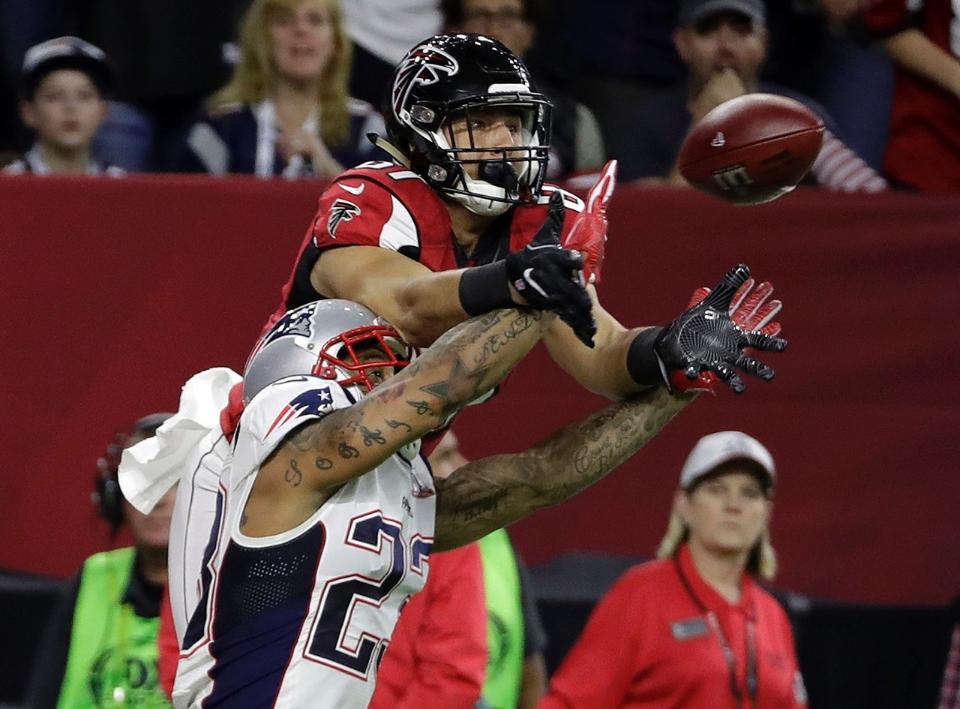 In all honesty, this game should've been won relatively easily going into the fourth quarter, but it's in the past now. As fans, it will be extremely difficult to do so, but hopefully the team can move forward. If anything, it should serve as a harsh dose of motivation to bring home the trophy next year. Finally winning the Lombardi may be the only thing that can heal the heartbreak that the night of February 5th brought the Falcons and the city of Atlanta.