When it comes to iconic buildings in Atlanta, it's hard to find one as immediately recognizable and as frequently visited as the Fox Theatre. It's been a part of Atlanta history for more than eight decades and now it's getting quite the facelift.
It was announced back in September that the Fox would be adding 10,000 square feet of luxury with a new Marquee Club. Renderings of the new rooftop space have been released and it's just as jaw-droppingly fabulous as you could have ever imagined.
A beautiful Moroccan design brings in gold hues and vivid teals that make you feel like African royalty just by looking at the mockups of the space.
The large expansion would introduce a total of five bars with three of them being on the rooftop while the other two rest on the main level and the mezzanine level, according to a report by the AJC.
Of course, the feeling of luxury doesn't stop at just the décor.
"With a guest-to-server ratio of 10-to-on, line-busting technology and intermission pre-ordering, members will be able to enjoy their shows with ease," the AJC's Fiza Pirani reported. "The club will also offer hors d'oeuvres, self-serve desserts and coffee. Additional amenities include private restrooms, coat check and a dedicated lobby elevator for club patrons."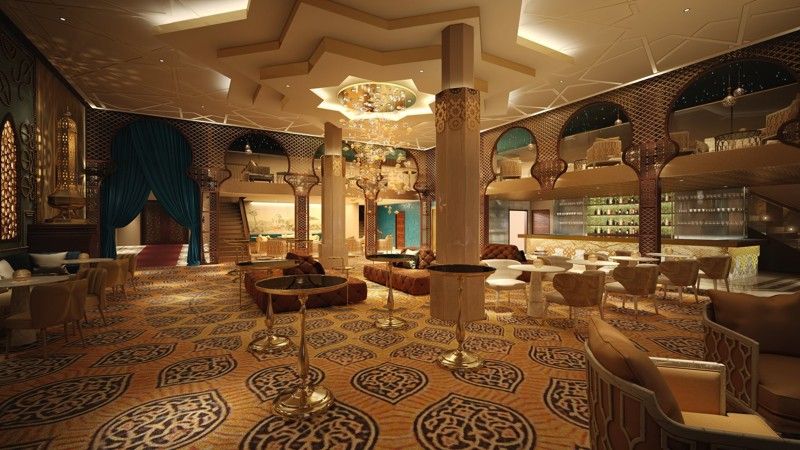 The space will be open year-round and will finally deliver on the growing consumer demand for there to be a premium space offered to Fox Theatre patrons.
Unfortunately, there is still quite a bit of time left before we'll actually see the new space come to life.
The expansion isn't scheduled to be completed until Fall of 2017 and the cost of memberships has not yet been disclosed.
You can check out even more photos of this space by visiting the AJC.