ORLANDO, Fla. — Aaron Murray set a Georgia bowl record with five touchdown passes and earned Capital One Bowl MVP honors as the No. 7 Bulldogs came from behind to defeat Nebraska 45-31 Tuesday at Citrus Bowl Stadium.
The win was Georgia's — and Murray's — first in a bowl game in the past three years. The 2012 Bulldogs (12-2) become just the third team in UGA history to win 12 games, joining the 1980 national champions (12-0) and the 2002 SEC champions (13-1).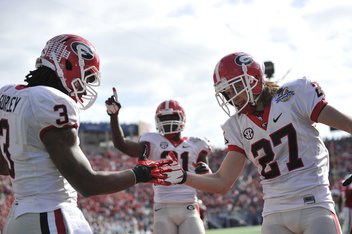 Junior linebacker Alec Ogletree announced afterward that he had played his last game for the Bulldogs. He projects as a possible first-round pick as an underclassman in June's NFL draft.
It was a slow start for Murray. He threw interceptions on two of the Bulldogs' first three possessions. But he ended up tying his personal record for passing yards in a game with 427 yards. He was 18-of-33 passing and narrowly missed getting a sixth touchdown when Tavarres King couldn't haul in Murray's pass in the the game's final minutes.
The Bulldogs trailed 31-23 late in the third quarter when Murray led them on a 79-yard scoring drive to tie the game. After three straight Todd Gurley runs, Murray hit King on an 11-yard completion for a first on third down. On the next play, Murray connected with Chris Conley a 49-yard touchdown off a play-action fake. Georgia elected to go for two, and Murray made good with a pass to Rhett McGowan to tie the game at 31-all with 7:26 left in the third quarter
The game-winning play came with Murray scrambling toward the right sideline early in the fourth quarter. He directed a tightly-covered Keith Marshall to change his route and head toward the end zone, then hit Marshall with a nifty back-shoulder throw that resulted in a 24-yard touchdown and a 38-31 Georgia lead with 14:52 to play.
The outcome still hung in the balance when Georgia's defense forced the Cornhuskers to punt from midfield. Taking over at their own 15, the Bulldogs faced third-and-12 from their own 13 when Nebraska sent a full-house blitz. Murray read it, and so did Conley, who caught a Murray's strike on a slant from the right side and took it 87 yards for a touchdown and a two-score lead.
Conley, playing more than usual because Malcolm Mitchell left the game in the first quarter with a concussion, finished with 136 yards and two touchdowns.
After the game, Georgia fans chanted "One more year" to Murray as he accepted his MVP trophy. The junior is considering entering the NFL draft after this season.