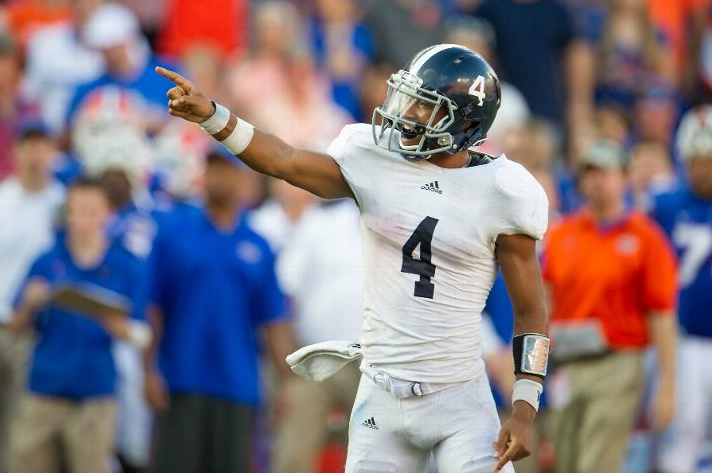 (ESPN) GAINESVILLE, Fla. — Georgia Southern players and coaches trickled back onto Florida Field long after the game ended.
They had cellphones in hand, ready to snap pictures of a lifeless stadium.
About an hour earlier, they emptied the Swamp in what will go down as Florida's worst loss in school history.
Kevin Ellison ran for two touchdowns, Jerick McKinnon had a huge score late and four-touchdown underdog Georgia Southern stunned Florida 26-20 Saturday without completing a pass.
No lower-division team had ever beaten the Gators, who won their previous seven games against Football Championship Subdivision teams by an average of 45 points.
So this was a shocker, even though Florida (4-7) lost its sixth consecutive game and secured its first losing season since 1979.
"Very disappointed for our program, an embarrassment (to be) in this situation," Gators coach Will Muschamp said. "It's all disappointing. It's hard to measure it at this point."
Georgia Southern (7-4) ran for 429 yards — all of the team's offense and the most against Florida since Nebraska rolled up 524 in the 1996 Fiesta Bowl. The Eagles also became the first team this season to beat an FBS team without completing a pass. They were 0 for 3.
McKinnon finished with 125 yards rushing, including a 14-yard touchdown with 2:57 remaining. Ellison added 118 yards on the ground, scoring on runs of 45 and 1. Fullback William Banks also gashed the Gators, getting 94 yards up the middle. His 53-yarder on a third-and-2 play set up the winning score.
Florida had a chance to win it, thanks partly to two missed extra points.
Skyler Mornhinweg, making his second consecutive start in place of Tyler Murphy (shoulder), got the Gators in scoring territory, but his final two throws fell incomplete. He had Quinton Dunbaropen in the corner of the end zone on third down from the 17, but his pass floated high. He tried to force one to Solomon Patton on the final play, but two defenders broke it up.
"It's very difficult for us to create explosive plays, to get anything down the field," Muschamp said. "Just don't ever do it."
Georgia Southern, a six-time FCS champion making the move to the Football Bowl Subdivision next season, rushed the field and celebrated wildly. Players and coaches stopped long enough to pose for a team picture near the 30-yard line, and then the party really started.
They ran toward the band and eventually settled down long enough to sing the alma mater. Someone at Florida didn't want to hear it, though.
Just as the visitors got going, the hometown P.A. started blaring music louder than usual.
Nonetheless, the Eagles surely will sing all the way back to Statesboro, Ga. — and long into the night.
"There was a never a doubt in their minds," Georgia Southern coach Jeff Monken said. "We didn't play a perfect game. We put ourselves in bad situations, but nobody panicked."
Florida, which paid the Eagles $550,000 for this game, was left to ponder Muschamp's fate.
Athletic director Jeremy Foley and school president Bernie Machen said last week Muschamp was safe, but that was before the worst loss in school history and thousands of no-shows in The Swamp.
"We're not concerned," Florida safety Cody Riggs said. "I know that a lot of people around here have Coach Muschamp's back. He's a great coach, best coach I ever had. We're not worried about that."
The Gators won't be going to a bowl for the first time since 1990. They have one game remaining — against rival and second-ranked Florida State next Saturday — to salvage something from a forgettable season.
"The morale on this team is at an all-time low," guard Jon Halapio said. "We have a lack of leadership. We just really need to tighten up as a team."
Florida had been 15-0 against FCS teams since the divisions split in 1978.
"It's just hurt and shock," Gators linebacker Darrin Kitchens said. "Losing that type of game is embarrassing."
Florida has pinned its problems on a slew of injuries. But that excuse doesn't work against Georgia Southern, which has won three in a row and played without 19 of 65 scholarship athletes.
The Gators were beaten soundly on both sides of the ball.
Georgia Southern ran wild from the triple-option formation. McKinnon gained 66 yards on the first play of the second half, setting up Ellison's 1-yard plunge on fourth down. The touchdown put the Eagles up 14-10.
And that almost could have been enough against Florida's inept offense.
Mornhinweg was mostly ineffective, though he completed 14 of 25 passes for 122 yards and two touchdowns. He hooked up with Patton for a 46-yard score with 5:41 left that tied the game at 20.
But Florida's defense couldn't get a much-needed stop.
And on the final drive, the Gators started with a crucial penalty and then had some questionable clock-management issues.
Equally alarming as Florida's woeful offense was the team's defensive effort.
The Eagles gashed the Gators early and often, producing runs of 45, 53 and 66 yards. Eight Georgia Southern players had at least one run of 10 yards or longer.
"This is what they do for a living," Muschamp said. "It's hard to defend them. The way you defend these teams is you change the scoreboard on the other side and you get them out of their rhythm and you create negative plays and you get them behind the down and distance. We were never able to do that."