By: Colin Ritsick
Two of the most memorable moments of the last two NCAA Tournaments were brought to you courtesy of a basketball team from Georgia.
14-seeded Mercer's upset of Duke in 2014 turned the sports world on its head and sent most brackets straight down the garbage shoot. The post game nae-nae from Kevin Canevari is the lasting image from the improbable victory that put Mercer on the map.
Then last year, 14-seeded Georgia State's buzzer-beater over 3-seeded Baylor sent head coach Ron Hunter – who was fresh off a torn Achilles from celebrating in the Sun Belt Conference championship – flying off his scooter-seat as his son, RJ Hunter, hit the game-winner.
But for the first time since 2013 there's little chance of a representative from the Peach State anywhere in this year's March Madness. Of the six teams that play in a conference that receives an automatic bid to the tournament, not a single team has the inside track to the postseason.
The college basketball season is in the home stretch, with less than 10 regular season games remaining before the conference tournaments get started. Georgia, Georgia Tech, Georgia State, Georgia Southern and Kennesaw State are all having lackluster years with the lone bright spot being Mercer's 17-8 record.
None of these teams will get an at-large bid because their records aren't good enough. So that means the only shot we have to see a team from Georgia in our brackets is if one of them wins their respective conference tournaments.
Don't hold your breath.
Mercer (Southern Conference) has the best chance out of all of them, but it has to get past Chattanooga which touts a 22-3 record. And Chattanooga has already beaten the Bears twice this season.
Next in line would probably be Georgia State, simply because the Sun Belt is a much more winnable conference than the SEC or ACC. State's record is 13-8 (6-6 Sun Belt) and they face a similarly tough task as Mercer – getting past Arkansas – Little Rock which has a 21-2 record. State doesn't have a pure scorer to put the team on his back against a better opponent like Hunter did last year on several occasions, so winning the Sun Belt is unlikely.
Georgia (13-8, 6-4 SEC) and Georgia Tech (12-11, 2-8 ACC) aren't bad teams by any stretch but getting past the toughest teams in their conference just isn't going to happen. In the SEC, Georgia has No. 15 Texas A&M and No. 23 Kentucky to contend with and Tech has No. 7 Virginia, No. 9 North Carolina and No. 12 Miami to deal with. Tech's 2-8 conference record doesn't boost confidence in the Yellow Jackets either.
Georgia does have an outside chance to receive an at-large bid if they win seven of their last eight games, or go a perfect eight for eight. But like I said earlier, don't hold your breath.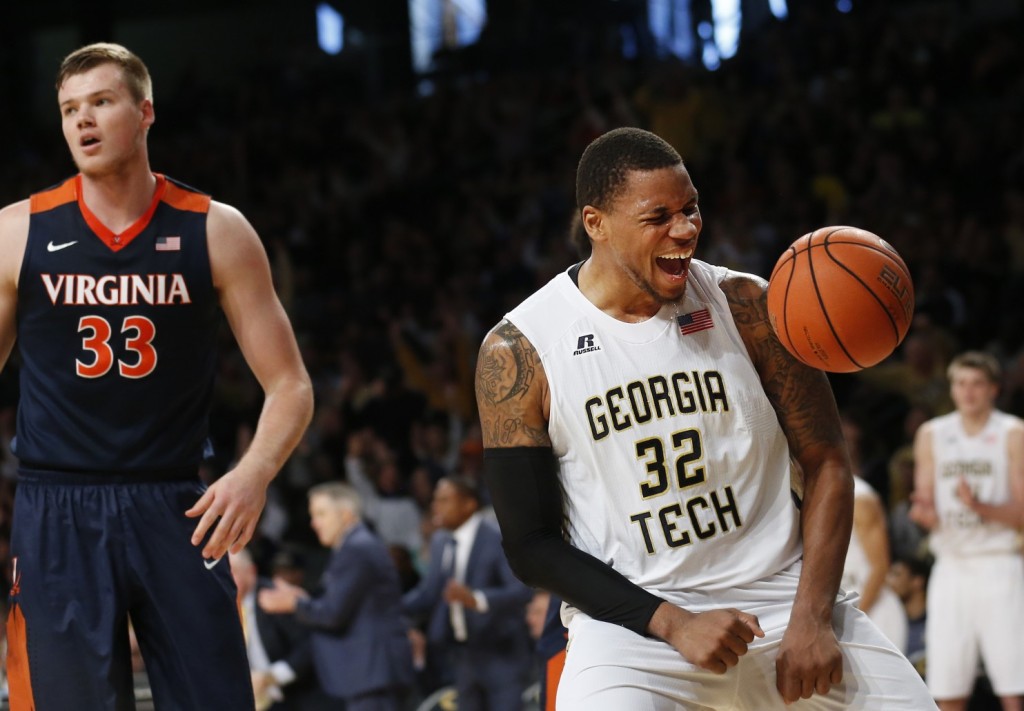 Georgia Southern, who had its best season in 22 years last year, has the youngest team in the NCAA and is playing better than expected (10-12, 6-6 Sun Belt) – but has to play their best game of the year four times in a row to win the Sun Belt and make it to the tournament. The Eagles will have a legitimate chance in the next two years since all of their starters are sophomores or younger and will return– but this year just isn't going to happen.
Georgia Tech leads all teams from Georgia with 17 NCAA Tournament appearances. The Yellow Jackets lost to Connecticut in 2004 in its only championship game appearance. They hold a 23-16 all time tournament record. They haven't been to the tourney since 2010.
UGA has an all-time tournament record of 7-12 and was most recently ousted by Michigan State in the first round last season. The Spartans ended up reaching the Final Four.
Georgia State is 2-3 all time, Mercer is 1-3 all time and Georgia Southern is 0-3 in the NCAA Tournament with its last appearance coming back in 1992. Kennesaw State has yet to reach the NCAA Tournament and has a 7-18 record this year.