Google Fiber has posted the expected pricing for the company's Atlanta launch, and it adds a few new wrinkles to the mix. Like in other markets Google Fiber's still offering a symmetrical gigabit connection for $70 a month, and a bundle of symmetrical gigabit fiber and television for $130 a month ($120 a month for many grandfathered users in Kansas City and Austin).
But the company's pricing page for Atlanta now adds a new wrinkle that eliminates the company's "free" 5 Mbps offering (which required a $300 installation fee), replacing it with a 100 Mbps offering for $50 a month.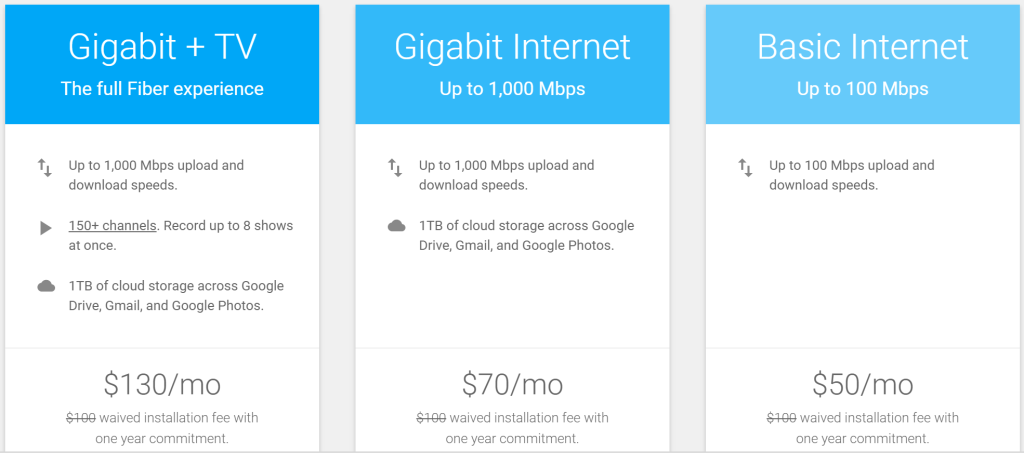 Google originally announced Atlanta as a Google Fiber launch market a little over a year ago.
While there's still no formal date for the Atlanta launch, the freshly-unveiled Google Fiber Atlanta website offers this apartment finder tool and this projected installation map to see if your apartment is scheduled for installation. Users can also plug their address into the website to receive news on when the service will be coming to their neighborhood.
Google Fiber has confirmed that the company is leaning on existing fiber deployed throughout Atlanta to help speed up deployment in the city, a new approach the company hopes will accelerate deployment in other announced launch cities like Salt Lake City, Nashville, Charlotte, Durham/Raleigh and San Antonio.
"We want to bring Google Fiber to as many residents in Metro Atlanta as possible, which is why we're building a brand new fiber network across nine cities in the area," Google Fiber said in a statement on the Atlanta launch. "In addition to the construction that's already underway, we're connecting some apartment buildings in the suburbs of Atlanta using existing infrastructure so we can reach more people with gigabit speeds."
via DSLReports