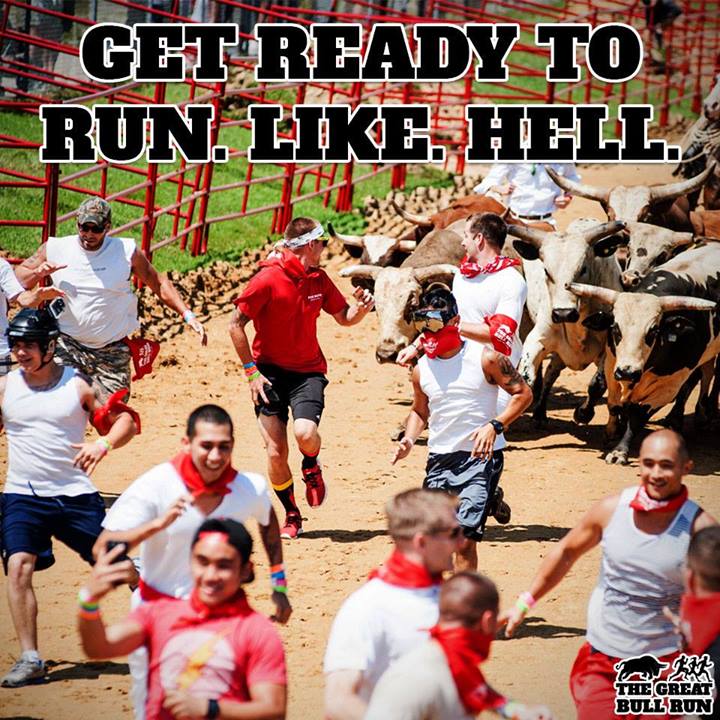 Ever thought you were fast enough, nimble enough and tough enough to run with the bulls like in Pamplona? Well, you can finally put your money where your mouth is October 19th at the Georgia International Horse Park. The Great Bull Run is coming to Atlanta and they're bring twenty four, yes I said twenty four, 1,200 pound bulls with them.
This isn't a charity 5k or a simulated bull run with people dressed in bull costumes chasing you down the street. This is the real deal, modeled after the famous San Fermin festival in Pamplona, Spain, but without all the time and money required for a trip to Europe.
Adrenaline junkies get ready to experience the rush of a lifetime sprinting down a quarter-mile track with twenty-four bulls running 35 miles per hour on your heels. Cap off your run in the tomato food fight, Tomato Royale, then celebrate all day long in their massive festival featuring live music, great food, cold beer, games and attractions! Not up for running with bulls? You can still watch all the action as a spectator or join in the fun as a participant in Tomato Royale!
For more info & registration visit here