Another Great Atlanta Beerfest at Turner Field
By JB
Unlike some events this past weekend, the Great Atlanta Beerfest at Turner Field was no let down. A gathering of Georgia craft breweries, food, music, and friends took place. There was so much fun in the atmosphere, the weather probably thought we were upsetting.
We arrived a bit past noon to setup our stations alongside other vendors. Thanks to Mike DiLonardo, the Director of Operations, our booth was located in the Chop House. We didn't have to worry about rain and the best part, everyone comes through the Chop House.
As we waited for the crowd to arrive and looked out into a calm, empty stadium, we embraced the history, glory and greatness that took place at this historic landmark over the years. But it was just for a moment. After staring into a bunch of empty seats, we quickly started to make friends with our neighbors.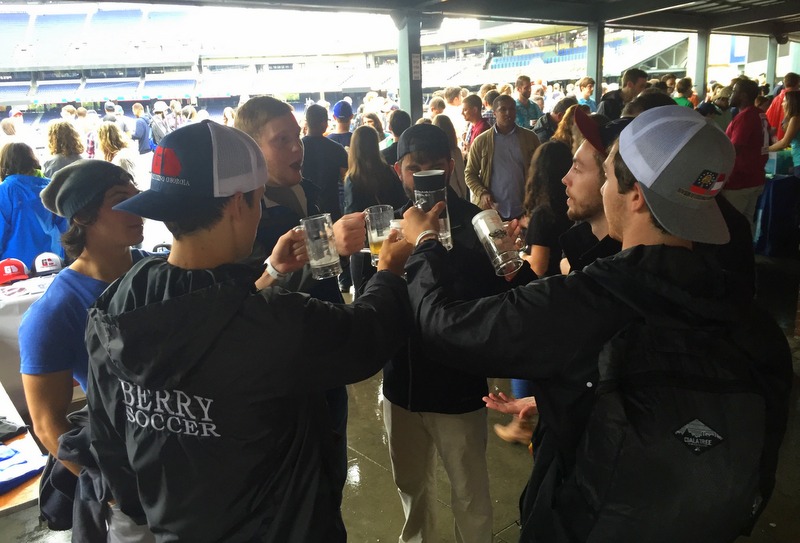 Pontoon Brewery was nearby. Eddie, co-owner of the company, was accompanied by his wife, and pal slash salesman Jimmy Joynt. They showcased two beers, their Southern Skipper and No Pants Pilsner. Their beers have rich hops, great quality taste, and aren't much different than their personalities. They're warm and friendly so it's almost like you can taste the southern hospitality in their brew.
Eventually, the doors opened to a great turnout and things got going. A band named "The Spins" jammed out behind us. Attendees enjoyed games, food, and a small group of ladies handed out pretzel necklaces (essential to our next beerfest). We watched our Dawgs win and fans rooting for teams outside the state almost cry, but we all drank together, cheerfully.
The only complaint to be said would be about the small serving cups used for "taste-testing." The cups were pretty much the size of a double shot glass or, as a friend put it, "something more suited for Thumbelina." The cups weren't very convenient to say the least. Thanks to the Atlanta Hawks however, a few reps were present to hand out free mugs!
Thanks to everyone that stopped by our booth!