Beer and BBQ…could there be a more perfect match?
"Atlanta Beer Festivals" hosted their first ever "Hogs and Hops" event this past Saturday in historic Old Fourth Ward Park. The event was a tremendous success, with over 50 beers flowing from the taps, numerous BBQ tasting options, and a more than capable live band (The Geeks). Each of these segments- the beer, the food, and the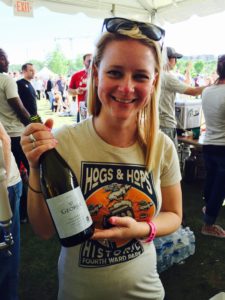 tunes- spotlighted the continuing rise of the Atlanta scene, as each segment was led by local entities proving their worth.
There was a large crowd in attendance and the mood was jolly, and one could imagine that the libations had something to do with the happiness in the air. Entering the gates, the floral aromas of spring were replaced by the sweet and salty mix of brews and q's. $50 awarded visitors with unlimited samplings of beer, a complimentary food tasting, and a fashionable highlighter green wristband that could easily be worn to any Atlanta Hawks game as an accessory of support….and a green cup.
Most of the beers were local. "Monday Night Brewing" poured a few, "Red Hare" as well, and "Reformation" too. There was even a wine from The Winery at St. George (New York) mixed in just to show some diversity- the white wine provided a nice refreshment in the Spring heat.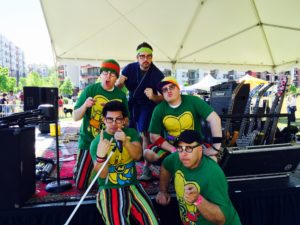 If attendees entered the event with some sort of strategy, there was no evidence that such strategies were executed. Most of the people seemed to sporadically  bounce around the different tents with their beer cup in hand, carrying a grin of satisfaction with their latest sampling. There was zero hostility and some epic displays of dancing carried out to spot-on renditions of Green Day's "Basket Case", and other recent popular soundtracks. The Geeks Band was a perfect match for the festival, displaying high energy that was released with precise musical execution. They played songs that everyone could enjoy and recognize without consolidating themselves to one genre. It is funny, a few beers seems to trigger an unknown holding of lyrical memory, as everyone seemed to know the words to songs that seemed to have been forgotten in the last decade.
Hogs and Hops was a smashing representation of the way that the spring season should be enjoyed in Atlanta. Getting outside with friends, and pups (dogs were allowed in…as long as they were of age) to sip on local brews and food is the best way to create lasting memories for 2016. The location was prime, and offered visitors a chance to also explore the new Ponce City Market, walk the Atlanta BeltLine, or just wander about in whichever direction the gentle breezes directed.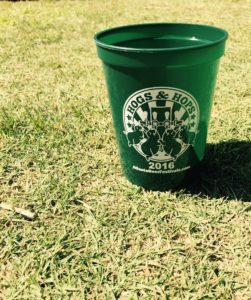 The Atlanta festival scene is getting better every day; from music, to beer, to food, and more, there are numerous ways to get out and enjoy the excitement. Atlanta Beer Festivals conducts events throughout the year, and there are a few in the months upcoming:
"Atlanta Summer Beer Fest" is June 18, and the "Atlanta Wine Party" is July 25.
More information about these events, as well as other events hosted by Atlanta Beer Festivals, can be found on their website:
http://atlantabeerfestivals.com/abf-events/
As the temperatures continue to rise, be sure and plan to attend one of the many outdoor festivals the city is offering!
List of Local Beers at Hogs and Hops
http://www.hogsandhopsatlanta.com/beer/
The Geeks Band:
http://www.thegeeksband.com/home