June 26th will go down as one of the hottest days in 2015 for Atlanta, but not just because of the 94 degree heat. No, June 26th will go down in history because of the second annual Raurfest which offered performances from some of Atlanta's hottest young artists.
Raury's camp, LoveRenaissance, teamed up with Atlanta-based media company, Creative Loafing for this year's event and even from there the bar was set high. The first time around, the festival brought 500 attendees to Castleberry Hill. This time, nearly 1300 people filled the Freight Depot near Georgia State University. LVRN and CL sold 1000 presale tickets and provided another 300 at the door.
Outside, vendors and food trucks were posted to provide attendees with refreshments while they wait in line. Staff members in orange Raurfest shirts were all over the premises making sure that everything was lined up and in place. Performances from Speakerfoxx, Vivian, Money Makin Nique and Ceeno opened up the festivities. Amongst all the performances throughout the evening, everyone brought their own vibe to the atmosphere. One of the consistent highlights of the night was the hosting by Fort Knox and his accompanying DJ, Xavier Blk. Knox and Blk brought high energy and entertainment in between sets, which kept the crowd's attention.
India Shawn graced the stage with an inviting smile, an open-chest Catsuit and music from her latest collaborative EP with James Fauntleroy, Outer Limits. Marian Mereba followed Shawn with her own neo-soul/R&B performance alongside a trumpet player. Mereba sang a new song "about a journey", which ended with the crowd singing, "gonna take the highway/runaway, you'll never find me".
Things turned around and turned up after Marian Mereba left the stage. EarthGang took over the stage and grabbed the energy  of the room by the throat. The duo performed "Saturday" and "The F Bomb" as the entire turned into a hype-fest of jumping, water throwing and shirtless performing. EarthGang brought out J.I.D. to perform "TEN TEN" which was released this week. Hello Ocho, a rock-punk-folk hybrid band took the stage after EarthGang only to lead to an even more amped performance than their predecessors. Things were just heating up.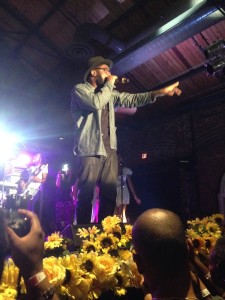 Two-9 took the stage after Hello Ocho and multiplied the energy EarthGang received. Two-9's performance turned the Freight Depot into a mosh pit. Water guns, beach balls and artists were all over the stage and even in the crowd as Retro Sushi, Fat Kids Brotha, DJ Osh Kosh and Curtis Williams shifted the Richter scale through the roof. Having a tough act to follow, KEY! and DJ Holiday made their appearances and everyone could feel that Raury would soon be taking the stage. Along with that, many were still looking forward to Big K.R.I.T., Trinidad Jame$, Post Malone, Keith Ape, D.R.A.M., and other special guests who hadn't performed yet.
Before the climax of the night, as if we hadn't reached many high points already, 6LACK performed, virtually opening up for the main event. The artist from East Atlanta, known for "EAZ6" and "Break From Atlanta" performed two freestyles, "Pretty Weather" and debuted a new song, "In The Air".
Then, it was time to rock out with the Indigo Child who started his set in a blazing manner with "Chariots of Fire".
From here, things only got better. Stone Mountain's artist performed "Higher", and opened gaps in his set for enough artists to put on another festival. If fans weren't satisfied before, appearances from Trinidad Jame$, D.R.A.M., Big K.R.I.T., Keith Ape, JMSN, SZA and Post Malone should have done the trick.
Even Andre 3000 made his way through the crowd to the backstage area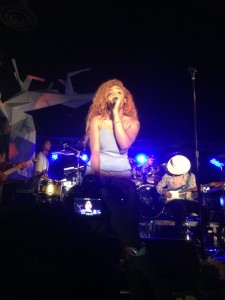 to watch the end of the show so this had to be the place to be in Atlanta. I must say that the second annual Raurfest was a success. The venue was good, attendance increased by nearly 150 percent, and performances were well-rounded. As Raury continues making strides through the industry, he shows no signs of slowing down or being swayed by the industry. Now an official XXL Freshman, Raury has released a new song and video, "Devil's Whisper" and continues his aim of positively impacting listeners and the music industry.
We're looking forward to covering next year's Raurfest alongside LVRN and CL next year. We also thank LVRN and the event staff for their assistance throughout the evening. If you missed it this year, you should go ahead and plan ahead for next summer, who knows what will happen?
Raury made it clear that he is going to do all he can to bring real messages in his music and bring artists with similar intentions along with him. We are sure that he hand picked the motley crew of artists from Raurfest 2015 to specifically convey that message. Hotlanta returns with the second annual Raurfest not because of the weather or the packed out venue, but because of the fire that these artists will put under the industry in due time.