Ah, springtime in Georgia. Flowers are blooming, birds are chirping, and many people are anticipating warm weather and outdoor activities.
However, if you live in Georgia you know what else to expect in the springtime; lots and lots of yellow pollen everywhere. Cars, houses, porches, driveways all become enveloped in a thick yellow blanket of pollen which for the most part is caused by Georgia's endless number of pine trees.
If you've forgotten or never experienced pollen in Georgia, watch this:
Pollen counts are through the roof and many people suffer the consequences of it. Hay fever develops when the body identifies the pollen as an invader and the immune system tries to fight it. Common symptoms of hay fever include: nasal congestion, sneezing, watery eyes, coughing, postnasal drip, facial pressure and fatigue.
Other than locking yourself indoors and not coming out, what other measures can you take to help manage the effects of pollen allergies?
The key is to try to limit the amount of pollen that is inside your home.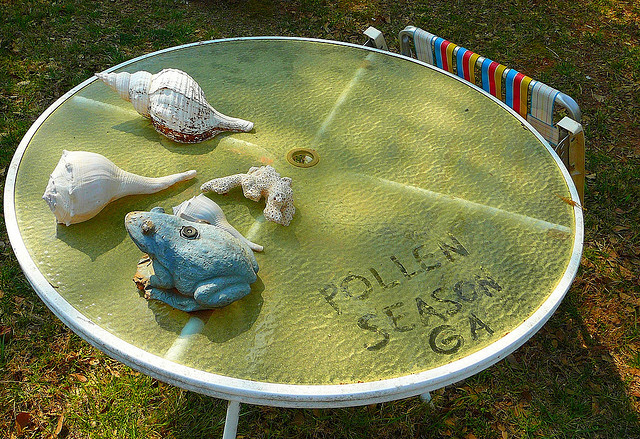 Experts say that when you come in from outside, your body, clothes and hair become literally covered in allergens. They are tracked in on your shoes, and enter your house through open windows and air vents.
Springtime and fresh air go hand in hand, however when dealing with pollen allergies, doctors suggest keeping your windows closed. Don't forget about another place where pollen could be rampant; in your car. Keep windows rolled up, and have your car washed regularly to reduce your exposure to pollen.
Setting your air conditioning on "recirculate" will help make sure that you are not bringing in outside air which is full of pollen.
In addition, it is a good idea to wash bedding, pajamas and clothing regularly in warm or hot water to remove as many allergens as possible. Don't forget to take a nice warm shower before climbing into bed at night. If you don't, you may have trouble sleeping as you are literally sleeping with the pollen on your body.
If you know that you will be spending time outdoors and exposing yourself to pollen, it is better to take measures to prevent unpleasant symptoms from occurring.
An over-the-counter medication such as Claritin or Zyrtec may be all that you need.
If these do not work for you, it is best to visit a doctor so that a specific allergy can be identified and treated. Many physicians administer allergy shots, which are given in a series, and may be successful in bringing relief from allergy symptoms.
If you want to explore natural options for allergy relief, there are a few options you might want to try:
Acupuncture is a form of Chinese Medicine which has been around for over 5,000 years. Although allergy Acupuncture studies are somewhat inconclusive, they are hopeful. Acupuncture is said to bring healing to the body, by removing energy blocks which cause disorder. By inserting very fine needles into specific points on the skin, the nervous system is brought into balance, and the immune system into working order. As popularity of the use of Acupuncture is increasing in America, further studies of its effects on allergies may soon be determined.
The natural herb, Butterbur may be another option for you to explore. Studies which have been conducted show that Butterbur was shown just as effective in treating allergy symptoms as the prescription drug, Allegra. As with any type of herb, if you want to try it, you may want to ask your doctor first.