In May of 2015, it was announced that Ja Rule and Ashanti were going on a reunion tour. The good news was obvious. The bad news, the tour would be in July in Australia.
Well, this is just great! Two of the most memorable rap-R&B duos are going to give us a show of their hits all the way in the land down under.
I'll tell you what's greater, that wasn't all they had to offer.
After a successful run in 2015, the Murder Inc. love affair announced an 11-city tour for 2016. The tour started in New York on August 25 and ended on September 10 in New Orleans. For those who were fortunate enough, the stop preceding the final show was in Atlanta at Buckhead Theatre.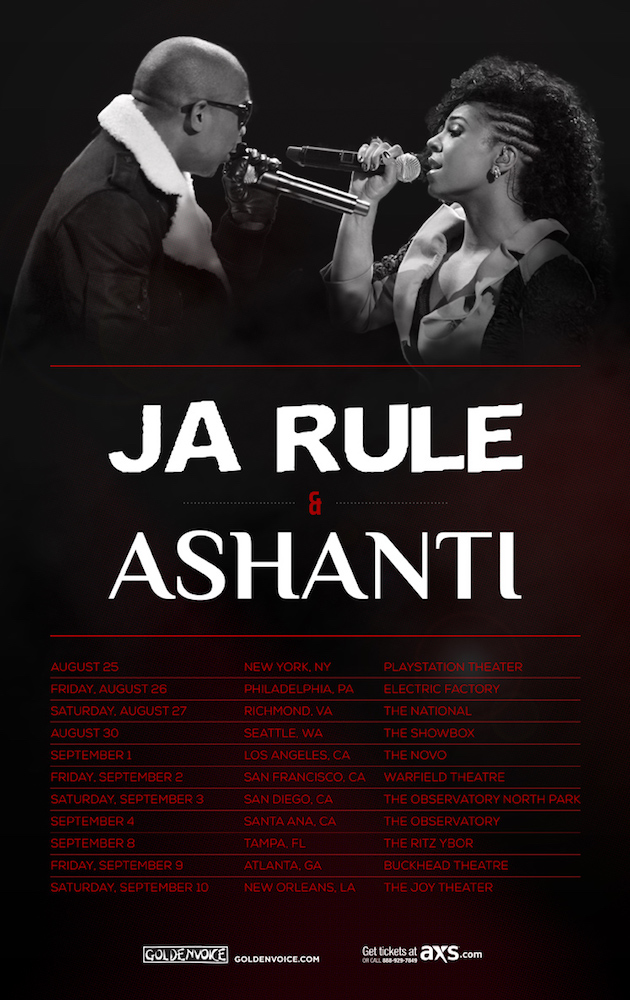 As Jacinta Howard of theboombox.com pointed out, a summer tour was appropriate for these two as a majority of their hits blossomed in the summer of the early 2000's.
Ashanti and Ja Rule performed a series of tracks including, "What's My Name", "Happy", "Down 4 You" and their Grammy-nominated "Always On Time". Between presale tickets and the luck people to purchase at the door, the show was sold out and full of good energy.
Together the duo shared the airwaves on over seven different tracks in the span of five years. Separately, they bring an entire show worth of material from "Foolish", "Rock Wit U" and "Rain On Me" to "Livin' It Up", "New York", "Thug Lovin'" and much more.
Check out some of Murder Inc.'s biggest records below and be sure not to miss the next time an opportunity like this comes around. Like that one time I missed the Dungeon Family reunion at One Music Fest.
Photo credit: Vibe Magazine