He's back.
One of Atlanta's favorite hometown ballplayers is back with the Braves. Jeff Francouer, a Parkview high school graduate, was signed to a minor-league contract today. Francouer made his debut with Atlanta in 2005, but never really performed as the hype surrounding him inferred.
He graced the cover of Sports Illustrated his rookie year and was touted as 'The Natural'. And for a season or two, he looked the part. Francouer hit .300 with 45 RBI his rookie year, .260/103 RBI his second year and .293/105 RBI his third year…not bad. But his strikeout rate went through the roof and as his average and run production dropped in the following years, he found himself traded to the Mets in 2009 and was soon relegated to a backup.
He played for the Phillies last year where he did a decent job – hitting .258 and driving in 45 RBI. But he struck out 77 times in 326 at-bats and grounded into 10 double plays. Not good enough to keep him around.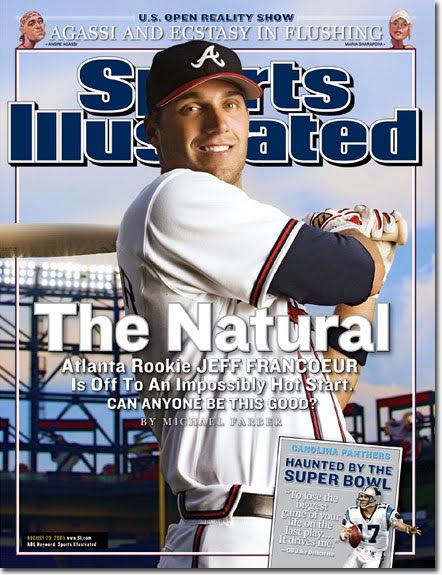 Francouer, 32, will be one of the oldest players on the field in Spring Training, and can serve as a veteran leader in showing the highly thought-of Braves prospects how to handle life in the majors. But with five outfielders likely to make the 25-man roster, Francouer's chances of being in the dugout on Opening Day are slim.
But there's always a chance, and I think I speak for most of us in Georgia when I wish the man good luck this spring.