"The KKK Wants You"
That's the message that was left on fliers that have been spread throughout South Georgia yet again.
As if this election season wasn't unusual enough, a group identifying itself as the Loyal White Knights of the KKK is sprinkling a little extra hatred in just before election day.
Over the past month, a wave of racist flyers have been discovered in southern cities in Georgia that insist it's time to "fight the spread of Islam in our country."
A phone number on the flier then takes callers to a voicemail service with an even more troubling message.
"The voice on the recording is of a man who says he is with the Loyal White Knights," the Huffington Post reported. "Through heavy breathing, he uses a homophobic slur and calls for ending 'third-world immigration into our white homelands.' "
The message only gets worse as it goes on.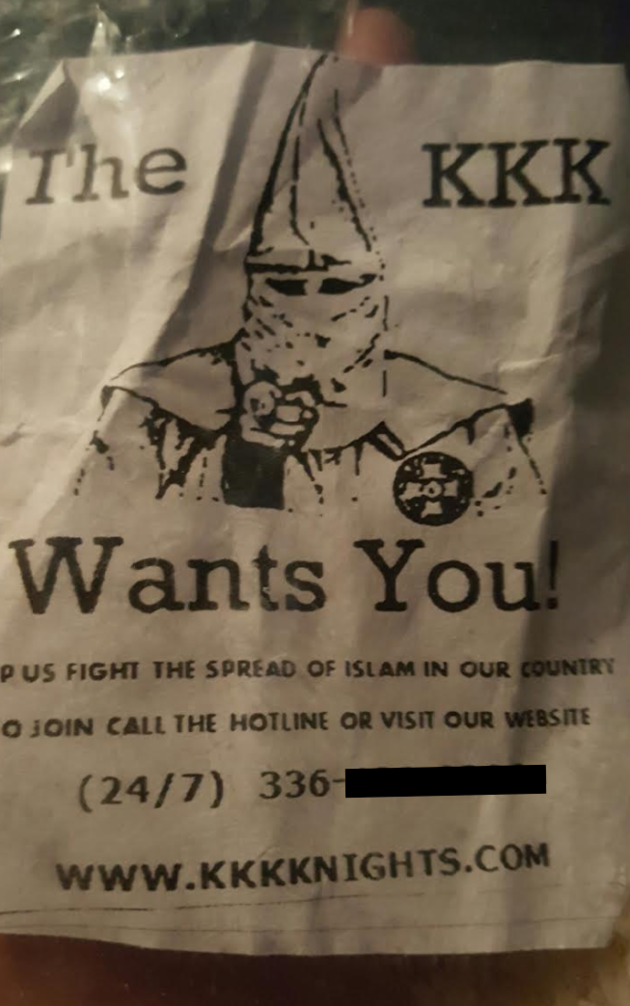 "If [immigrants] are such hard workers, how come all their countries are damn third-world hellholes," the voicemail recording asks before using other offensive terms like "faggot communist liberals."
Unfortunately, officials say they don't have any significant leads but those who are disseminating this hateful message have been careful about their technique. Rather than just tossing out flyers that will soon be blown away by the wind, these self-proclaimed KKK members placed the fliers in ziplock bags that are weighed down by dry rice.
There's no getting rid of these flyers without picking it up and making it a point to discard it.
These are only the latest flyers of this nature to be discovered in the country's southern region.
Another wave of fliers that were discovered asked residents of Alabama, Georgia, Kansas and Louisiana to "help us take our country back."
The letter also referred to local activists against police brutality as "Black Lives Matter Black Panthers" who are "telling followers to kill white people and police officers in the name of justice for the killing of Negro's [sic] by policemen in the line of duty."
As if that weren't enough, the flier insists that all of the African-American victims in these shootings were simply "negro's [sic]" who "were not innocent."
For many, these types of fliers are a frightening sign of what may lie ahead no matter who comes out victorious in this year's presidential election.
From African-American churches being burned to the ground to a Georgia family's home being covered in racial slurs, it seems like racially charged hate crimes have received an unfortunate jolt in the midst of election season.