UGA student Sean Vollrath (19) from Cumming, GA, passed away Tuesday, April 15, 2014. Sean was a huge Patriots fan as well as a writer, who devoted his passion and energy to all sports. He was on the wrestling team for 4 years at Forsyth Central High School and currently a sophomore at the University of Georgia.
Seans Vollrath friends around Georgia shared on social media how great of a guy he was.
Rest in peace Sean Vollrath, first guy to introduce me to football in 4th grade and one of the best guys I knew growing up, miss you bud

— C.J. Beam (@_cjaaayyy_) April 17, 2014
My old freshman hall mate and my friend Sean Vollrath @svollrath39, You were a fantastic man, and it was a pleasure to have known you. RIP

— Hayden Prichard (@haydenprichard) April 18, 2014
 Thanks for following us Sean.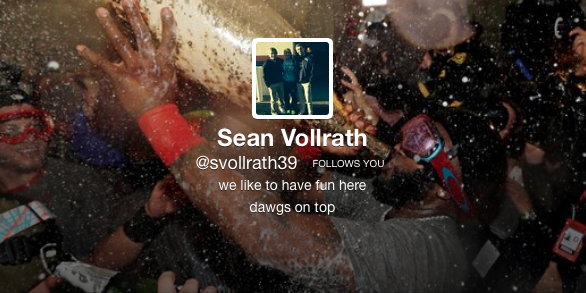 Please 'like' us on Facebook!