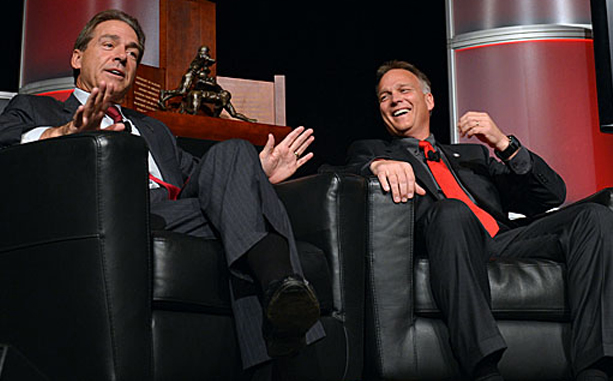 2013 was supposed to be our year. Instead, that greedy bastard Nick Saban ripped UGA's heart out, leaving a dark pit in our souls that could be filled by just one thing: Revenge.
We all know what went down on the first day of December 2012. That's right, the REAL National Championship game. After those painful last seconds ticked off the clock, us die-hard Dawg fans proudly shed tears of Red and Black, while billions of fake-ass Bama fans took to the Internet to misspell words, and to screech about their favorite laundry detergent. Instead of having the chance to manhandle a WEAK Notre Dame squad and piss off millions of Catholics, we're sent to Magic Kingdom to play somebody from the Big 10? Bullshit. This loss forced Aaron Murray into riding Space Mountain with his sister, while A.J. McCarron soaked up rays with Miss Alabama on South Beach.
The only question that remains is how do we get this revenge? Let's think about it. There are no famous trees in Tuscaloosa that we could poison the shit out of. A tornado already rolled through Tide country and spanked it worse than UGA did Auburn. We can't even make fun of their "fans" because Hooked on Phonics never made its way into Alabama. It appeared that any chance of retaliation would have to be put on hold until next year's SEC Championship game. Or so we thought…. Until the Top Dawg, Mark Richt, took the matters into his own pants.
The Black Sheep is known globally for breaking badass news stories that are always 100% true, and as you can see 2013 will be no different. According to our source (my dreams), Coach Mark Richt engaged in sexual relations with Nick Saban's wife, Terry, at the couple's house on Lake Burton in the early hours of January 3rd. Oh yes, you read that right—Mark "Big Dick" Richt took it upon himself to dispense retribution all up into Nick's main chick.
This is a made-up account from Esmerelda Gonzalez, the Sabans' housemaid of three years, of what went down on that awesome night:

"I was cleaning the downstairs bathroom when I heard loud noises coming from Mrs. Terry's bedroom. I was concerned and went to check for her safety. I put my ear to the door and heard Mrs. Terry shout, 'Oh, Mark don't stop!'" An angry man yelled back, 'Do NOT call me Mark! It's 'Six-Time SEC East Champion Coach Richt' to you.'
"My body was paralyzed and I just kept listening. And they did something so crazy. So crazy, I tell you. I kept hearing "GO DAWGS" over and over again. So angry, but with such passion they screamed! Then, Coach Richt began blowing his whistle at her. Still, they kept going and began to yell "GO DAWGS" together at the same time. Louder and louder and louder it went until finally, well, until they finally stopped having sex.
"I was about to rush downstairs, but then I heard another woman's voice. I was just so curious that I had to peek inside the room. The woman, wearing UGA gear, gave the two wild lovers drinks of water. After that, I got the hell out of there. But, look, that's it. That's all I have to tell you. Now give me my money, The Black Sheep"
Mark Richt has always been a solid coach. No denying that. However, even with all of his success, it's impossible not to harbor a sliver of doubt that Mark Richt can bring National Championship to Athens. It's true, Richt has always proven a cool-headed leader on the sidelines, and the game against Bama proved he's a hell of a recruiter. However, the question has always been in play, "Does Mark Richt have the killer instinct it takes to become a champion?"
In light of recent events, The Black Sheep regrets entertaining any previous doubts that Mark Richt could lead UGA to the Promise Land. We are proud of Coach Richt and are taking the necessary steps to ensure that he receives a golden statue in his honor. The statue is to be placed directly on the side of The Arch, and, of course, will have massive balls.
(Via The Black Sheep)
Follow @wes_allen13!